Have you fished anywhere wild, different or downright weird lately? Regular readers of the blog and my Angling Times "Far Bank" column might already know of my love of bizarre and off-the-beaten-trail places to fish.

I also know that many of you will be returning from travels in some pretty weird and wonderful places. Hence I wanted to celebrate the beautiful and bizarre places you go fishing with an exclusive competition, open from now until Sept 15th 2016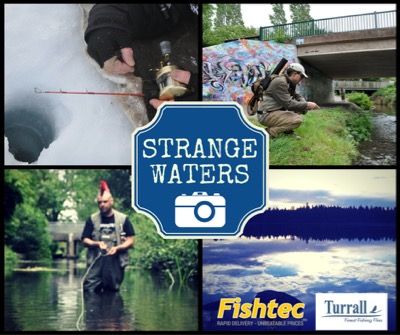 The rules are pretty simple. All you have to do is share your fishing venue pictures, along with a sentence or two describing the place, why you were drawn to it and what's so special or unusual about it. It needn't be exotic or far flung either; travel destinations would be great, but you could just as easily capture somewhere distinctly urban right on your doorstep. Just to start the ball rolling, I've described five of my favourites below, from the streets of Amsterdam to Arctic Norway!
PRIZES:
Just to give you an extra incentive, I've wangled several neat prizes courtesy of
Fishtec
and
Turrall Flies
to reward the best, funniest and strangest entries. These are as follows:
WINNER: THE ULTIMATE TRAVEL FISHING BAG FROM FISHTEC!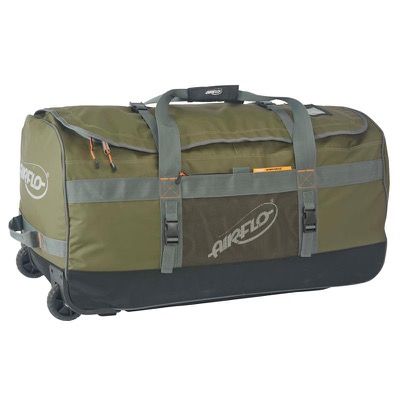 Fancy winning the smartest, toughest solution for travelling with your fishing kit? Look no further than the
Airflo Flydri 150lt Cargo Wheelie Bag (RRP: £169.99)
. With a big capacity and bullet proof construction, this is just the ticket to get your rods, reels and tackle safely to your chosen fishing destination. Even if it happens to be on the other side of the planet, or the luggage handlers do their job with all the finesse of a group of axe-murderers (sorry to all the careful luggage handlers, but some of you seem to love smashing up our fishing tackle. It's a bloody good job you don't work in childcare).
4 RUNNERS UP: TURRALL FLYPOD OR SIGNED COPY OF CROOKED LINES
Fancy winning a brilliant boxed fly selection or a collectible 1st edition of my latest book? Four highly-commended entries will be rewarded handsomely with one of these great fishing gifts. The Flypod is a brilliant concept for the travelling angler, featuring a whole collection of proven deadly flies in a durable, double sided box at less than £25. Meanwhile,
Crooked Lines
features two-dozen of my finest, funniest and strangest fishing stories and some truly eye-opening fishing destinations (Described as "
an absolute treat
" and "
like what might happen if Gierach, John Cooper Clark and Half Man Half Biscuit got together and wrote about fishing
", if you believe the recent reviews...).
HOW TO ENTER: Just share your pictures on the
DG FISHING FACEBOOK PAGE
or simply email them to me (
domgarnett@yahoo.co.uk
). Do provide some info about the location, what you might catch and what makes it unique. You have ONE MONTH from now to get your pictures in (deadline: 25th September), and I'll be sharing and commenting on the images I like the best as we go (you have been warned!).
So without further ado, here are five of my most memorable destinations from both the UK and abroad to get your brain ticking over:
1. Arctic Norway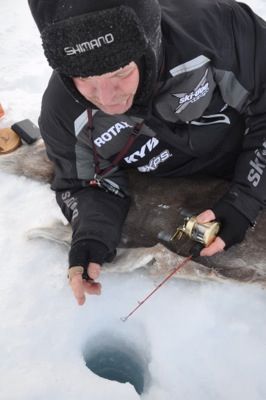 It's one thing to still want to fish when the mercury hits silly temperatures, but quite another to pack a drill and get fishing! In Northern Norway, this is a reality for anglers who must find a way or take an unbearably long break. On my trip to Skaidi, we used foot-long rods and fished through holes no wider than a dinner plate to catch Arctic Char. A reindeer skin protects your backside from freezing, while snacks include dried halibut and whisky. By night it got down to -20C, but we carried on fishing actually inside the tent!
2. Pant-y-Llyn, Wales
Some of the most uncannily beautiful waters of all are those little altered by man. Pant-y-llyn is one of those places you simply have to fish at least once in your life, especially if you are a bit of an old school carp fishing romantic. You won't find bloated, boilie-fed forty pounders here. But you might just tangle with some of Britian's most classic looking fish, as it is one of the only remaining fisheries with true wild carp. It's also one of the tales featured in
Crooked Lines
, while you can also
book a days fishing there yourself with the Wye and Usk Foundation
.
3. River Wandle, London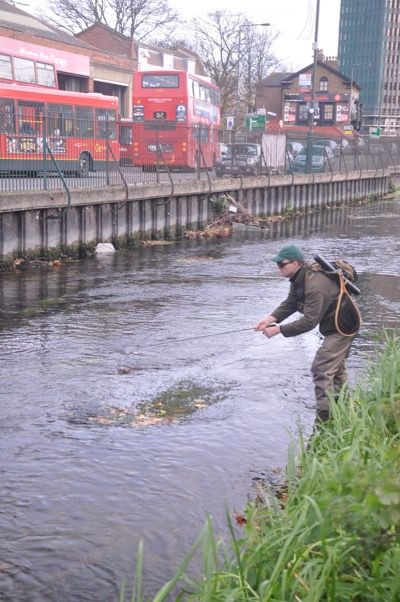 Urban fisheries produce some of the most surprising sport in the UK. Among the most fascinating is London's River Wandle, where I fished with conservationist Theo Pike. In spite of a history of severe pollution, the river is now bouncing back and has everything from wild trout to roach, chub and even the odd barbel. Even so, it's an odd feeling casting a fly or trotting a float while double decker buses and police cars pass.
4. Caerphilly Castle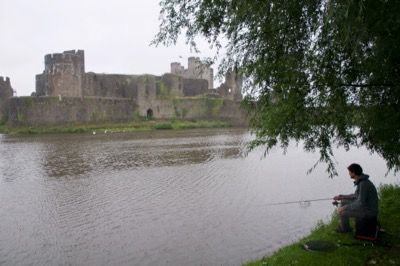 Since the age of about seven, I think most of us can admit to having a secret fantasy about being a feudal baron with ultimate power, medieval weaponry and a stinking great big castle, right? Well, it's never going to happen. But for a day at least, you can enjoy not only one of the oldest castles in Britain, but fish in its 25 or so acre moat! How cool is that? There are roach, bream, carp and even a few pike here. If you can find a castle type venue to top this, make sure you send us a picture!
5. Amsterdam
A haven for tourists and travelling hedonists, you might assume the waters of Amsterdam were too dirty to hold much life. And you'd be wrong! Countless canals and other waters contain perch, pike, carp and some excellent zander fishing. My good friend
Dutch fishing guide Pim Pos
has even cast a line in the city's notorious Red Light District! The city is also famous for its art museums, fantastic food and drink, and strange smelling tobacco, which I am told can make one somewhat dizzy. Not that you probably need it with swims like the one below, complete with pair of dismembered plastic legs: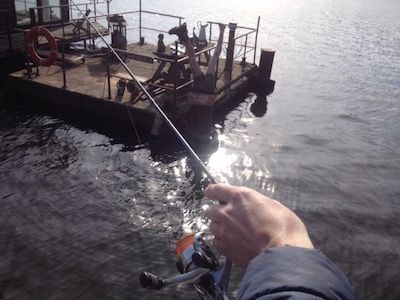 Ok, over to you! All you have to do is post your pictures
HERE
... good luck.