In another interesting week of summer fishing I've been cramming in the short sessions wherever possible once again. A bit of a scattergun approach perhaps, but as we head into the end of August you do get that feeling that there is only so much summer left, with time so precious and limited.
Some regular followers will no doubt relate to the plight of the multiple job man. In the eyes of the tax system at least, I have no fewer than four different jobs. And although much of my time is to do with the things I love, it is sill work- and it can be tricky to free a few hours just to sneak off down the river, or spend a bit of time with the wife and no technology in sight. Chance would be a fine thing... quite often I want to bung my phone into the sea.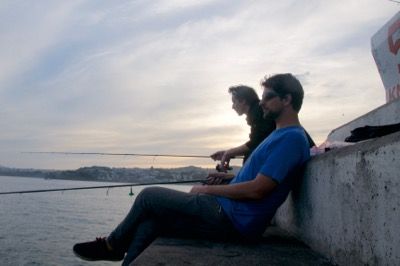 One benefit of my hours writing blogs and other copy for Clockwork (a marketing company near Newton Abbot) is that I finish my office hours only a short distance from the sea. And with Darren Sieminski, one of our ace website designers, a keen sea angler himself, another post work trip to the coast was overdue.
We parked by Living Coasts (slightly cheaper than the 24 hour robbery of the marina carpark) grabbed some tea straight from the outdoor market in Torquay before fishing the left hand wall of the outer harbour. Caught in about ten different minds, I had bundled four different rods in the car, along with LRF lures and some bait. Darren could have been forgiven for looking a bit confused.
Not that it took long to get bites. I had two small wrasse right from the off on small plastic worms fished dropshot style. Meanwhile, Darren had a small pollack on float tackle. He had released it carefully, but just as it looked as if it might recover, a seagull nabbed it. After that we had little for an hour, aside from a brief altercation with a guy on the other side of the wall, who insisted on wanging his rigs right round our side of the barrier, and then throwing a a strop when the lines got caught.
Seriously, I do worry about anyone who would hurl abuse at a complete stranger over something as petty as who has the right to cast where. As someone who worked for years with junkies, alcoholics and violent offenders, I'm fairly well versed in keeping calm and not lighting any fuses. Our friend here could have done with a similar lesson- because on a sea wall, threatening behaviour could lead to someone getting injured or killed. But hey ho, this is public fishing I guess. We also saw an inflatable boat fishing and moving right in feathering range of the pier- perhaps a southwest contender for the
Darwin Awards
on the cards?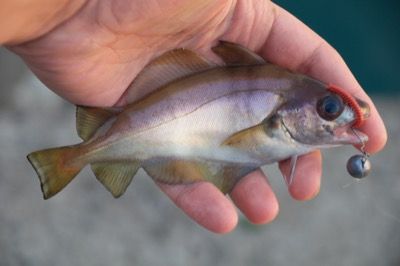 Our bad tempered friend then promptly left just as the tide was climbing and the light went dimpsy. So much for picking your moment, because the fishing improved greatly as night approached. I had a lure caught pouting (above) on a weedless rigged Isome section, before giving Darren a crack with the lure rod and baiting up a bottom rig with a prawn. Not so long ago I wouldn't have given supermarket prawns a second look, but they seem to make pretty decent baits for flatties and smaller species.
Just about able to pick out the rod tip by the lights of the fairground in the distance, I had a really rod rattling bite. It wasn't the four-pound bass I had imagined, but nevertheless a very welcome rockling. My first, as it happens. I'm no expert on the different types of rockling, so perhaps someone could enlighten me? I gather they will also occasionally take lures.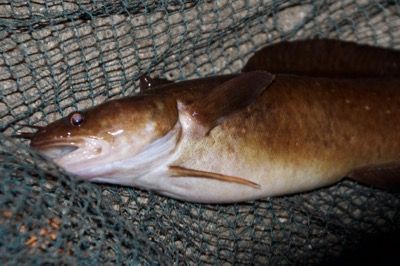 It was a lovely evening, in fact, totally forgetting about phones and deadlines and just feeling for bites by the lights of Torquay. Sea fishing here is so much more varied than you realise, because 90% of visitors only seem to have eyes for mackerel. I strongly suspect that night fishing is the answer though, whether with lures or bait. To cement this hunch, Darren then hooked into the best fish of the trip; a hard-fighting pollack quite a bit bigger than the earlier samples.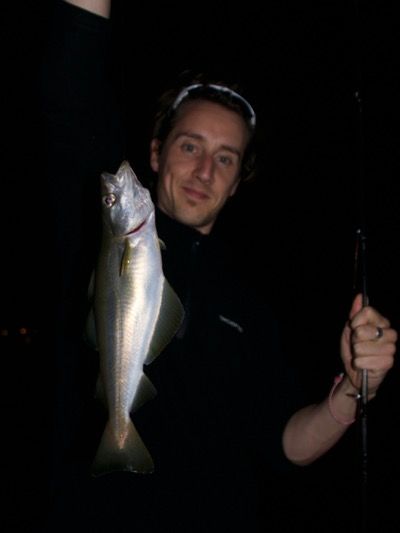 Just for the record,
Clockwork Marketing
are well worth a look for anyone involved in the hospitality trade or trying to build a business in any leisure or tourism activity! We make fantastic websites- and already do a great job for one or two fishing hotels. So much of the fishing world is blighted by dated and inadequate online presence I cannot help but feel there are more matches to be made in future. After all, how many dedicated marketing and website building agencies have actual anglers on the team?
I digress anyway, but if you are traveling to Devon soon, or if sea fishing is your thing, do also be sure to take a look at the recent Channel Kayaks Blog
HERE
, which features several recent kayak fishing marks and trips in Devon, from Sidmouth to Salcombe. Meanwhile, tackling the craggier parts of the South Hams in the company of happy-go-lucky maniac Norbert Darby is also my focus for the new edition of Fallon's Angler, just out.
So what else of note can I report from the past week or two? I jumped at the chance to dash back onto the local canals and River Tone for some surface sport, if done in a bit of a hurry. On the cut, I must have spent about 80% of a 2-3 hour session just walking and looking and not fishing, seeking out larger rudd and roach. And I found one or two, albeit in very different spots to previous seasons. I lost what looked like a 2lbs+ hybrid (bream/rudd?) basking in the top foot of water, before netting two nice rudd to one pound nine ounces. As is so often the case, it was a simple capture- the only key was casting in a bushy swim and getting a simple hackled wet fly (one of my Turrall Spiders) close to the fish.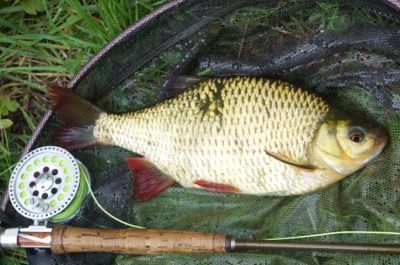 I also had a quick blast on the River Tone with Norbert joining me for the ride. We must be freak magnets, because we had uniformed staff out looking for some crook on the run.... who we think we spotted later. One of those guys you take one look at and think "oh God, what happens now... ". First it was "can I use your phone, I'll pay you a tenner" (because I always willingly lend my phone to guys who look like crack addicts) before the question "has there been any police or guys down here looking for me?" Christ on a unicycle, I bet the landed gentry fly fishing on the Test and Itchen don't have to deal with this sort of shit. One scary lunatic, and that's coming from me and Norbert, who seem to draw these undesirables like perch to a wriggling worm.
Still, the chub were feeding, albeit very spooky. So often in the low, clear water they would come right up to the fly, before sulking away again. The only takes were by taking your life in your hands and dropping a big terrestrial right under the branches in their sanctuary. I missed two nice fish, but hooked one of the best in a group of eight or so fish, which took a Chopper (my big, leggy deer hair winged fly designed for the species).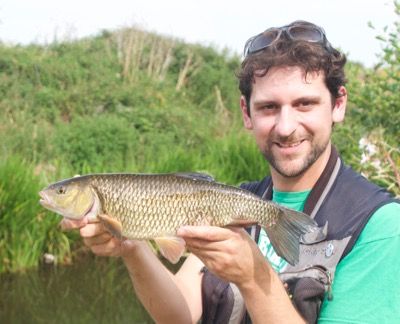 Otherwise, the only fishy business I have to report is of a very pleasant short session on Creedy Lakes. Yes, I Know, I'm not always a fan of the big main lake. It's all a bit bivvy-tastic. But I had a lovely evening on the top pond and also made a new friend. In the same way you know instantly that some folks are surly buggers (like our friend in Torquay, Mr High Blood Pressure/ No Manners), others you just instantly know are on your wave length.
Such was the case with Mick Latham, who fished the next swim and was such great company- as we filled out tickets it appeared we had exactly the same plan, to fish simply on the less fashionable top lake, where it's pretty and weedy, even if the fish aren't quite as big.
Rather than race for the best spots though, we played it civilised, sharing pegs and anecdotes. It does make you think- surely this is the way it should always be, rather than competing with each other like kids? Sometimes I dislike busy specimen fisheries because regulars can get so serious they won't even say "hello" or "how's it fishing?". But it costs so little to be friendly to other anglers; and you could get a useful tip off or make a new pal.
I stuck it out on the floaters in the end, using nothing more complicated than a 50p bubble float (often just as good and less obtrusive than the huge £5 odd things I always see in the tackle shops) and a few dog biscuits. This was the best of my brace (and no, I didn't weigh it):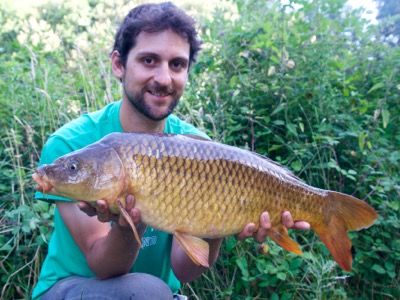 In between a perfect lazy evening, watching the kingfishers, picking out the hoot of an owl, laughing and discussing life, the universe and everything, Mick went one better and caught three. We shared netting and photography roles too, perhaps confirming that angling etiquette isn't dead after all. Nice fish too in this top pond- they tend to be wily and strong: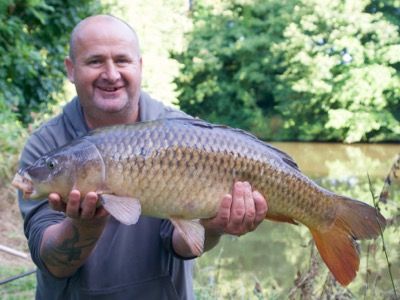 The only other recent journey was to Merlin Unwin Books, publishers of "Flyfishing For Coarse Fish", to attend their 25th anniversary bash and meet some fellow authors. I'll be reviewing some new fishing books shortly from their range, so do watch this space.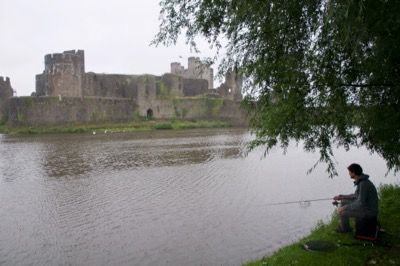 The plan was then to fish at Caerphilly Castle on the way home, but the weather was too filthy to stick around long. Those keeping up with my weekly Angling Times column or who bought
Crooked Lines
will know of my love of unusual angling destinations. This will also be the topic of a new photographic competition on the way very soon.
Until our lines cross again, let's all keep our heads and keep smiling. Happy fishing and my best to you all.