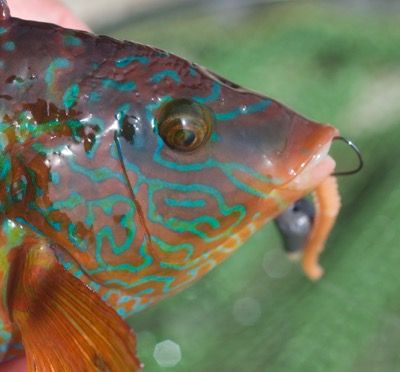 Regular readers of this blog will have heard, or been warned about Norbert Darby. He is as wayward as they come, and so I wasn't surprised when he turned up two hours late to my wedding by the Double Locks the other night. It's a pub I've had previous with, and a great place to have a wedding bash on so many levels.
So in his customary fashion, Norbert arrived rather late, half cut on a BMX and not especially smartly dressed. I was even more shocked to learn he hadn't been fishing in two years. Seemed odd, because we were once both glued to the banks of the Exeter Canal fishing for carp (as recalled in
Crooked Lines
). And so, in that drunken way that you do, we hatched a plan to go kayaking fishing on the South Hams.
From the off, you could probably file it under "seemed a good idea at the time." Lashing waves. A small boat. Norbert's love of adventure and warped sense of humour. I didn't sleep that well the night before. When you've just got married, it's not a great time to go missing or die. But Norbert was insistent, after another tin of cider, that he had done loads of kayaking in his younger days, when not driving uninsured cars and chasing barmaids.
So anyway, we faced a foggy start to the next day, weaving through backroads and laughing at the lack of civilisation and directions. Low tide was mid afternoon, which didn't seem so ideal but left us with some time. Or enough to fritter away in what looked like a garage-come-shop, but turned out to sell a whole heap of fishing tackle, local tat and all the rest. Norbert left with a four pack of Strongbow, some crisps, weedless bass lures and a 3D postcard with pigs on it, which he thought was the best 99p he'd spent in his life. But this is Norbert. He is permanently acquiring things, only to lose them.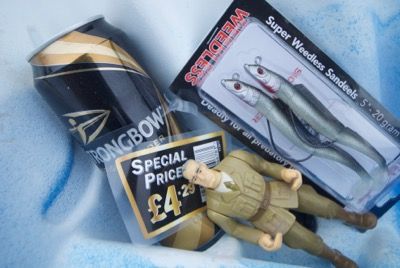 We reached our sheltered mark around midday and got sorted with kit. This takes some discipline with kayak fishing, because when you're out there, everything can get wet or misplaced, so you have to be organised. I put my lure boxes in a fly vest for security. We also wore buoyancy aids for safety. Really bad early 1990's buoyancy aids, to be specific.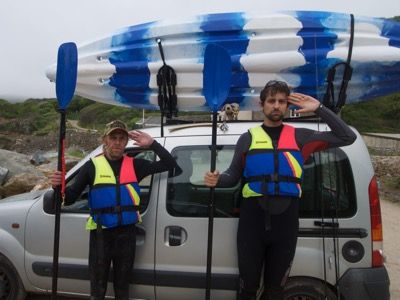 We took the plunge right from the beach, getting well out into the little bay quickly. The tide seemed quite reasonable, although the spot we were heading for seemed to channel the currents.
It is an eerie, exciting feeling travelling over rocky, kelpy ground in a kayak. It was great to see a mark I've fished since childhood from a totally different angle too. The odd larger wave would sometimes creep up and give you butterflies, but Norbert was a dab hand at steering the boat.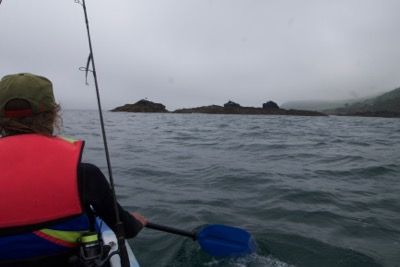 We headed for a large rock that I must have looked and wondered at from the shore for the last twenty years. Now we could get to it! We'd packed three rods between us. Two lighter lure fishing outfits, along with a more no nonsense set up. I tried the heavier set up first with a Texas-rigged worm. I fished it tight to the bottom, jigging quite patiently and feeling for the bites. I got two early plucks, then nothing. But as we reached a really deep, fishy looking spot, I switched to weedless Black Minnow. I'd just cast some fifteen yards from the kayak and given a couple of pulls, when the rod absolutely thumped over. A pollack? A decent wrasse?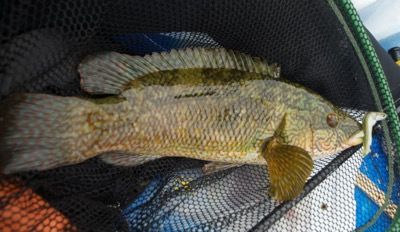 It turned out to be a lovely ballan, not far off three pounds I would guess. Norbert's pictures were pretty shaky, but at least he kept us both alive.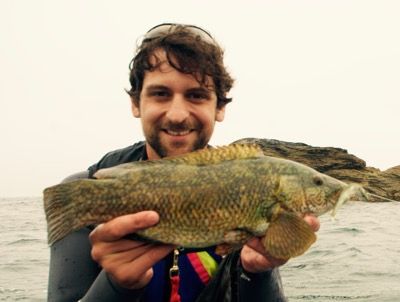 And I'm hardly joking, because after a break and a bite to eat, it was a very different sea we found. The incoming tide and an onshore breeze had kicked up quite a swell. It was tricky just to get into the sea without shipping lots of water. Not a huge issue, because modern sit on kayaks for fishing are very stable, and act like a giant air-chamber. But it's a pain when you have things like lure boxes and a camera on you, regardless of whether you have a dry bag.
Some of the waves on the return journey were large to say the least. The big ones would just pick you up like a toy. It was good practise, although fishing was often out of the question. You have to constantly anticipate and watch for currents and bigger waves. If you head directly into the waves, you get shoved up and down, but in safety. Whereas if you catch a big wave side-on, this is the biggest risk of the kayak rolling and getting pitched into the sea.
Eventually, we had to admit defeat and fish from the shore, since it had seemed way too risky to get into the rocky parts we really wanted to fish. It got pretty rough though. We started to get a battering and the General nearly got washed into the sea. A little disappointing, but there were still fish to be found from the shore, doing a spot of rock hopping and casting lures into the gullies.
I must say, the wrasse have been excellent fun this year but also quite a sharp learning curve. Having a session or two with Andy Mytton has really opened my eyes to the detail here. It is such brilliant, and surprising, fishing too. The trick is to fish lures right amongst it, in the rocks and kelp, hopping across the bottom foot or to with a degree of patience. The challenge for someone more used to freshwater fish, is the patience required. With the smaller fish, you have to let bites develop. But when a better wrasse arrives, the decisiveness of the take can be formidable.
A wrasse of two or three pounds can be too much for the lightest tackle, which explains why I was relieved to land another recent fish of that stamp from a different rock mark. Curiously this was on another more testing session where the larger lures didn't score- and the best of the day took a small 3" section of worm, rigged weedless. Luck had it that the shelf below was quite open and I was able to keep the fish from burying itself. Even so, the battle on an ultralight rod and 5lb hook link was hair-raising, thrilling stuff! A long-handled net came in handy once again too.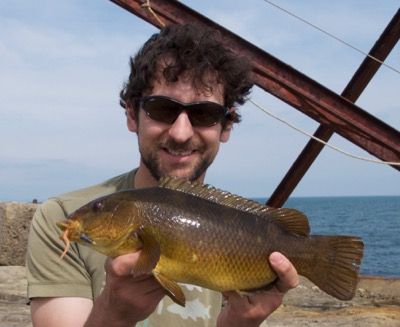 Which is enough excitement for a bit. Because it might be June 16th tomorrow, but it's absolutely lashing it down outside. Although you can catch more from me in both the Angling Times and the
Turrall Flies blog
shortly...