How often do you read a fishing article about somebody blanking? Not very often, I would bet. With getting on for 250 articles in print, I've only managed to succeed in getting ONE published. It's an article I won't ever forget, because despite the frustration endured I got one of those shots that perfectly captures the madness of angling, with a grey mullet swimming literally right round the back of the fishless angler, coming within inches of his wading boots.
This past week though, the joke has been on me. Most recently with a whole night and a beautifully misty morning (above) which, although nice to look at, I would have gladly traded for the carp I was after. I'm not about to tell you that I love catching nothing, but as a long term addict of fishing you learn to accept this.
Think about it for a minute and contrary to the idea that top anglers never blank, the reverse is often true- certainly where the biggest fish are concerned. And yes, a few chastening experiences each season add extra sweetness to those days when your luck turns.
Another thing you learn to accept is that you don't always get the performance that you paid for at the booking office. And in truth, whether or not you are grateful for what you actually get depends on your outlook as much as anything else. Like the moment your rod is nearly yanked in and the huge carp in your imagination transforms into a three pound tench, as happened on my other not-entirely-successful recent trip to a small, private lake. Most of the time, I would prefer to see the pond as half full rather than half empty I guess? Tench are like perch for me- even if it was a fluke, it is virtually impossible not to be pleased to catch one.
Win, lose or play out a goalless draw that spills over into a pointless spell of extra time watched by nobody where there is no referee to call time, that is fishing. So perhaps I should continue this blog on another note. In fact, I wanted to cover something I very rarely mention here at all: my favourite items of tackle! Other bloggers write whole entries on rods, reels and rigs; I do not. Perhaps I'm too cynical about the tackle trade and the world of sponsored shenanigans. But I know that some readers do find it interesting, so I thought this week I would give you a few recommendations of the kit I have enjoyed recently, or for a longer spell of abuse. It's something to talk about while I remain biteless, anyway. So here goes:
1. Spro Micro Game Rod (70M)
So many rods exist these days, but this is the first I have bought for several years. After a few months I have taken it everywhere from Devon harbours to Amsterdam. It packs down into an absolutely silly length (38cm) and still performs really nicely. Hook an eight ounce perch and it bends like it shouldn't; hook an eight pound pike and, amazingly, it still survives without smashing to bits. I'd call that a very dependable light rod. My model is rated 5-15g, but this is way out. It feels right at home with 3g jigs, or my various dropshotting experiments with small jellies and flies. What can I say? I love this little rod, even if it is almost unbefitting of a large bearded man.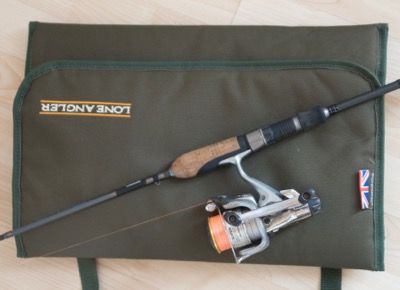 2. Lone Angler Unhooking Mat/ Stalker Seat
What a brilliant little piece of kit this is! So portable, great to sit on too, but also very functional. Folds into three and slides into the back pocket of my fly vest, yet big enough to protect a barbel or zander. Not quite pike size, but you can't have everything- and this is a great compromise for fishing small waters for fish like perch and chub when you don't want to be lugging a vast mat around. Could also save you from the horrors of "Farmer Giles" on the derriere.
3. Daiwa LRF Net Handle 5.9m
Another cracking piece of kit for the roving angler, why didn't someone come up with this years ago?!! Totally portable, it folds down neatly to some 70cm odd and has a shoulder strap. Yet when you need it, you have a whopping 6m, or near enough, of reach! I particularly like the fact that a net head can be attached through the bung, which prevents all the sections from sliding out willy-nilly when you don't want them to.
So bloody useful! I'm already making a hitlist of spots such as harbour walls that this net will now allow me to land fish from, where previously I wouldn't have dared. Ruddy useful kit!
4. Turrall Barbless River Flies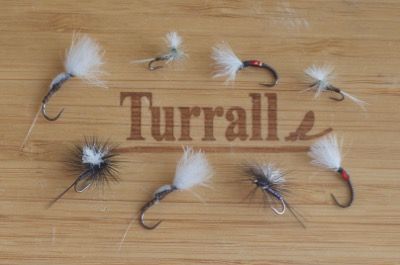 Ok, so I like to tie my own flies where possible. Time is a killer these days though, so it is extremely darned useful to have reliable patterns tied properly on barbless hooks that look and fish the part. After all, so many cheap barbless river flies feature rubbishly cheap hooks and are sold more overdressed than Lady Gaga (and just as tasteless). Not these designs, personally selected by Chris Ogborne with a competition angler's eye for detail. Granted, I am one of the Turrall team these days, but I like these so much I've been fishing them all season and now also stock them in my own shop
HERE
. Do grab a set before I use them all myself!
5. Orvis Forceps
Ok, so this is not a new tackle accessory by any stretch. When you own an item for the best part of ten years, however, and it's still going strong you know you're onto something good. These are top drawer, meriting that "reassuringly expensive" Orvis price tag, I must say- and I'm pretty attached to mine. Literally- they never leave my fly vest. Not just great for removing the hooks from fish, they are also good at debarbing flies while that little spike is genius- just the thing for clearing the eye of a fly when you're struggling to pass the leader through. Damned near indispensable in my book.
Ok, that is about as techy and tackle orientated as I'm about to get for a while. Now go and fish. Heck, do one better than me and actually CATCH SOMETHING!