The aim was to find the best and most unusual and adventurous pictures of your fishing. We had a whole raft of great fishing images, but in the end I had to boil it down, completely subjectively, to five pictures. Really grateful for all your entries, but here are the final entries that really stood out:

1. Jason Coggins: Fishtec Exclusive Fishing Luggage Winner!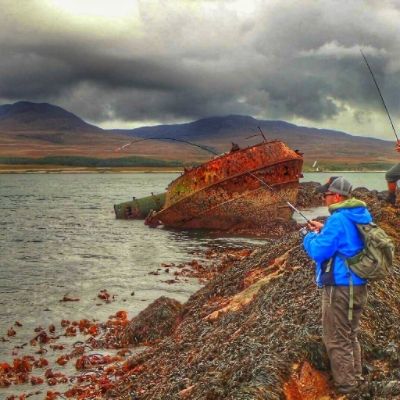 For anyone who loves wilderness fishing, Jason's image and report summed up the charm of the islands of Western Scotland, such as Islay. Wild trout lochs are a real feature on some islands, but his shot was from the rugged coastline (love the rusted old wreck!). And if that wasn't intoxicating enough, you're just a few yards from the local whisky distillery.
Jason wins an
Airflo Flydri-150lt Cargo Wheelie Bag
, a bomb-proof fishing bag fit for any fishing journey.
2. Thomas Finney: Turrall Fly Pod Winner
Close behind in second place was James's picture of the coast at Stebley Point. An image that really captures the drama of shore fishing.
Thomas wins a
Turrall Fly-Pod
of his choice. These feature a tough, double-sided box and selections of proven fly patterns, from reservoir flies to grayling specials.
Our three final entries receive a copy of
Crooked Lines
, my collection of twenty-four fishing tales, with exclusive artwork from Lord Bunn,
available at DG Fishing for £9.99
or as an
Amazon Kindle Edition for just £4.99
3. Christopher Kirkham - Book Winner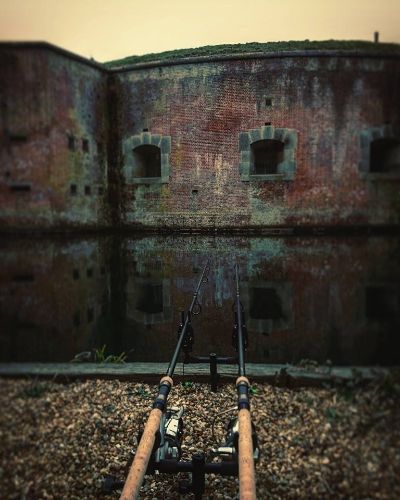 Chris Kirkham's Victorian moat is definitely a memorable place to fish, and just one of various striking water defences that can be fished in the UK. Several castles offer lakes or even moats to fish, while pillbox shelters from WW2 are a classic on some of our canals.
4. Nicholas Lawrence – Book Winner
When things get really cramped on a river, you have to improvise a little. Or in this case climb a tree to get your fly to the waiting salmon!
5. Sam Wadman – Book Winner
Some of you really do get around the planet for your fishing! A beautiful shot here, taken on Sam Wadman's trip to the mountain lakes of Iran.
A huge thanks to all our other entrants, because every shot told a story and we loved all of them. Thanks also to Fishtec and Turrall for the prizes.