Greetings to everyone. You may or may not have noticed a few changes afoot with my site and blog. There is also some rather exciting news to share, which I didn't want regular followers to miss out on.
I'd been sitting on a particular secret for so long, my backside was starting to hurt, but now it's time to reveal current progress on a project that has been going for many weeks. In an exciting collaboration with artist Kari Furre, I am soon to release exclusive editions of Crooked Lines in sustainable FISH LEATHER!
Yes, you heard me correctly. There are much better pictures and the fascinating, fuller background story on my brand new website. Read the latest blog entry
HERE
and check out the new site at the usual address:
www.dgfishing.co.uk
Why did I switch? Well, to be honest, the blog has been here for nine years at least, but it has been less reliable lately. Pictures disappear and it looks a little... well, old hat? But perhaps the biggest plus of the new format is that it should display my photography in a much better manner. It also means you are slap bang next to the other parts of my site, including current features, links and the
shop
.
I hope you'll enjoy the new site and blog anyway. Don't forget to order a copy of
Crooked Lines
or one of my other books this Christmas, whether it's for a friend or loved one, or simply to treat yourself. I realise it is a drum I have banged before, but my very words depend on you, the reader!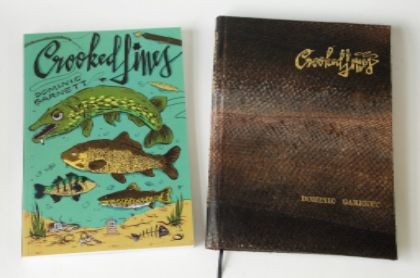 You can also keep reading me in Angling Times each week and also the cracking quarterly
Fallon's Angler
(where you can also catch the rantings of my military superior, the General). I've been leaving no stone unturned recently, with everything from the weirder side of lure fishing to all sorts of tangents and talking points.
Anyhow, have a bloody great Christmas, enjoy your fishing and do keep in touch- and if there is any subject you would like me to tackle in print do drop me a line. You know I'm never one to shirk a challenge!