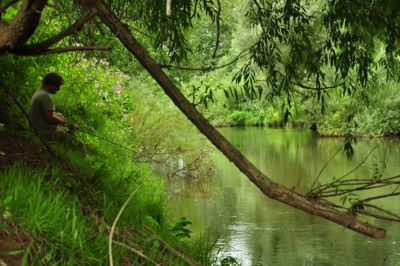 As an angler of varied and restless tastes, I am torn two ways when it comes to the tackle I use and own. On the one hand it's always nice to covet something new, as the garage floor will tell you. But on the other, I just hate having lots of kit with me when I travel. Generally, I start with pure intentions. "Just one rod" are my usual famous last words, before the dreaded "what if?" strikes. What if the river is flooded? What if my favourite method isn't working on the day?
I managed to retain some self discipline and pack just a couple of rods for a roving session on the River Teme with Scott West, who also fancied a good wander somewhere new with the chance of some nice barbel or chub. Setting off at the crack of dawn, we grabbed a ticket from Allen's Tackle and headed for a stretch not too far from Worcester for a wander. And with barbel fishing virtually redundant in Devon, you might have forgiven us for getting a little bit excited.
Enthusiasm is one thing, but on any given trip what you hope for and what you get are so often different things. The river was dropping but still quite coloured, too much so to cast a fly, so a pragmatic feeder fishing approach got the nod. Plan A was thus a positive ground bait attack, with worms or my favourite barbel bait, double 10mm boilie, on the hook.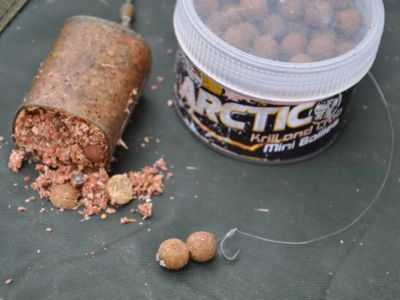 And what a sumptuous river the Teme is. We didn't see or find lots of fish, but there were so many really fishy looking spots it was tough to know where to start. As is so often the case on an unfamiliar water, it seemed sensible to bait a few spots therefore and try just a short-ish stay in each swim until we found some bites.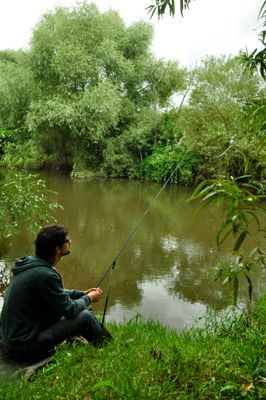 After just a small perch to show for the first couple of hours, it was only in swim number three that I was finally given not so much as a bite as slap in the face. The fish, presumably a barbel, took so hard my rod rest was toppled over like a felled tree. But by the time I'd started pulling back the hook pinged free. One nil to the barbel.
Meanwhile, I was also getting nips from small chub on worm baits to the point where it was a nuisance. Hence a tactical substitution was made to 10mm boilies on both rods. Funny really- I can take them or leave them when carp fishing on manmade waters (part of me thinks that they are very overrated, or certainly overused), but when it comes to river fishing I find them brilliant and highly selective.
I was luckier with the next take, which went from a few flirtatious little dinks to outright violence and another "grab your rod or kiss it goodbye" moment. On light tackle (and I should qualify that as eight pound line and a standard tip rod), barbel are sensationally powerful. The fish shifted from a near bank crease to mid flow in a split second, while I thanked my very bones I'd tested the drag at the start of the session. I have no idea what a barbel of seven and a bit pounds represents in today's fishing scene, but to my senses and with the thing charging all over a small swim it was quite an epic experience.
Scott meanwhile was also finding some small chub on the worm, along with some frustrating whacks on the boilies which may also have been chub giving the bait a whack without being hooked. We also mixed things up by trundling baits through the swim, doing so by ditching the feeders and trying link legered presentations. This is a lovely way of fishing, tweaking your bait through a good looking bit of water and feeling for takes. Active too, but we struggled to find the better fish, most often small chub wrestling with the bait. Ok, so it isn't necessarily as efficient as a heavy weight and a short hook length, but like fly fishing or trotting it's an intimate, active way to do it and a method I'd like to do more of.
The next action was on the static boilie presentation again however, as I picked up a chub immediately dropping into a swim that had been primed with some bait perhaps half an hour earlier. The quick transition from full steam ahead to a duller lolloping fight suggested chub this time. Not a bad one either, at least to a Devon boy used to seeing typical fish of less than half this size: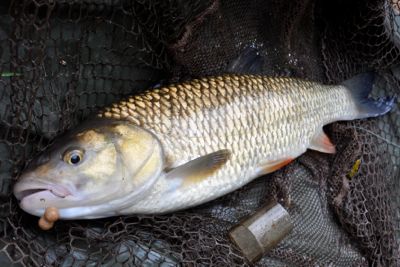 We worked hard for our bites then, but in spite of some success in the afternoon our final evening swims just didn't produce as we'd hoped. Never mind, it's always a pleasure to explore somewhere new with a friend, never fully knowing quite what to expect.