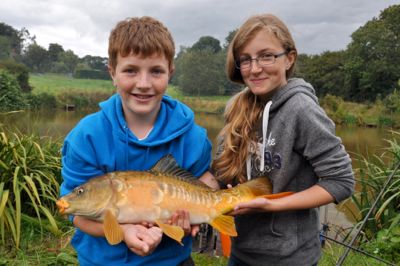 Who are the most important people in fishing today? The answer is simple: those youngsters who will form the next generation of anglers. Their first trials and tangles with fish are the first precious steps on the road to success. But in every case a friendly helping hand, not to mention someone to take them fishing in the first place, are essential.
This is exactly the reason why I've been so keen to set up some proper fishing sessions for youngsters this summer and I'm delighted to report a roaring success. It takes energy and organisation, as well as coaching badges and pints of maggots, but it is also one of the genuine highlights of what I do. That grin that says "I just caught my first fish" (as demonstrated here by young Tyler Billing) is absolutely priceless.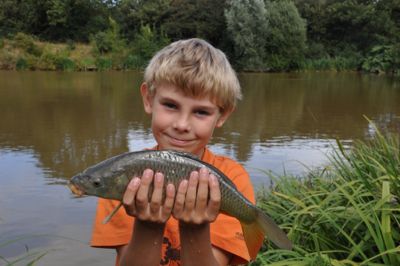 Can you actually teach the art of fishing in just four hours? The honest answer is that there's no way on earth you could cover it all in that time. But what you can do is to coach some basic yet vital skills such plumbing the depth, loose feeding, striking and safely releasing your catch. The vital thing is not so much to catch fish, but to catch that spark of enthusiasm that every true angler has.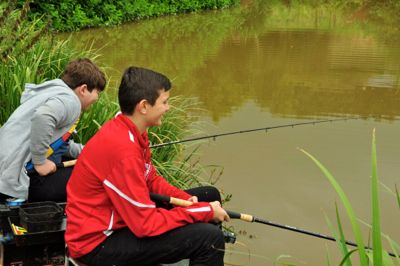 Some old heads will tell you "it's about fishing, not catching," but I believe it's important for beginners to have some degree of success quite early. Which is why West Pitt Farm proved the perfect venue to take our new crop of young anglers. It's also a great place to learn one or two vital lessons: Firstly, that if you keep feeding small amounts of bait accurately, you'll catch a lot more fish. But equally, I'm always keen to show that you don't need to cast miles to catch- and many of the fish on small lakes are right by the bank.
By using simple tackle (margin poles or waggler set ups) and fairly light gear (4-5 pound line to size 14 barbless hooks) everyone caught plenty. Not all beginners are fans of maggots, so sweetcorn was probably the most successful bait and we got through pints of the stuff, while loose feeding small pellets too. The species list was quite varied from the very first hour, with various carp (common, mirror and ghost) joined by roach, rudd, bream and some interesting hybrids.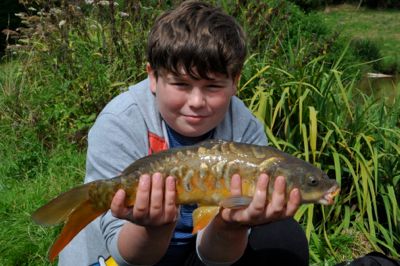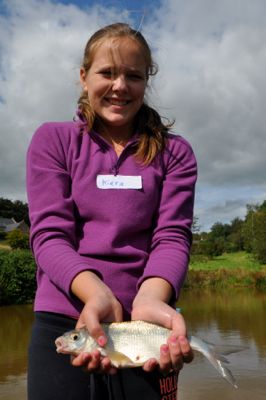 I just love the enthusiasm and imagination of kids- probably the part I miss most about being an English teacher in a former life. Young minds don't set limits and will always come up with crazy questions and ideas. Without any prompting, for example, we had various experiments with baits going on. On day one we had fish going nuts for broken Pringles, while I still have a grin on my face from cheeky chappie Nathan White who used a Haribo sweet on his hook to catch a carp! Is he a nut case, a genius or a bit of both?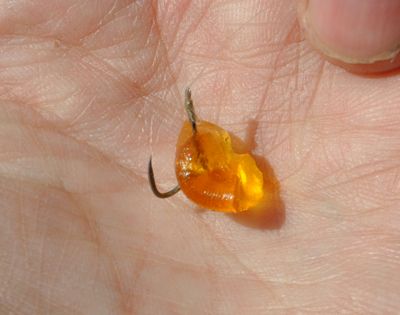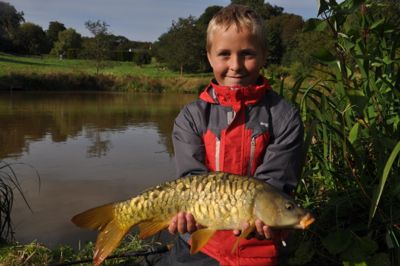 As well as the smaller fish we also had some real whoppers on the bank too, especially once the sun came up and we could target fish on the surface with baits like bread and cat biscuits. The biggest of the lot was landed by Josh Fawcett and expertly netted by his sister, Pip (you can see the beastie at the top of this blog entry). In one sense I was relieved because Josh had played an absolute monster for about ten minutes before losing it earlier that day. The best fish on day two was landed by fifteen year old Sofia and was well deserved; while the boys were all talking a good game she quietly got the better of a cracking common carp, which was so long she got younger brother Finn to hold one end of it for a picture. What a catch:
All in all it was a brilliant two days and I left shattered but happy. Perhaps the perfect ending was to see Josh Fawcett playing a carp as we left. Having enjoyed the sessions earlier he had returned to the fishery to fish solo, landing a real belter of a fish with the skills he's learned, no coach now required!
It had been a great success then, but one that in no small part was thanks to two individuals in particular. Suzanne, who runs West Pitt Fishery, showed great kindness and support in letting youngsters fish the sessions for free as well as donating tackle and other bits in the process. I think this speaks volumes about her attitude to young anglers and I only wish every fishery had someone with such a good heart. I'd also like to thank Glynn Mansell too, who donated a boot load of seat boxes, nets, rods and other things which were invaluable over the two days. If every fisherman passed on tackle to the next crop of girls and boys so willingly, we could arm a whole generation of would be anglers. If there's any such thing as karma, you deserve to win the lottery Glynn!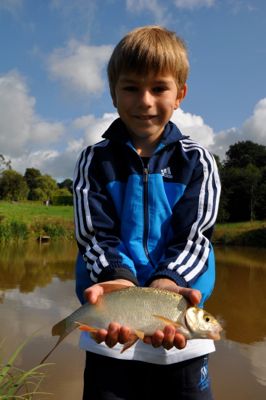 So, a huge thanks to all who attended- and for any Exeter based youngsters, we also have an event running at South View Farm this coming Thu/Fri 28/29. Just call me to book: 07804 240986. If it's half as much fun, it'll be a blast.
Not that coarse fishers have had all the kicks this week though, because I've also been starting others on a similar journey at fly fishing. Even given that keen lads Harry and Alfie Keyes and their dad Danny already go coarse fishing, I was impressed at how quickly they picked the basics up at Simpson Valley Fishery.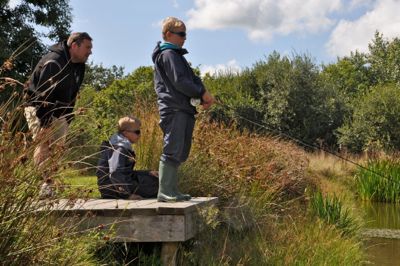 I often like to start things off without the distractions of fish and water until newcomers can perform a decent cast. I've spent a long time on occasion suring up someone's basic cast, but after just an hour or so on grass all three of the new recruits were putting out a tidy loop of line. In fact I'd go so far as to say that young Alfie is one of the most natural fly casters I've ever taught.
Nice looking casts don't guarantee you trout though. Even on a prolific fishery, hot weather can make catching harder so I was dreading the bright weather we'd been forecast. Carp on small stillwaters might like a warm summers day, but rainbow trout are actually far more catchable in cool weather, right into the winter. Using nymphs such as Hare's Ears and Buzzers however, we received some good early takes before it got too warm and all three got a bend in their rods. Thrilling and satisfying stuff, because as much as I like to help as a guide I cannot make the fish take your flies.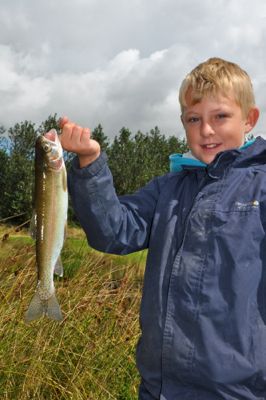 A two fish ticket at Simpson Valley is sensational value at just £10 (and also helps me keep a guided session for three really affordable!), and our anglers had five fish between them to reward a great first crack at fly fishing. No lures in sight either, with the best fly on the day a size 14 Hare's Ear slowly twitched where fish were showing. Well played lads!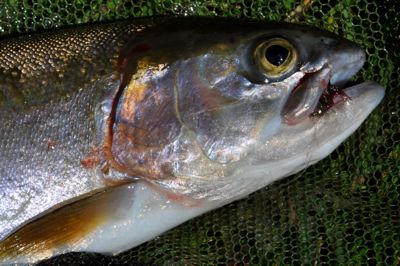 So, I'm really satisfied after a hectic week of coaching, but very much looking forward to an afternoon off with (you never thought I'd say this) no fishing for a change. Phew.