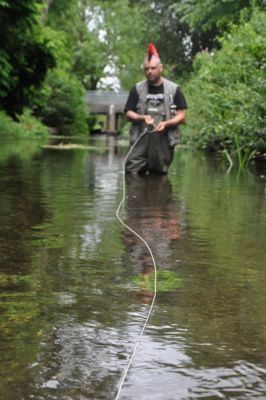 There are places we travel to fish that are extremely prolific and others that are simply good for the soul. Ireland is both, and a place I'd sorely wanted to return after some enjoyable pike fishing a few years back. These days I'm also just as keen on my trout fishing, and I guess you could describe me as a "successfully rehabilitated" pike angler. You might say the same about my host Aidan Curran (aka Pubz McWreckthegaff), an angler with plenty of teeth marks on his angling CV who's now just as happy tangling with trout. Not that you might guess so from this piece of ongoing current work from his wife, Pony:
Anglers come in all shapes and sizes, but it's probably fair to say that with his red mohican and taste for punk rock, Aidan is not exactly your typical fly fisher. Then again, with a love of "coarse" fish and aged clearly below 50, I'm probably not either. We broke the usual rules about discussing politics and religion fairly quickly, while also swapping flies and ideas along the way as the car rattled with raucous tunes. Our main target was the legendary River Suir near Tipperary, but we must have spent as much time on tributaries such as the Ara. Such streams are about as idyllic as it gets for a travelling angler.
It was an "educational" experience in more ways than one on our visit. Ok, so hot weather had rendered waters low and clear, but these trout were as spooky as I've ever fished for. There were stacks of them, but no matter what we tried for the first two or three hours, you couldn't help but send them scurrying. Perhaps the sheer head of them was part of the problem: you'd see one spook and literally stir up a dozen of its mates up in the process.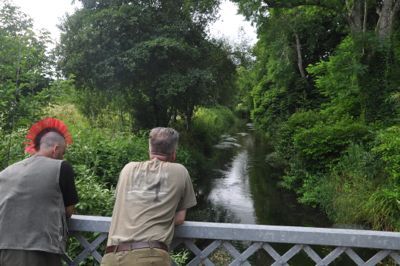 I then finally got the chance to get even with a little tip-off from local guide George McGrath, who can be seen above with Aidan, studying a bridge pool and issuing some advice. Very much an authority on fly fishing in this neck of the woods (+00353 085 1519770), George is one of those old school heads who will tell you in no uncertain terms which flies work and what you should or shouldn't be doing. And he certainly proved the worth of local knowledge by lending us a few flies, including a tungsten beaded nymph that I used to hook, but sadly lose a lovely wild fish of perhaps two pounds. Blast! It was only later in the evening that fish could be picked off more easily and we had some measure of revenge: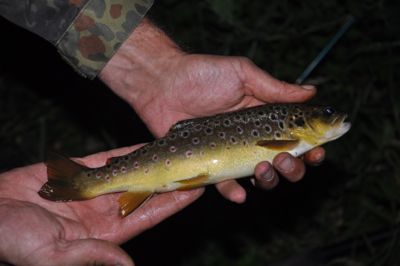 The days proved tough in general, where distinctly un-Irish weather proved baking hot and not ideal at all for trout. Not all bad, because this did make for fine weather to get out and see the local countryside and culture, probably also preventing my girlfriend from going mad. The "Rock of Cashel" was one highlight, as were the Guiness, sea food and home made soda bread we dug into: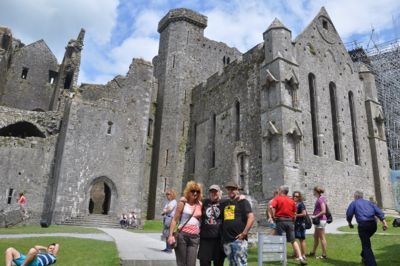 It was to be a trip of tricky fishing during daylight hours in general, albeit punctuated by short flurries of activity late and even into darkness. I don't have the space here to go into the whole shooting match (and naturally, I'm always keen to save some of the really juicy plot for my next magazine articles), but it did make me wonder why night fishing isn't more popular at home for trout. The main reasons are simple: while the darkness conceals line and angler, its also true that all the little creatures come out to play, feeling safer, while the trout follow suit, including the bigger ones.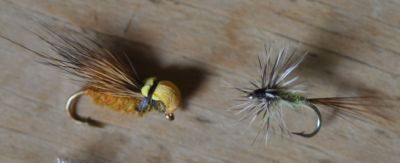 There were many lessons then, but one of the biggest was to pack more caddis type patterns in future, and especially the smaller sort, like the Balloon Caddis (above right) in a size 16 from George. I think we still sometimes have the impression that when travelling the fishing is likely to be easier and we can take liberties with flies. Wrong on both counts! If I picked up one key message other than staying late, it was the value of having smaller flies in a few key patterns. Whatever your level of experience, the locals will almost always know better than you what works and having six key flies is better than boxes of the wrong versions.
And we did indeed save the best for last with a final crack into darkness. The transformation in results was staggering in fact, just by persevering into that dingy period when most anglers pack up and go home. Sport went from the odd missed take to carnage in the shallow flows where fish were suddenly queuing up for the hatch and I finished feeling pleased to have finally hit the river at "rush hour". None were vast, but the power of a foot long Irish river trout in a good push of water is still a rod-kicking thrill: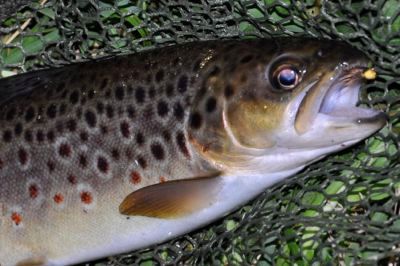 As always, the only trouble in Ireland is that you will eventually have to leave. There is simply so much to explore here though. Too much for five days, although we did also head west for a crack at some rudd. I had a the odd small one and even a hybrid on the fly, but the giants that these rich waters can produce were sadly lacking. Even so, the venue was absolutely stunning and I found a real kindred spirit in Aidan:
It's hard in fact to reduce the experience to a few lines of blog, when we did so much in the week- including a quick blast in Dublin's brilliantly musical and drunken Temple Bar area. I also did something else I've avoided for a long while, and that's to take a fish for the frying pan. Very different out here, I guess, where the rivers are quiet and fish plentiful. We treated the best of my brown trout to butter, salt and pepper. I'm not about to make it a habit over here, but washed down with a drop of ale it was a real treat.