Is there anything better than picking a fine spring day to go fishing? You can finally expect to see moving and rising fish. Two layers will do. And even if it's rubbish, the sun is on your back and the whole summer awaits!
A little spring cheer tends to bring even occasional anglers out of hibernation. Ben, my older brother, is usually anything but a fair weather fisher, but having a new baby to think about, it was the first time he'd been fishing in a while. What a day we picked too; the water looked lovely on the Culm (we fished at Champerhayes on the
Westcountry Angling Passport
).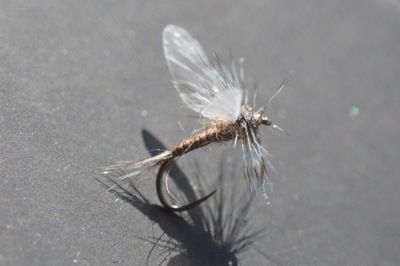 More out of optimism than anything, I had tied some dry flies up too. For the River Culm fly fishing, it just has to be that classic quill bodied fly, the Beacon Beige. The original is a very simple fly, but I also added a pair of wings ("
Reel Wings
" to be precise). These not only look the part, but make a typically small (size 16) fly easy to spot.
It was one of those days when the whole countryside seemed awake. The blossom was out, as were bees and nest building birds. The water itself was teeming with minnows and shrimp, perhaps part of the reason the average size of trout is very healthy here for Devon. It didn't take long to see lots of real flies either, mostly large dark olives: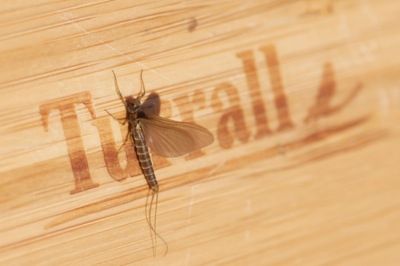 The strange part was the lack of response at first. We had been running nymphs in all the right looking places, but without a touch. Eventually though, there was the odd rise form and so on went the Beige. At virtually the first time of asking, I managed to flick it under a high bank where rings had subsided only seconds earlier. A positive rise and it was fish on.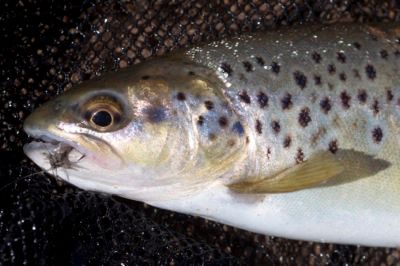 Perhaps the recent winter was kind because the fish were in excellent condition. Some were really silvery for Culm fish too, and rather fat looking for so early in the season. It wasn't plain sailing, but by fishing lots of areas and covering any risers quickly, we finished with two trout a piece. In true brotherly fashion we also made some totally needless rules and turned it into a little competition. Ben can probably blame lack of match sharpness, but I pipped him by a couple of inches with slightly bigger trout!
Meanwhile, you can also read more of my exploits this month by grabbing the new Fly Fishing & Fly Tying magazine. A great little urban river in my article, along with news from the
Fly For Coarse
competition and an excellent perch which fell to my friend David West Beale.
In other news, I've also just finished another of the fishing sessions for kids that I run at
West Pitt Farm
, Devon. Again, we were hugely lucky with the weather as the best part of twenty youngsters descended on Kingfisher Lake for four sessions over two days. Some of the stars of the show from last time caught even better than before, while others caught their first ever fish: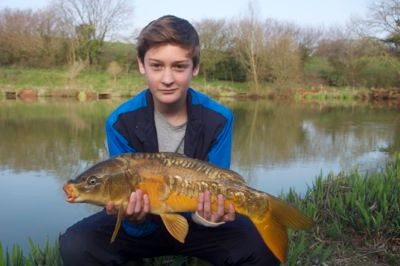 What I always love is the sheer, unreserved delight that kids show at getting bites and catching fish. Excitable, funny and imaginative to the last, it was a lot of work but a heck of a lot of fun to say the least. Everyone caught a few and I also laughed at how, just like my brother and me now in our late thirties, boys love to count their fish and greet every strike, catch and missed bite with a running commentary.
All excellent fun, and in spite of long hours and a crunched pole section, I would gladly run days like these forever. For any parents or young anglers in Devon, do keep an eye on the West Pitt site for news of the next one too- we're sure to have a blast once again in the summer holidays!