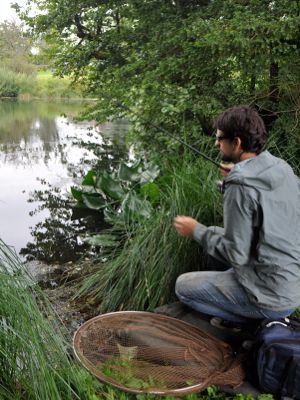 Recent angling has been somewhat interrupted these last two weeks or so, for several reasons including the perils of organising fresh work and a lively Sidmouth Folk Week. Those care free, meandering summer holidays I remember are long gone it seems. But if there's one thing the busy angler learns it's how to free a couple of hours here and there, whether that means making a suitable excuse, getting up early or sweet talking your other half. And sometimes a couple of hours are all it requires.
Unsurprisingly, short stolen sessions often involve a fly rod for me and while rudd often give instant kicks, I've also been packing a carp set up ready to go. No crazy ultralight antics here though: at present I'm using a nine weight and ten pound leader as the only solution to tame some seriously fit and wild carp on a very weedy pond.
It's something I've spent a long time doing over the past few seasons, but admittedly my success levels have varied greatly. That said, where there is low fishing pressure and/or tons of natural food it is now something I attempt with confidence. My most recent catch is a classic example, occurring after two blanks with bait. And yet carp fly fishers always seem to suffer the same hang up: they feel the need to feed bait and fish dog biscuit "flies" even when the carp are perfectly happy eating snails, shrimps, nymphs… you name it.
The fly I've had most takes on lately is an adult damsel. Strange, because although plentiful you wouldn't imagine the fish picking up more than an occasional casualty. I fish this with no floatant, so that it sticks for just a second or two to the surface before very slowly sinking. Even so, it's a game of anticipation, letting it fall gently where it can be seen. Cast gently and you might present the fly ten times to the same fish; mess it up and it's game over. I've also found the carp perfectly happy to track the fly until it sits on top of weed, examining it for a few seconds before having a suck. No such trouble with the latest fish though, which took on the drop after two pals had ignored it: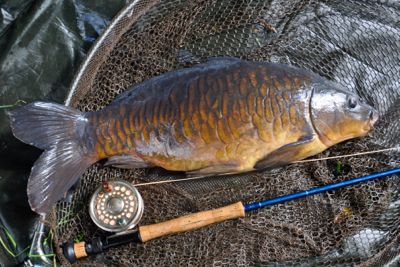 The fish gave me some real heart attack moments, mostly just due to the way it hugged the weed. For a couples of minutes all I could do was keep the tension, as all I could see was a pair of lips poking out, the fly neatly in the corner. Eventually though, I used the frame of my solid framed landing net (much better than the triangular specimen models in this situation) to gather her up, along with a good helping of salad. She was just an ounce under twelve pounds and absolutely stunning: fully scaled mirrors are my favourite carp in terms of good looks.
Very satisfying indeed- and although it might betray that I'm better with a fly than bait in general, I managed to pull a blank on the next night session with boilies. I think the absolute key to the fly is its subtlety; it's such a delicate presentation, whereas even a free lined bait makes an audible plop. And while several thousand cliched articles will tell you this is a "dinner gong" (groan!) to carp, that's only usually true on heavily stocked waters. Indeed, in an age where even the most "natural" of carp presentations usually involves two ounces of lead as standard, we still have a lot to learn about finesse.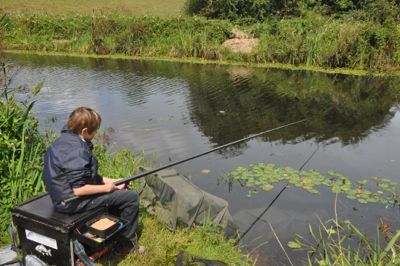 As for the rest of my summer, the near future is all about getting kids fishing. I find 90% of my guiding falls into two categories: People who are novices and want to learn the ropes, or those who are experienced but want something new (usually coarse fish on the fly). I'm well aware that a lot of youngsters could use a friendly teacher though, who can provide all the bait and tackle and not charge the earth for it. Which is why I've set up my "Summer Fishing School"
events. The first (on Thu 21 and Fri 22 August) takes place at West Pitt Farm, near Tiverton. The owners have very kindly waived the fee for kids to fish, meaning I can provide everything for £16 a head. Do drop me a line if you have kids, family or friends who would enjoy it. There are two sessions each day (9am-1pm or 2pm-6pm) to pick from and this is an ideal fishery for it- I am 99.9% positive every single guest will catch and learn loads in the process. Every child will catch roach and rudd, while they also have every chance of fine carp. I'd far rather people booked rather than just turning up however, because this helps me keep groups small and balanced so I can give the best and most focussed sessions possible. Just give me a bell on 07804 240986/ domgarnett@yahoo.co.uk
And off the normal fishing beat, Sidmouth Folk Week also provided a proper "session" in all things musical, with the odd local tipple thrown in. I'm slightly ashamed as a Devonian to say that this was my first proper experience of the event, which sees sleepy Sidmouth descend into a happy kind of anarchy involving dancers, musicians, jugglers, pyromaniacs, tricksters and revellers of all kinds. What I loved best is that it seemed such a beautifully unscripted event. The British "have a go" spirit prevails where you find everyone from a 12 year old kid doing their first ever performance, right through to the professionals. The costumes and even the very instruments themselves are often hand made from scratch- as you can see from this rather fetching guitar, fashioned from a cigar box and with beer bottle caps for volume and tone controls: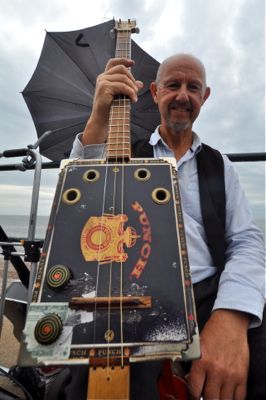 If you steer past the usual tat and the odd dull covers band, it also seems very much the sort of event where you might spy a big name or two to look out for in the future. My pick of a talented bunch was Cam Cole, a moonwalking, hollering street guitarist who plays stripped down, rootsy music with killer riffs and a distinct twang of the blues. Worth looking up, or even better going to see: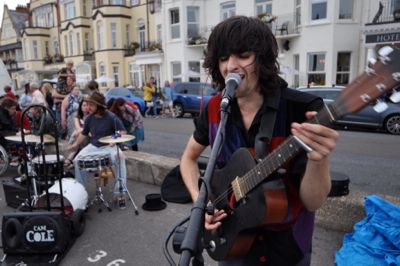 After a whole week of invasion, the town then geared up for the big finale, with fireworks and a parade where you wondered what you'd been drinking: Morris men and women, fire carriers and even giant jelly fish made up a spell-binding procession. In our Tescos era of bland consumer nonsense, it's genuinely refreshing to find eccentricity and tradition alive and kicking: