The rainbow trout of small lakes are easy fodder in the winter aren't they? Erm, no. Not always at least- throw in some ice, fluctuating temperatures and the reality of less frequent stock turnover and you suddenly get more challenging fishing. Not that there's anything wrong with a little more difficulty- and in fact this is preferable to the polar opposite scenario with stockies that jump on any fly in the box.
Bratton Water near Barnstaple is one of the more natural fisheries in any case- some fairly wily browns besides rainbows, plus a catch and release ticket available in winter spicing things up. Today was really a case of going through the card to find the right tactic. Mini lures are a real favourite when the going is tricky, for several reasons. The trout can easily take them whole, unlike the larger variants they're partial to nipping at rather than engulfing. Equally, the smaller fare can be presented slower, and in combination with a nymph if neccesary.
With half the lake still iced, options were limited. But after an initially poor spell, a move paid off with the sighting of a few cruising fish that soon followed small bright lures. Along with another caster, I enjoyed a hectic spell of hits and two nice rainbows landed and quickly released before the going slowed. Trout can be aggressive, yes but they're not plain stupid.
The ice began to recede slowly and the occasional rise was evident by lunch time and a balmy 8 degrees. The fish weren't chasing as hard, but were picking off something. A subtler approach worked, with buzzers or daiwl bachs working in tandem to pick off another few fish. Stand out pattern? Leon Guthrie's Satanic Buzzer, comfortably- time and again this is a fantastic little stillwater catcher, with just that extra something and worthy of far wider recognition- do either check out my "links" on the site, or google Leon Guthrie for more on this brilliant fly.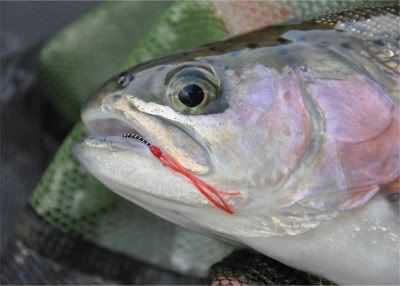 I'm also indebted to up and coming photographer James Callison for some excellent shots on a dour day. A good session then, but now I am feeling the effects of combining a week of early starts, late finishes, cold days and way too much activity: I feel as sick as a dog. Head ache, sore throat, a little feverish... in fact I'd best sign off before I drop off!