This week's relentlessly wet weather could do little to take the gloss off an outing featuring one of Britain's most distinguished anglers on the banks of the celebrated River Test. It's a far cry from Tiverton Canal, that's for damned sure. Although better known for its outrageously fine (and bloody expensive) trout fishing, this historic river and its carrier streams are also home to some cracking coarse fish, with roach a real passion for Bob.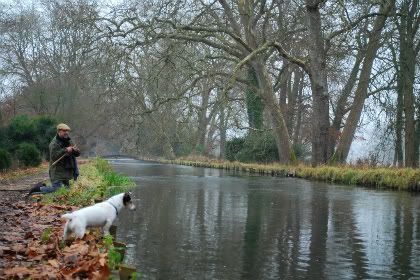 Besides my own presence on the bank, Mr James was also being filmed for part of a new series which sees him tackle a succession of idyllic locations. So much for pressure though- in spite of the dreary, tricky conditions his experience and humour shone through the drizzle.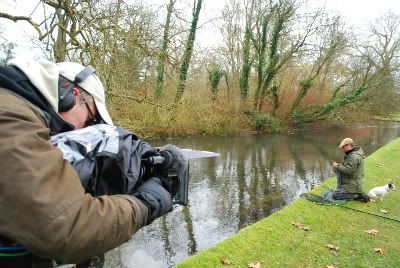 Inevitably for the Test, trout crashed the party at times. But eventually Bob connected with some flawless grayling, as well as fit dace and chub. But where were those roach? It wasn't for any lack of technique. Bob is in his element trotting a stick float, putting a new Hardy Marksman rod and 4" Centrepin through their paces (well, you didn't expect Bob to get his tackle from Argos did you?).
I certainly learned a great simply by observing. In fact, I believe that if I can impart even half of my own lesson here into some forthcoming material, I'm sure it'll be a gem for river anglers. In between shooting I even managed to do some trotting myself; the fish here are beautiful and a juicy chub was perhaps the highlight from the sort of swim I usually only dream about.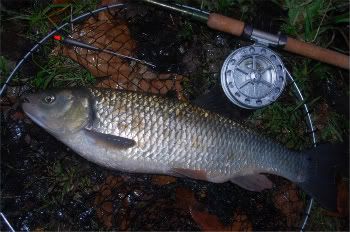 Back to centre stage however, the roach were playing hard to get. A move to the main River Test saw greater success with Bob's target species, simply beautiful roach of bright silver and impossibly red fins. And as for the finer points, well you'll just have to wait for the feature!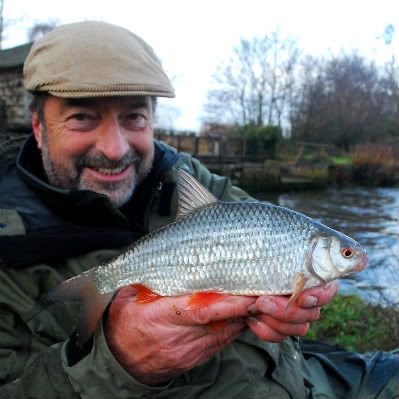 In several hours of rain I got the devils own soaking but still enjoyed every minute in Bob's company on a river that stirs the heart even in the doldrums of winter. Something to fill my daydreams perhaps next time I'm stuck in traffic on the "as seen in Crimestoppers" side of Exeter.