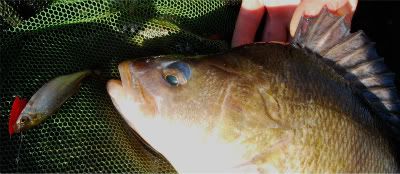 A soggy Upton lakes on a sodden afternoon formed the setting for this weeks adventure. Hardly romantic, but this place has that definite perch aesthetic- shadowy corners, sunken snags and branches sticking out of the water. Russ Hilton joined me as we compared notes and tried very different tactics in the hope that between us we might contact something solid.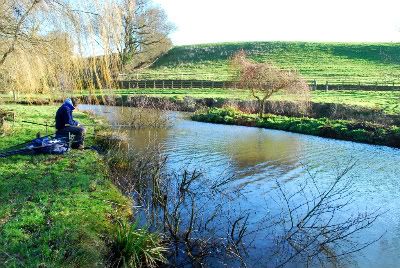 Russ kicked off with maggots and pole tactics, a reliable way to get bites from skimmers and roach as well as chunky perch here, whilst I fished larger worms on float tackle and set up a second rod to present small live or dead roach. "Compare and contrast" may have been the theme, but in actual fact match and specimen tactics can be combined nicely for perch and I always swear by plenty of "chop". It's free, it's easy to use and by heck does it draw in perch.
Perhaps the only drawback of worm is that it isn't so selective- even lobs catch small fish. Hence after a lukewarm start with just the odd skimmer I was keen to snaffle a couple of little roach to try. Casting these close to cover in a reasonable depth of water was the answer- three decent runs and two nice perch, one over the two pound mark which fought surprisingly well on light tackle.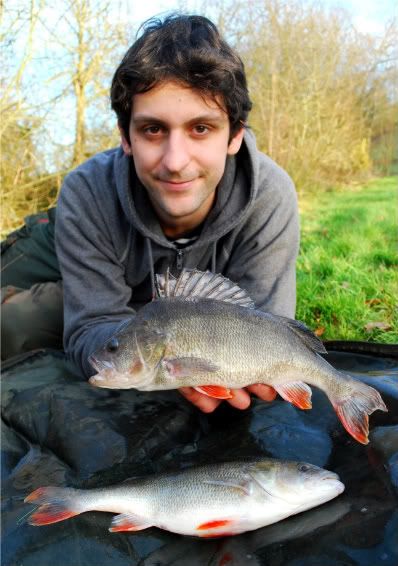 I love big perch, even the real bruisers. They always have that look about them- like ageing heavyweight boxers, heads big enough to swallow kittens. Impressive more than pretty perhaps. Meanwhile Russell snared several perch and a couple of handsome pound plus samples on light tackle and I still believe that the light approach has its day too. Russ has had several two pounders here on maggots- and doubtless there is an even bigger monster waiting somewhere.
On a darker note, the worst part of my week was saying farewell to Hiram Garton (who most of you will simply know as "H") from Exeter Angling Centre, who passed away recently. All I can say is that we have lost a one off and a real gentleman in Hiram- a kind, ever helpful presence in the shop and it will be strange after all these years not to see him there and discuss flies and fishing tackle. Most of all I think I'll miss his anecdotes and lovely, dry wit and humour. Farewell H, you were one of a kind and we'll all miss you very much.