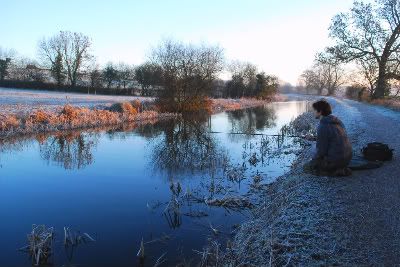 Somewhere between biblical style flooding and hell freezing over, the hunt for further pike continues this odd winter. After a muddy blank on Exeter Canal, it was time to return to Tiverton Canal if only because I am an impatient so and so and this little water is more pikey than Bridgwater Services. I had hoped to grab a photographer too- but with a no show it was the plan B of self takes. Even so, with a brilliantly frosty, blue and hazy pink winter sky reflected on the water it was difficult not to make the place look appetising.
Sadly the pike didn't fancy the combination of murky water and freezing temperatures. Whilst there's no shame in struggling then, I do start to get fidgety and swear by a few tricks. The most obvious is to keep moving; when the pike aren't patrolling or active, new swims and frequent recasts definitely help. I also like to keep fresh baits however and chopping used offerings into a bloody mash helps to put down some scent and stave off despair and pnuemonia.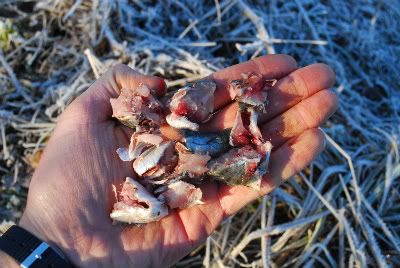 It's also well worth presenting baits differently here: even after a bitter winter, the place is still weed choked and I like to pop up a deadbait on one rod, whilst setting another bait shallow on a second outfit to gently drift (hopefully) into view of a pike or two. This way I can also watch one set up, whilst the neccessary evil of an alarm will warn me about any interest on the other rod.
Ian Nadin joined me later in the morning- and persuaded me to take a decent walk to another area after three biteless hours. A bloody good idea. In a lovely reeded length the indicator finally dropped and the line crept away. A welcome pike of around eight pounds was the culprit- and to prove our hunch that the fish were dormant the beast was festooned with leeches! Five minutes later, a pike that was almost identical save a little less fat also followed from the exact same area. Thank you pike!