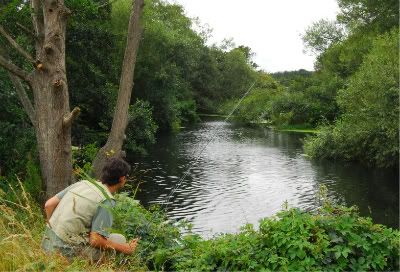 It really puzzles me sometimes why fly angling for some species is seen as a method for eccentrics only. Take chub for example- are they naturally feeding on pellets and maggots? In reality they feed on many of the prey items our fly boxes try to cater for. Even so, it was with a mixture of trepidation and excitement that I approached the Stour yesterday- a maiden voyage to this fine chub river with a tough reputation.
It took a while to find what I was looking for; funny how we look through websites, forums and printed media and then discover that reality is another thing altogether. I found lots of mullet near Davis tackle shop on the Stour, but it was only higher up on the river I started to salivate. I spent a happy couple of hours by the weir on Throop beat 2 admiring some huge chub, one of which took a look at a large dry fly before swimming nonchalantly away. The roach and perch were thankfully more obliging, with several cute fish taking small nymphs.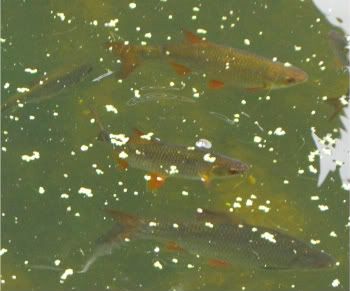 Moving onto streamier, shallower water though, I soon wished I'd moved earlier- plenty of chub were holding up in the well oxygenated runs. Christ on a bike are they spooky though! The first group of fish located saw me first- but a few yards on and I saw a couple more, this time well upstream where I could cast without being so easily detected. My black hopper was taken in a beefy swirl and I was playing a nice chub, just a scrape under three pounds.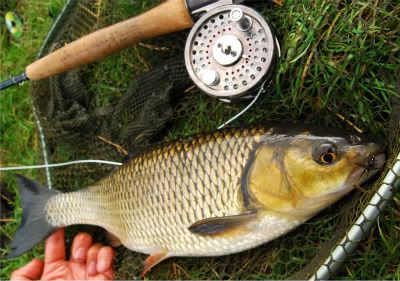 More chances were taken and missed, another fair chub along with it's baby brother, perhaps the smallest specimen ever landed and there was even an exciting but fruitless encounter with some barbel. Under a deep bank further along I saw a pike grab a roach and slink off, little silver scales fluttering behind. Back in the shallows the dace were also there in numbers and provided further distraction on this beautiful and varied river. Besides the lovely chub and dace however, a less sweet reminder of this wild place was a wasp sting on my right ankle, which has now puffed up to comic book proportions. Eeek! Actually, I'd rather think about those chub.