A slightly different way to tackle some Culm trout lately, I sometimes like to swap the fly rod for an ultra light lure outfit. I'm certainly not one to get sniffy about methods- indeed, light lure fishing has quite a lot in common with fly fishing: it's just as visual, just as mobile and often just as much fun.
Out came some favourite small lures from Finland for this one- almost immediately a baby sized rapala skitterpop cast under a tree was absolutely battered by a brownie around the 16" mark! Until I saw the gold sides and black spots I could have sworn this one was a pike, such was the ferocity of the lunge. Incidentally, like EA bailiff Nick Maye, I've never encountered a single pike on any of the streamier sections of the Culm.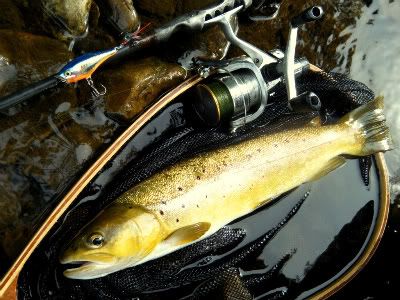 With the water levels quite low it was a case of fish congregating in the pools on this occasion. A little trout coloured countdown was met with hungry jaws on the edges of these deeper sections, once again no subtlety involved whatsoever. Presumably not a great place to be a baby trout round these parts! I added another two trout to around a pound and a half, but strangely no chub, before calling it a wrap. I'm not about to trade in my river fly rods, but this is exciting stuff nonetheless. For anyone who fancies it though, I would strongly advise debarbing trebles- these trout pulverise a small lure.