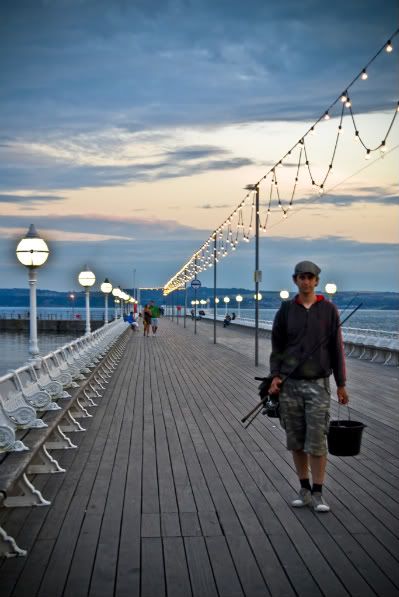 After a long stint in wild Finland, Britain hits you a little like the pounding headache and vague sense of despair that follows a great all night party. In fact, the first week back I scarcely wet a line. The sea has been calling for a while however and Torquay harbour was a surprisingly beautiful place on a balmy evening. The fishing was pretty underwhelming- just one decent mackerel to my usual coarse gear tactics and lots of glum faces on the sea wall.
Never mind, the sea is always a welcome calmative and the real spectacle was to arrive later, Frazer McBain the man responsible for capturing the unreal, stunning colours of a muggy sunset on the coast; for once it was him pleading "lets stay another ten minutes- it'll get better, you'll see." Another surpise were many dozens of mullet swimming underneath the elegant old promenade here.
Wanderlust has got the better of me otherwise, and even when the fishing is indifferent a good walk with a few lures is always interesting. Aside from sunbathing carp on the urban River Exe and the odd jack battering a surface lure, the real highlight has been the ever reliable perch. Even in real sunburn weather, these handsome little buggers will give chase and just occasionally your eyes widen as a much chunkier individual shows up. I'm making it my habit to carry smaller lures these days, as these fish are just as interesting as pike in their own way. The canal stripey pictured below took a fair sized Kuusamo and was caught after I'd seen it follow a smaller fish earlier on, seemingly intent on stealing the lure straight from its mate's gob!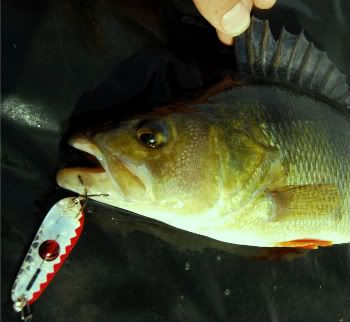 A return to work and England's lame exit from the world cup have been less of a kick, but then I guess summer can't be all fishing and cold beer.