Feeling half dead, half happy today after an overnighter and some success to redeem an otherwise very tricky fortnight or so of fishing. To catch a carp from Exeter Canal has long been an unfulfilled plan of mine- and finally I have my fish! Back in my match fishing days I used to get smashed occasionally by these creatures- after several unsuccessful sessions last year it was a great feeling to hook one on tackle that offered a fighting chance.
A welcome pressure change may have had something to do with it, as well as trying in the cooler, more antisocial hours of the day to beat the heat. A tigernut worked in the end (I inevitably get just bream on boilies), buried inside a decent sized PVA bag and on a longish hooklength to try and keep weed free. At 6am the run came and I half jumped, half fell forward to grab the rod. Inevitably, the fish had gone for the weed and a very tense stalemate followed for several minutes, just the occasional tap on the line reminding me we were still connected.
Eventually the fish bolted out again- I had tried slackening off, but in the end steady pressure worked; one of those situations where you're grateful of strong tackle and a barbed hook. I had little idea of size at first, so covered in weed was the fish in the net! 13lbs 12oz is no earth shattering fish, but still a very satisfying first for me, having watched these semi wild fish for many years and wondering what it would be like to catch one. So satisfying- and so different from fishing a stocked pond.
Otherwise I had the daft idea to try and end a frustrating spell by fishing for mullet. Not the brightest idea although Paul Hamilton, who knows the tidal well, did manage four to feeder fished bread.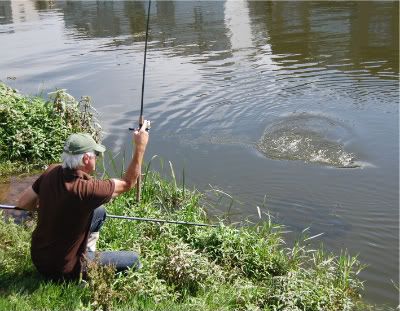 They fought excellently for a few pictures- and whilst I managed to lose the couple which I hooked it was good to see some on the bank.
The mullet are really contrary creatures I always find: usually I can get a few on baited spinners, but I've often struggled with the feeder and with mullet you never quite know whether the day will be dramatically successful or absolutely bloody useless. Perhaps we should be thankful of the mullet for keeping us guessing.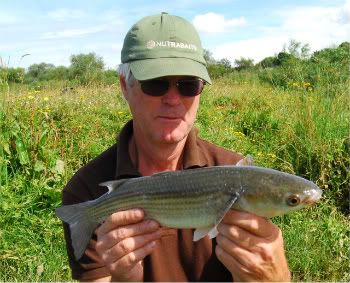 Talking of Mullet, I also couldn't help noticing one of the kids at work had some world cup 2010 stickers featuring legends of the game: lo and behold Glen Hoddle's 1990 mullet was there in all it's glory, a mullet of majestic proportions from the days when grown men sported these barnets proudly, wore shorts the size of swimming trunks and the England team actually played good football.