Back on a sunny Tidal Exe (above), I had another meeting with mullet. This time I left the catching in the capable hands of mullet maniac gent Bert Brockington. How unpredictable are these buggers? You just can't account for their antics. Fiddly bites and fine tackle required, and then the next minute one was following Bert's swimfeeder to the bank like a dog on a lead! Most bizarrely of all, Bert once witnessed a group of mullet butting a large carp with their noses to try and bully it away from their patch. Go figure!
Just as I was wondering if we would be back next week to try again, Bert hit a good fish on bread flake. These mullet are real sprinters- astounding power, sleek and streamlined. He followed this up with another thin lip of 3lbs 2oz for good measure too.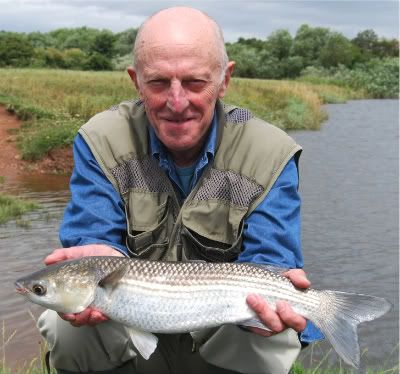 Excellent for pictures these fish- quite beautiful in a strange sort of way. Nice work Bert! I learned a lot about these frustrating fish from simply watching rather than fishing. It's also good to see plenty of young fish in the Exe- it's not known for huge specimens, but numbers are up. Bert and the National Mullet Club have long campaigned against netting and perhaps the future now looks brighter for it.