The CLA Game Fair made for an entertaining trip this weekend, not to mention an excellent place to meet up with old friends and make new ones in the fishing world. The size alone is quite staggering, with everyone from the carp crew to the green welly brigade having a good sniff around. I always love looking at new flies and lures, but how's this for a novel use of a paddling pool to show the killer action of your wares?: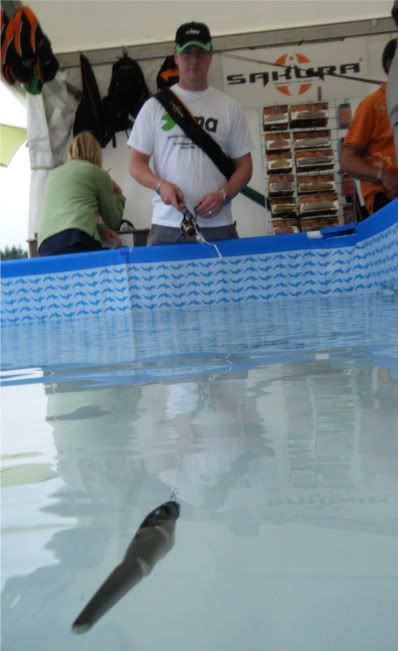 As a sucker for a stylish lure, Bass Lures (www.basslures.co.uk)were right up my street, with plenty of hard to find lures from Japan and America. Perhaps the real eye catchers were Sebile's "Magic Swimmer" lures however- the soft versions are versatile and pretty-damn-near-weedless. These look terrific for either bass or pike where weed soon puts the dampers on a sexy wiggle: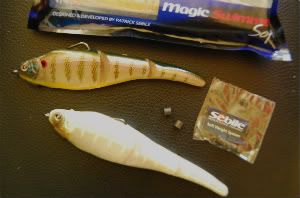 Elsewhere it was good to see the Westcountry Rivers Trust in force with exciting prospects of new water opening for next season. I can hardly wait- but for the kind of mouth watering rivers on offer, Total FLyFisher, also at the show, feature a trip to near virgin water on the Okement this month where I joined Westcountry Angling Passport manager Toby Russell for a trip into the wild. (www.westcountryangling.com)
The Game Fair it might have been, but the coarse side was also out in force. I couldn't resist my chance to pose with the fish of a lifetime- I'm afraid the beautiful common carp below was of the stuffed variety however:
Accidental discoveries of a non angling variety were also welcome at the show though and I loved the birds of prey especially. The African Crowned eagle was one highlight- a massive, beautiful predator which snacks on adult monkeys and wild dogs in its native environment!: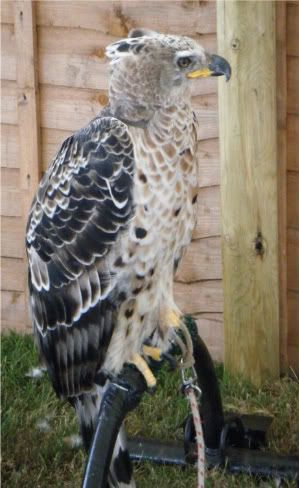 Above all it was a weekend to open up to all sides of fishing. I've joined B.A.S.S (the Bass Anglers Sportfishing Society), something I should have done earlier, whilst Sunday was all about the next generation of anglers at the Exeter & District Angling Association's come fishing day.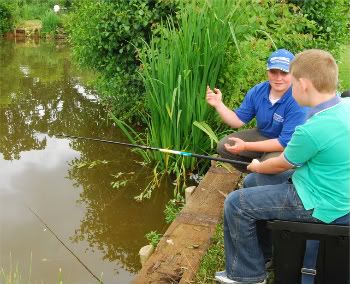 Two dozen youngsters got a terrific, free introduction to the sport, whilst I helped untangle pole rigs and do the rounds. What a brilliant day- the kids caught roach, crucians, perch and even the odd carp. Watching the simple excitement of youngsters catching fish is always magical- hopefully they'll nag the folks to try again and some of these new recruits have found a hobby that will bring them many happy days by the water.