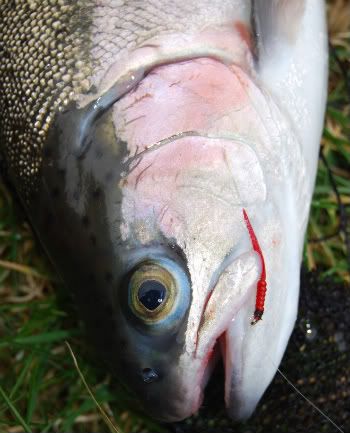 Whilst the bleak winter weather appears to be fading out, waters are still proving cold and the fishing less than emphatic on the trout front. Bloodworm patterns are as good a ploy as any usually when the chips are down and I was keen to spend a day at the lens with fly fishing guide John Dawson to capture this his nymphing approach at Hollies Fishery.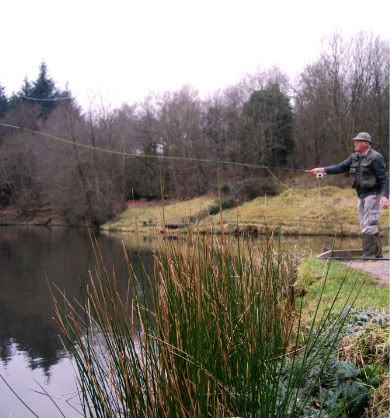 Testing conditions made this anything but simple but John soldiered away in determined fashion, until he and fellow fly angler Chris Tucker earned some takes. We really did go through the card- from bigger marabou creations to the more natural, smaller variants. In addition to John's elegant casts and patient retrieve a measure of determination was required though, the odd fish finally responding along the drop off into deeper water and giving the chaps some welcome action.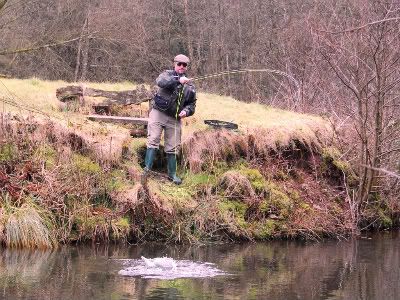 A far cry from the fish factory of Blakewell then, but is a challenge really such a bad thing? Rob, the fishery boss, was somewhat perplexed himself as to the tricky days fishing, but it was refreshing to speak to such an honest and enthusiastic owner. With so many trout lakes converted to coarse waters it was also nice to see the reverse happening here, with the top lake developing from a coarse pond into a pretty little trout lake. Eventually we did put one or two lures about to get a bonus take or two. Not entirely going with the script then, although the bloodworms did take most fish all the same.