Back to my first summer love last weekend, getting lost on a wild, Westcountry stream, the thoroughly beautiful River Okement above Okehampton. On this occasion it was with the Westcountry Rivers Trust's Toby Russell and photographer Simon Steer to get a story together on a truly unspoiled location.
Armchair fishing this isn't. Across a field bursting with spring bluebells, we found the river rocky and sheer in places. Despite some rain in the week, the water was utterly clear and inviting. Shady corners, bright riffles, deep and secretive pools- this place has all the ingredients for an adventure. We carried out a little kick sample along the way to get a few clues and unsurprisingly, found a vast array of invert life- various stoneclinger nymphs especially prominent: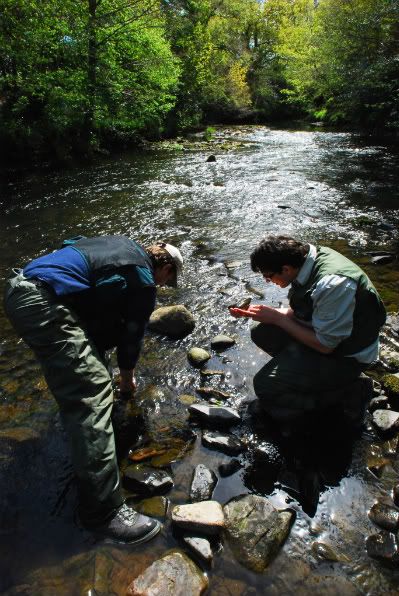 The trout themselves proved a real challenge on the day and were both easily spooked and rather shy. Small sized nymphs proved the best answer, fished NZ style on fine tippets, a little hare's ear or spider as good as anything for several small but very beautiful brownies. On other occasions, I'm sure I simply spooked the fish- easily done in low water with size 14 waders, even when on your guard!
It's the wild magic of the place that will stay with me though- a really rough hewn and stony sided beat, the wet black of rock slopes under lush spring leaves. Perhaps May is the best month of all for a fly fisher?