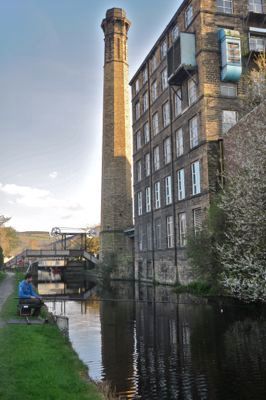 The sums still seem nuts as I weigh up a week long road trip. 950 miles. About seventy quid's of worms, casters and maggots. A selection of random B&Bs. And all for the love of... well, the unexpected. I wanted to stop at a whole stack of those places you usually pass by thinking "that looks interesting", but never actually making a cast. There's a certain irony that in our age of information overload places such as urban waters and canals offer a good deal more mystery than the really "classic" destinations. And on this note, I was pleased to be in the company of Russ Hilton, who shares my taste for the sort of fishing detours you don't often see in tourist brochures. I can see it now:
"Come fly fishing for roach with a series of bus shelter lunatics in a small town you've never heard of!"
It wasn't all grim though. The Monmouth and Brecon Canal was just one overdue stop off. So many times, I'd seen it and wished I had a day to kill when headed for the Usk or the Wye. A good move, because in its own quirky way it has a beauty all of its own. Along with local angler Ray Minty and fishing author David Overland, we had a really varied day. As well as urban stretches, there are miles of canal with a leafy backdrop of hills and mountains. Little surprise that the place was the inspiration for parts of David's beautifully illustrated book "Fishing with Emma", which has just been released: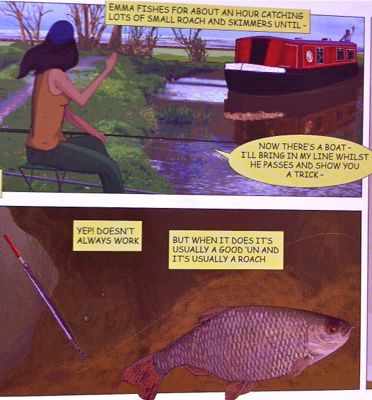 We had plenty of bites and an eventful day. The roach responded well to bread, but the fish probably weren't quite as big as the one David is describing to this young angler, who caught a beautiful little perch and then proceeded to tell us he was going to catch "a hundred" more:
I genuinely enjoy budget travel. It forces you to get stuck in and leave the script behind. Aside from a stop off of comparative luxury with Merlin Unwin, our overnight haunts were crazily varied. Homely B&Bs at one end, closer to Bates Motel at the other. The sort of places you find a hundred chipped ornaments and little stickers providing dire warnings about crimes you hadn't even considered. "Setting off the fire alarm will result in a fine of £1000!" or my personal favourite: "Strictly no more than one person in the shower at any one time." Yeah, because that's the obvious thing to do in Bradford isn't it, have a four person romp in a shower. Appearances can be deceptive however. Far cosier than its rather grim frontage was "The Noose and Gibbet" in Sheffield, the scene of the last public hanging in England: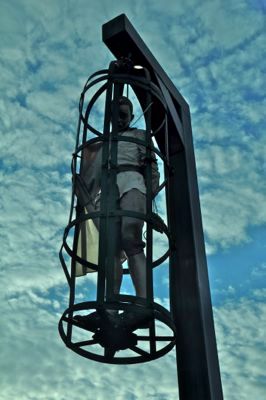 I have to say that some of the best fishing of all came in the most unexpected places. Such was the Steel City. We'd really just stopped for a walk and a few pictures, but slap bang in Sheffield you have both the River Don and the Sheffield and Tinsley Canal. The latter was crawling with roach, which were there for the taking with just a waggler rod and a few maggots, as well as some surprise sacks and bits of broken stereo. The trip was like this throughout in fact, with the sort of surprises that made you go "wow!" and others that you prayed would drop off your hook before you had to handle them.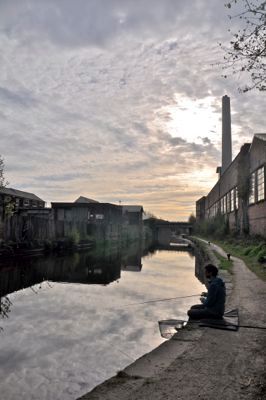 I can only scratch the surface in my scribblings here. There are enough clues, twists and turns to give Hercule Poirot a headache. Some big fish, some small fish, others in the "you bloody couldn't make it up!" category. All will be revealed in due course, but it's amazing what you find when you were looking for something else entirely. Such as a pub where you can still buy two pints of amazingly good bitter, a massive pie and a gut busting sandwich for little more than seven quid. Or a local character who still cycles to his favourite spot at eighty years young, having fished there as a boy during World War Two. The trouble is, I now have a notebook crammed with raw material to be hammered into a form less chaotic than the recesses of my brain.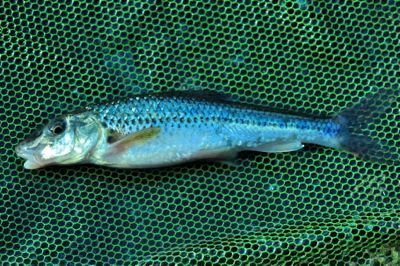 I have many anglers to thank for their kindness recently, with both planned and totally spontaneous encounters. Not least of all Neil Williams and the brilliant members of GUGGS (The Grand Union Gudgeon Society). Having received an entertaining email from them after my piece "Gudgeon at Ten Paces" in Improve Your Coarse Fishing, a meet up was essential.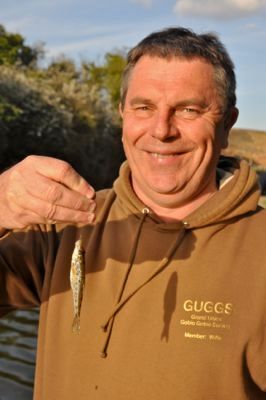 With the motto "Size Doesn't Matter" GUGGS (www.guggs.net) epitomise the fun-loving essence that is missing from so much in today's fishing scene. We had a lot of laughs tackling gudgeon with the lads, aiming for a specimen "Thirty" (yes, a thirty gram gudgeon). That's another story altogether, but having winkled out some beautiful whiskery blighters, both myself and Russ Hilton are now proud, card-carrying members. Converts even get their own GUGGS name (the first two letters of your surname, followed by first name, making the two of us "HiRu" and "GaDo"). Russell perhaps loses a few brownie points however, for switching his attention to what GUGGS refer to as "nuisance fish"- in this case bream. A fine catch to end a fun and fascinating week: