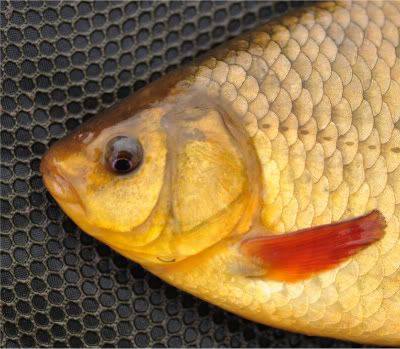 There's a lot to love about crucian carp. You've all heard the cliches- the naff "bars of gold" descriptions, which is why I wanted to start this blog with a simple picture of one of these unique fish. They're cheeky, dainty mouthed creatures- or at least the little Devon runts I'm used to are. At Marsh Farm however, they take on a different character altogether. On arrival, conditions looked more suited to rounding up animals and building a sodding ark than spring crucian fishing. After about an hour without a sniff I was already steeling myself for a long, damp wait when the tip flashed under. The fight was funny- a circling, almost fluttering feeling through the blank. After seeing a rounded, yellow-gold fish roll, I knew it was a crucian- a big one!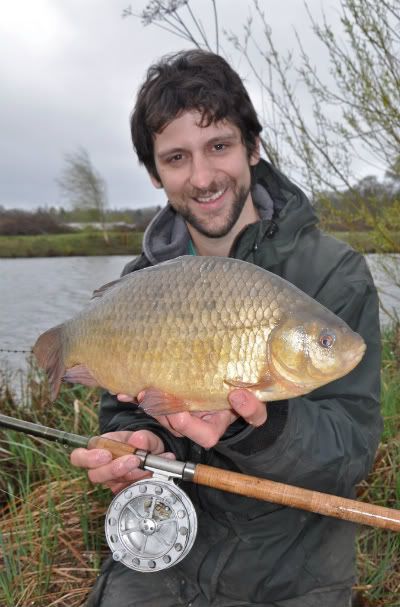 Bloody hell, it looked big. Over three pounds? The scales settled on 3lbs 7oz exactly and I approached something approaching delirium. "It's like a crucian, only bigger!" were my exact words I think. With the pressure well and truly off, it was time to party. The weather was horrible, but by gently yet regularly feeding two lines, the bites slowly increased. Tench arrived too, like this thunderous Tinca just three ounces shy of six pounds.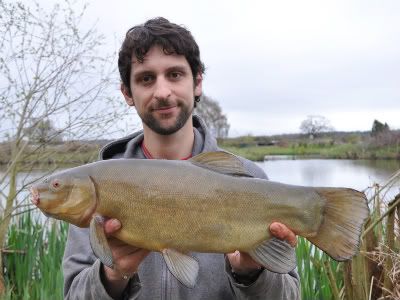 Now, any of you who know me well will also know I am to the world of specimen hunting what Emile Heskey is to quality finishing. I find multiple rod fishing using up excessive amounts of time and bait is not only boring, but quite soulless. I could get used to this "ultra light" specimen fishing however, with one rod, fine presentation and careful feeding. For perch, roach, rudd and crucians you can't beat a bit of classic, light float fishing with baits like worm, caster, hemp and pellet. I love a long rod for this, a 15ft Hardy Marksman to be precise, along with a centre pin and fine pole float set up. It takes me back to my match fishing days in fact, and I always learn from anglers like my pal Russ Hilton, whose pole fishing skills seemed tailor made for the fishery. Any fool can pile in bait and sit on three rods- it takes real skill to coax a peg to life and build a mixed net. I'm not sure I've ever witnessed one angler slay a swim for so many tench as Russ on wednesday afternoon. Even with the fishery insisting we emptied keep nets at four hourly intervals, there were some impressive bags. Russell also added his own specimen crucians, taking two over three pounds like this cracker: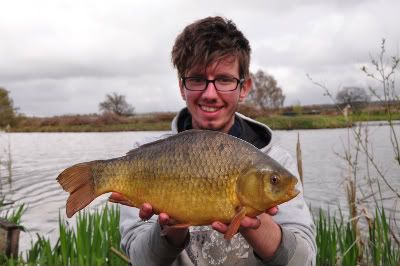 Some glowing crucian pics don't tell the whole story however. Like the 4am departure from Exeter, or sheltering for dear life under my father's green 1970's umbrella, a piece of kit older than I am. And then there are the fish. Crucians are wily things at the best of times- but old, cagey fish well accustomed to fishing pressure are even more so. A lot of them seemed to be "one hit wonders" -a quick dip or lift on the float, a missed strike and a long wait until the next knock. But I ramble; and I'm saving all the other twists and turns for an Angling Times special on this delightful species. One last twist in the tale could be yet to come however. When the rain finally abated, we noticed several good crucians roll on the surface- and one or two gulping. We also spotted dozens of hatching buzzers. Shucks like this littered the surface at one point.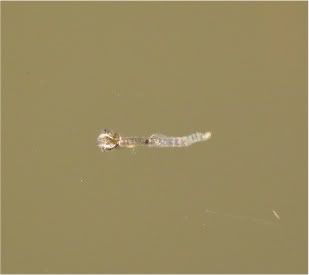 Could this be a rare recipe for crucians on emerged style buzzers or dry flies? My instincts tell me it's possible- although perhaps more tenable on a clearer fishery. Perhaps next time! I also wanted to thank all regular followers and friends for their recent support. I've been absolutely blown away by the response to "Flyfishing for Coarse Fish"- with orders coming in from as far afield as Finland and Canada. I'm already running out of first edition copies in fact, so if any of you had your heart set on a signed copy do give me a shout (or an email at info@dgfishing.co.uk).