Fishing is always such a subjective pastime as far as results are concerned. Weights, for example, are such a relative and often poor measurement of enjoyment. Would you rather catch a stack of fish from a heavily stocked water, for example, or a hard earned net of more realistic specimens from somewhere fairly wild? Canals are a point in case- unpredictable, fascinating places where it still represents some kind of achievement to winkle out a nice bag of fish. Russ Hilton, another big fan of more traditional waters, would no doubt agree. I had intended to take him fly fishing, but we decided to drop onto the Grand Western Canal for the morning first. We tackled up with bonus fish in mind, with relatively cute tackle and baits like caster, worm and hemp on the menu. Russ decided to use the pole, I went for a light waggler outfit.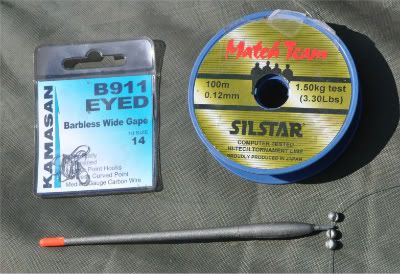 Sport was hardly hectic, but by feeding regular little helpings of bait several nice bonuses came our way. I usually feed a maggot line to keep me out of mischief, while letting a "bonus" line settle further out with regular doses of caster and chop. After some fun with small rudd down the middle, I was instantly rewarded casting a worm over my far bank line: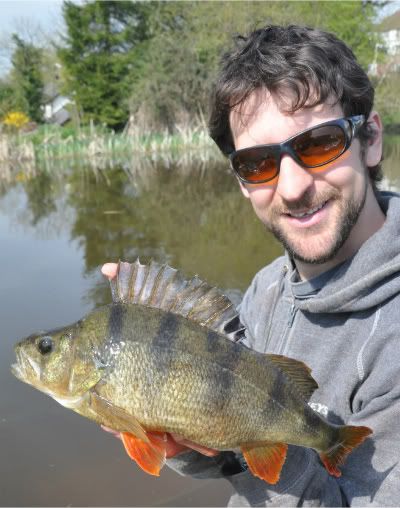 I'm wondering if we should have weighed this perch in fact- it hardly matters, but it was a cracking fish for a little canal. Surprisingly the bite was quite slow and shy. It seemed to be worm that the better fish wanted, although it was such a cold start the swim had to be coaxed to life carefully rather than bombarded with bait. Russ was next to strike with a tench, also to worm.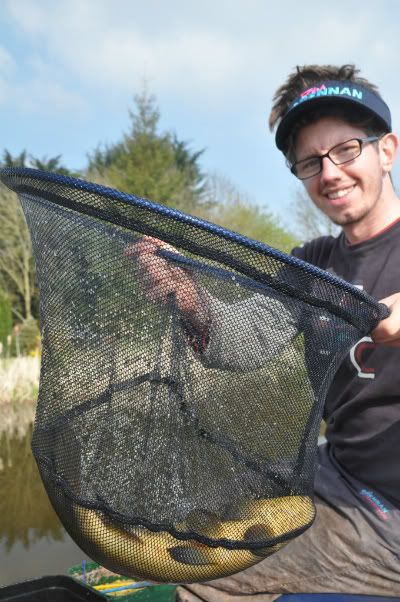 I wouldn't call it a red letter morning of fishing, but it was great fun and a typical slice of canal sport. The odd local chatterbox, twitchy rudd bites and some bugger's dog jumping in to finish off a swim that was already waning by midday. Bringing up the keepnet, I perhaps had a few more fish than I thought, not masses of bites but what was there was good quality.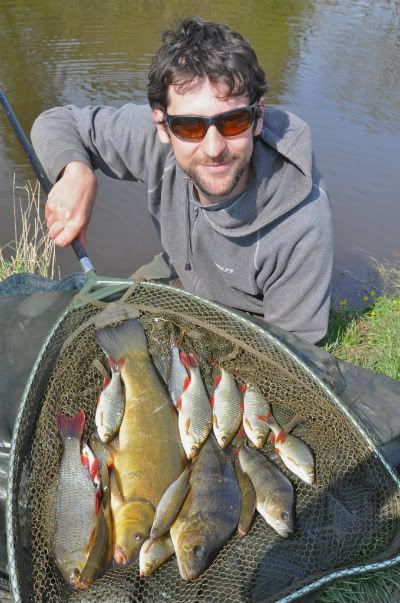 After an all day breakfast and a strong coffee to wake us up again, the second half of the day was spent fly fishing on the Lowman. A good decision it seemed, because after a quick casting lesson for Russ, we spotted several wily little trout and even some hatching olives. It's always a great pleasure to introduce another angler to something you enjoy so much yourself, and in no time Russ was pitching a dry fly into little runs and pools. A Beacon Beige or Klinkhamer brought them up a treat for some lively takes on the top and a stack of lively little trout, along with missed bites and the odd bit of tree.
It took me right back to last season in fact, and my trip with urban fishing fanatic Theo Pike. The same spots were just as alive with trout and, lo and behold, the shopping trolley that features on my cover shot for Theo's new book is still exactly where it was before! With several entries on Devon waters, "Trout in Dirty Places" comes highly recommended for any of you looking for low cost (or no cost!) fly fishing.