There's always something about quiet farm ponds that takes me back to boyhood. It's refreshing to find that off the beaten trail of the better known commercials, cute little backwater fisheries still exist. The sort of diminutive, secluded waters where the next bite could be anything from a pretty roach to a giant perch or golden carp. Flanked by craggy trees and rusting farm machinery, I had a good vibe about this trip.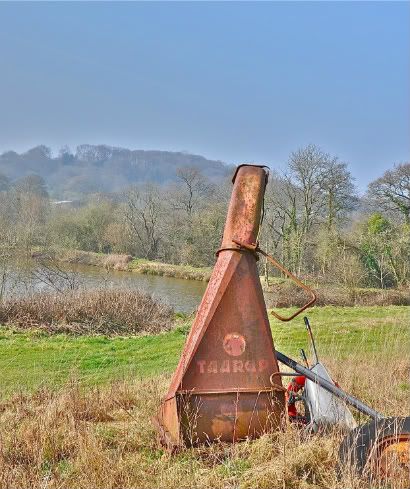 Along with fellow pond hopper Chris Lambert, I was off to a swift start by fishing match style today, feeding a selection of my favourite baits for big perch, roach and carp in the form of casters, chopped worm and pellets. It was hardly a push over, but fishing fine and building the swim carefully the perch soon showed. We didn't see many average sized samples- most were either tiny or absolutely solid. Disaster then struck as I hooked a substantial carp on the pole line. For five or six minutes battle continued before the top two cracked! The fish was gone by the time I regained control- damn it, I have a hunch it was a big fish lost. Sport then continued on the centrepin and long float rod, while Chris began to get interest on tiny fish baits. The next perch gobbled up a worm and caster bait before plunging away strongly. This one was really feisty- and it wasn't short on spirit. We had weighed it quickly at alb 14oz, but to our surprise this one looked even fatter after a couple of hours in the keepnet. We strongly suspect it snaffled one or two of the baby perch, roach and gudgeon also present- and later the same perch went 2lbs 2oz when the weight was checked again!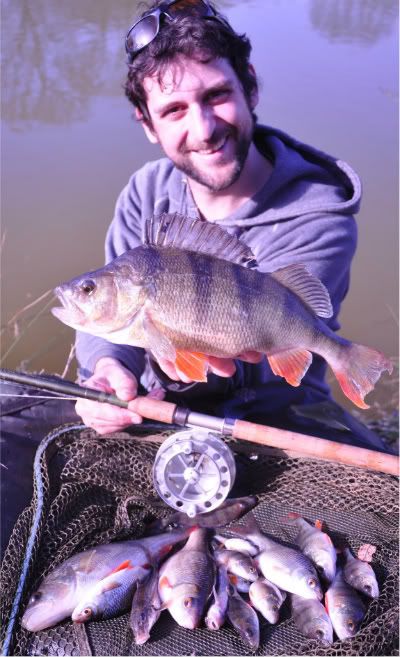 This is the joy of pond fishing on a secluded water. Where stocking levels are sensible, you get some real quality fish. Unexpected specimen of the day was arguably the surprise enormous gudgeon Chris caught. At 3 oz this was a titanic little beastie, not to mention splendid looking.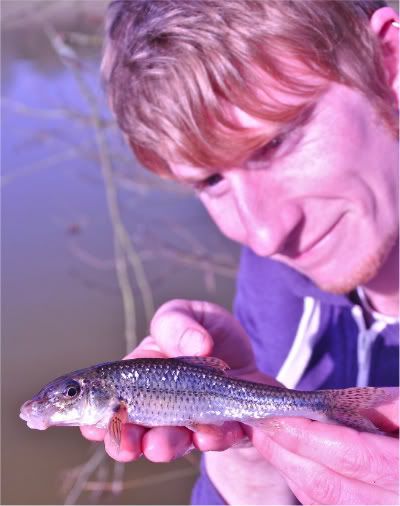 It was a testing day overall, where cute presentation and regular feeding worked best. The last fish was another sweet surprise in the form of a cracking roach. Uncanny how the best always seem to show as the light goes and at 1lb 6oz a very respectable pond roach. A great day on a cute water and for my money, pond fishing takes us back to the simple joys of the sport- the jagging fight of those perch, the warm spring sun on your back.