When winter temperatures start to reach bleak lows, I often feel most confident of action on running water. Trotting with a pin is a great winter method for chub, roach and grayling- so why not pike? It's great fun- and I usually fish better by being involved and active. Tackle itself is simple- a sporty 13 ft specimen blank coupled with a centre pin carrying 20lb floating braid. I favour a single treble hook arrangement, suspending a bite sized roach, smelt or trout underneath a 20g trolling float. This is lovely stuff- you might feel a bit odd Wallis Casting a dead bait under a sight bob, but the long rod and pin combo offers lovely, intimate presentation. Just like with regular trotting you can let the bait trundle through- or hold the float back gently to let it waft up attractively. The bites are so lovely and clear on this method. With a smallish bait and just one treble I strike firm and early. In clear water the pike will come up for the bait, but interestingly in recent coloured conditions, dyed red or gold baits suspended just above the bottom have scored well. One or two jacks came adrift for me- before this lean, athletic river pike took the pin for a spin!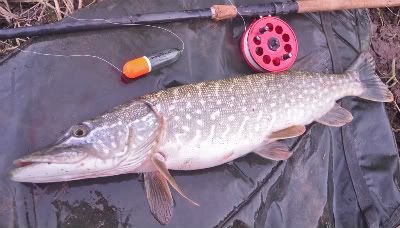 The trotting had been earning a few bites then, but it was the feeder rig that took the best fish again. In this case, Russ Hilton successfully commandeered one of my set ups to land this perfectly proportioned ten pounder. What a glorious Levels pike, a scatter of green and sunny gold, with the kind of teeth you don't argue with.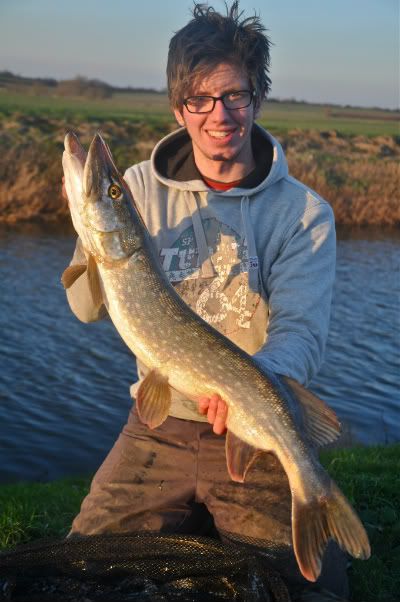 I have also been enjoying the roving approach with Seb Nowosiad. We've shared some great days and catches over the past couple of seasons- but few colder adventures than a night raid on a secluded drain. Watching a night float is stirring stuff. In the end it was a slow, clear session with the moon high and visibility excellent. This made fishing hard, but allowed me to experiment with camera exposures and white balance to get some interesting night fishing shots. It's a real challenge to get the settings just right- but I tried to capture the cool, clear feel of the night.
We even explored a an inky black mire of a pool in the moonlight. The sound of ice crystallising and nature coldly tensing provided an eerie backdrop, icy stars above and regular calls from a nearby owl. Had that float dipped under, the line curled off into black I think my heart may have frozen. Night fishing has yielded fish of good average size this season- but not on this occasion.