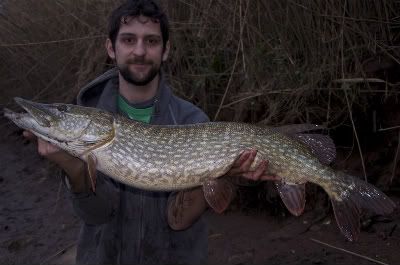 Short on sleep, but happy as man who just discovered an oil reserve, I type these lines with dirty nails, a fuzzy head and a sense of relief having finally cracked the Exe this season for a well fed pike. Having struggled for a few sessions it was time for a change of areas. You can hardly blame the pike for deserting your tried and trusted spots- for these creatures it is about survival, not sport. Anglers often talk about that vital commodity, confidence. Today I didn't exactly ooze it at 6am, but had a hunch it would be worth a crack. Time was short with a growing to do list, but as we all know, the most enjoyable time to go fishing is when you really ought to be doing some work some place else.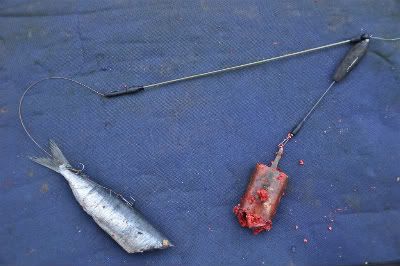 One confidence booster all season long has been the use of feeder rigs for pike. Conjecture is one thing, but fishing two rods side by side I've definitely seen more action on the set up with a stinky trail of oily ground bait. At risk of becoming a rig tart, I've also settled on something that seems pretty fool proof so far- at least to this particular fool, a tube section providing a tidy, tangle proof presentation. This morning it was 3-0 in the run stakes to the feeder set up, a lovely river 20lbs 2oz fish the best of two landed. I owe a big thanks to Neil "the Eel", who turned up just as she was netted and helped no end with the task of swiftly weighing and getting a great picture before she was carefully returned. A proper gentleman- I hope the next nice fish is yours mate.

Coated in mud but content I then suddenly remembered all the stuff I was meant to be taking care of. In the build up to this years "The Big One" fishing show, I've been busy preparing. Not least of all the new items I'm sourcing are the beautifully primitive looking fish prints of John Dullaway. The pike (above) is one of a limited run of 20 signed and numbered collectibles- and I'm thrilled to be promoting the artist at several events this year. More are on the way, including some stunning trout.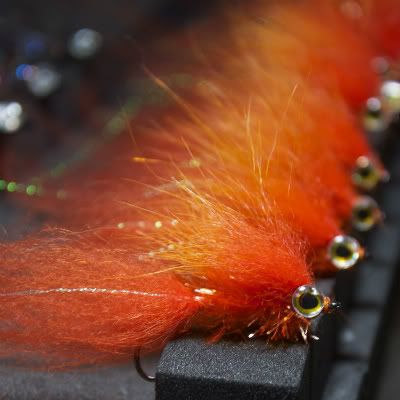 The meat and drink of what I sell remains items like t-shirts and flies however. The above is a "Tango", named after the latin dance- or should that be the glowing, additive laced fizzy drink? A serious re-stock is underway- and on the subject of pike flies, it'll be fun to let a few others loose on the vice at the forthcoming PAC meet at the Mill on Exe (7pm, Tues 28th Feb), where I'll be tying a few and giving the motley crew a crack themselves. It's great to catch on something you've made and these flies are not too tricky once you get started- certainly easier than micro sized trout patterns! I also hope to see some of you at our annual match on the Grand Western Canal, where every competitor will get a pack of free bait courtesy of Devon Baits. We meet at Greenways car park on Sunday 26th, 7am and with a bit of luck mild conditions should guarantee an action packed day (www.devonpacblogspot.com).