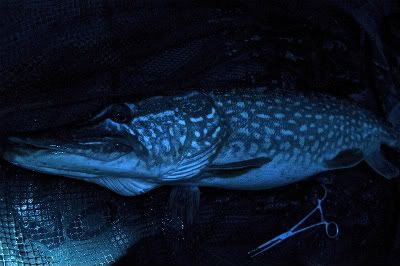 I always enjoy experimenting when I'm fishing. Without wanting to get pedantic, or overly scientific about it, I just find it interesting to make a few notes and try some fresh ideas. I blame my family partly, and their fixation with natural sciences. The sort of people who ruin a perfectly good science fiction movie with comments like "that's not actually possible".
On the subject of science, I've been having some interesting chats with my brother about global warming, along objective lines of inquiry like "what the bloody hell is going on with the weather this winter?" Totally unpredictable, fluctuating temperatures and water levels do little to reassure even confirmed Daily Mail readers that our climate hasn't become skewed. It says it all that many of the "Global Warming is a Myth" type studies have been run along similar lines to Manchester City- i.e. with oil company funding.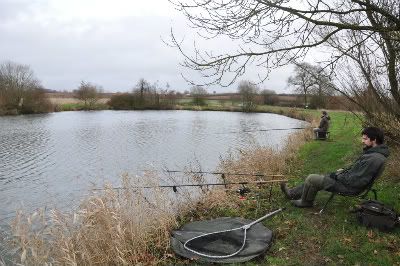 But I digress. Back to pike fishing and I've been thinking about what the numbers mean. It's a little geeky, but comparing trends on different waters can be revealing. To take a classic question: how long should I leave my bait in the water before moving on? If you look at the average time it takes to get a run, the results vary massively between waters. The optimum on small canals and drains, for example, is often around the 15-30 minute mark. On waters that are bigger, deeper or heavily coloured though (e.g. reservoirs, ship canals) looking at previous diaries it's surprising just how many runs occur well after the hour mark- or even the 2-3 hour mark. Makes you wonder- and whereas I once used to jump spots at least every hour, I'm growing more inclined to sit it out for longer these days.
Another notable recent trend has been the sheer number of runs occurring just before or just after dark lately. Is this the result of fishing pressure, natural feeding spells- or a bit of both? Geek theories aside, I just love that eerie feeling of a decent fish thumping away in the blackness! This nice net-filler came half an hour into darkness: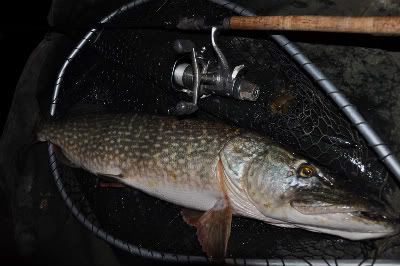 I've also been reaping the benefit of some local knowledge from fellow pike fishing reprobate Ian Nadin. He's had a cracking season so far, due largely to his intimate knowledge of the GW Canal. I thought we'd picked a duff evening for a fish yesterday. The water resembled chocolate, to the extent I thought we had more chance of snaring an Umpa Lumpa than a pike. Unless I'm on a nice river slack, coloured water often batters my confidence. Nevertheless, the power of large sea baits with a proper hum to them accounted for a couple of pike:
The really notable feature of the catch was that all the runs came on one rod, out of four shared between us. The difference? That one was the only set up using a swim feeder packed with bloody, fishmeal based ground bait. Definitely the way to go when visibility is poor- and it seems that feeder rigs are rapidly becoming the norm now in predator fishing.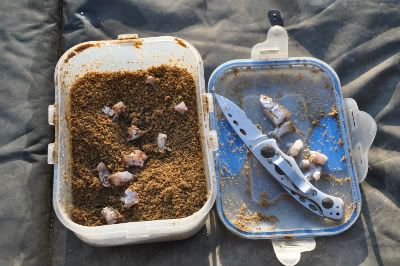 One final reminder for all Westcountry anglers is to put a couple of dates in the diary for Jan/Feb. The Pike Anglers' Club is delighted to announce a joint talk on Tues 24th January, downstairs at The Mill on Exe, 7pm start. We have a cracking double bill of Worcester predator specialist Dilip Sarkar, along with brilliant piscatorial artist Karen Sarkar, who will bring a selection of her best loved works. See my links section at www.dgfishing.co.uk for further details on the Devon PAC Blog and Karen's site. We are also excited to be lining up the Devon Baits Pike Match in February- with free bait for every competitor! Watch this space for more info...