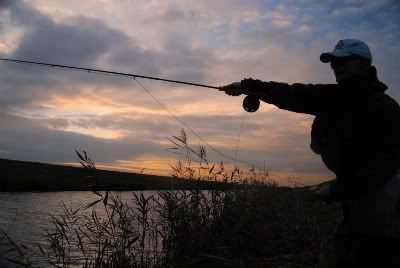 A visit to the Fens is something of a pilgrimage to anyone who fishes for pike and zander: miles of reedy channels, wild waters and bumpy roads. A region not unlike Somerset in fact- buckets of fishy looking drains, heavily rustic and "flat as piss on a plate" as Ian Nadin would put it. Fishing heaven.
After more than two hundred mile on the road, five star food and accomodation were definitely not on the cards. In fact, where better to begin than by stoking the fires with a cholesterol heavy breakfast at notorious Green Welly Cafe- a place as likely to win a healthy eating award as George W Bush is to receive a Nobel Peace Prize.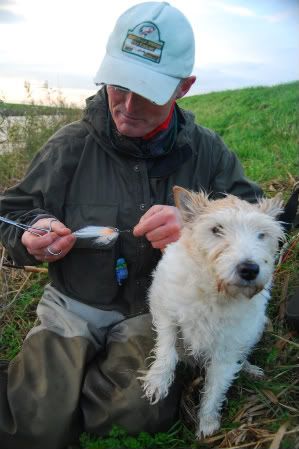 My host for a roving adventure was Nigel Savage, Rutland warden and a real predator fly fishing fanatic to boot. Also enjoying the fresh air was his faithful terrier Bonnie- who carried out her own hunt nosing into the bank for voles. Hopping from drain to drain, we were quickly met by panicking roach and several snappy, lairy pike. Whilst the zander didn't show, the jacks gave some real kamikaze hits on the fly and a chance for me to capture some of the action on camera.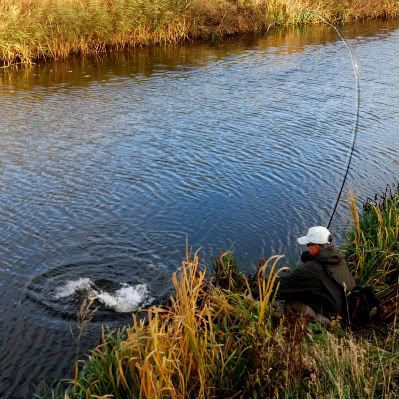 It's always interesting to compare notes with another keen angler- but especially someone who puts a good deal of thought into their fishing. Nigel believes in retrieving a good sized fly fairly slowly, whilst really shaking the rod tip to make his fly literally dance like a thing possessed at the end of each retrieve.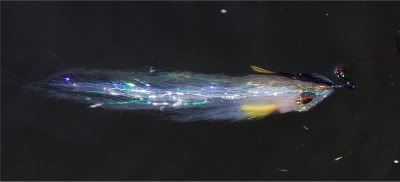 As on most drains, the key area seemed to be the shelf on each bank, a fly allowed to drop and flutter across the slope liable to be smashed. The pike simply couldn't resist and whilst no monsters showed up a good few fish came our way, to around the six pound mark.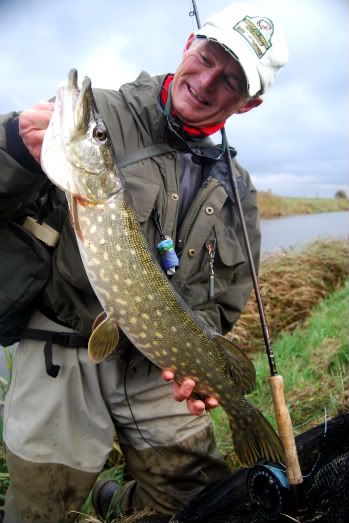 At nightfall we then retreated to a country Inn for a beer in one of those old buildings where walls, floors and the rest have shifted so much over time that you wonder exactly what you've been drinking. You also couldn't fail to notice the Fen monster above the fire place- a goulish, stretch-your-arms-really-sodding-wide, 36 pound beast from yesteryear.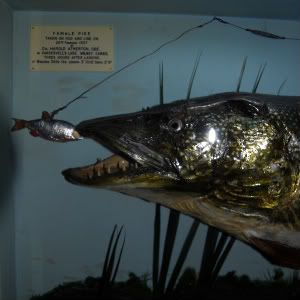 Back on the prowl the following morning we searched high and low for zander to no avail, although it was a fascinating crash course in presenting a fly for this elusive species. Nigel has caught some cracking fish on his own patterns, including some landed well into darkness. This time they just wouldn't comply though and I got the feeling that if he couldn't contact one, nobody would. It was a long drive back to Devon, a little heavy hearted to be leaving such a wonderful place. Effort doesn't always equal rewards however- such are life and fishing I guess.
On a brighter note though, we had some fun at the Devon PAC match. It was a low turnout with a measly five of us on a cold and clear Tiverton Canal. I had rather fancied lure maniac and LAS man Paul Honey aka "Shrek" (below) to grab the honours with his wiggling, wobbling and diving collection of artificials.
His single hard won jack (plus a mysterious scale on another cast!) was enough to claim second place. I was the one feeling smug however, as my smallish colourful flies tamed three pike for just over four pounds. Whilst some days the vibration of lures helps, it seems that the fly can be just the ticket when its cold and the pike are tricky. Small fish then, but very welcome.