What do you call 3000 fanatics, a host of ace fly tyers & enough materials to fill a warehouse? The BFFI of course! What a terrific event this is- as well as stocking up on hard to find materials and bargains it was a real pleasure to meet so many fly tyers and characters from all over the world.
The tyers row itself was truly international- and what a range of flies! The work of German tyer Peter Joest was first to catch the eye. As well as great mylar fry patterns, how's this for a baby squid pattern for bass and other species:
Other areas were full of cute and clever flies- some fiendishly realistic, others simple but irresistable. Plenty of faultless Mayflies- or how about this Mantis from Dutch master Paul van den Driesche?:
On a simpler but more practical level, here are two Stoyan Filipov preyfish patterns for big trout. Perhaps his simplest creations among some real marvels, but I loved these: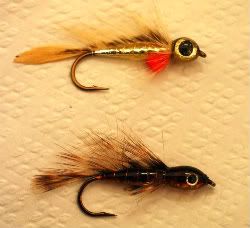 Another interesting stop was Chris Sandford's corner- and I just had to admire his antique pike flies, as well as other beautiful cased specimens. Chris was right by Waterlog publishers The Medlar Press, whose new book of "Great Pike Stories" was a must have- a real treasure trove of past gems.