After a very wet river season you really do appreciate the consistency of stillwaters to get your fly fix. Bratton water is all a lake fishery should be: beautifully natural looking, dececent sized and with some cracking, more challenging brownies in addition to the usual rainbows.
After running a feature here, I just had to return to enjoy another day and try dries in addition to the usual buzzer tactics. Even so late in the year we were treated to hatching sedges and some explosive surface takes. A CDC sedge on a fairly light tipped was the order of the day and the method also proved a fairly selective way to tempt the brownies- we took four crackers between us. John Garnett had the best at three pounds plus, a fish that battered the dry and then did the same to a six weight. All of these were carefully returned.
I was also pleased to meet fellow fly angler Mike Graham using one of Luke Bannister's beautiful cane rods. Having taken his bag on a Griffith's Gnat, he let me have a cast and I managed to hook and lose a solid brownie that looked every ounce of four pounds.
Even when the fish weren't rising, sport was still excellent on nymphs for fish cruising in the upper layers. Whilst unmissable takes are great, I do love the subtle draw of trout intercepting a buzzer or Daiwl Bach. Like lure fishing, it is the take itself which is so magically addictive.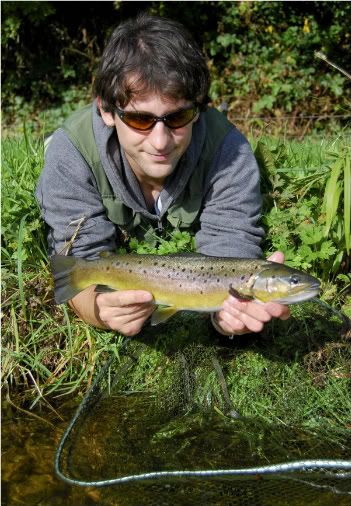 Credit is also due to Frazer McBain once more for his brilliant pictures.