It really is possible to catch just about any species on a fly with the right approach, and aside from the slog of carp angling, it has been a case of short but enjoyable sessions on canal and river this last week. You can travel so light that even a couple of hours after work can prove worthwhile.
Today was the Exe after pike. I must admit, my catch was a fish previously spotted by Rob Darby that was following but refusing to take his plugs. A slower moving pike fly did the trick perfectly- the harder part was getting this fit river fish into the net. I never like to play them too long and after a short but robust tussle we had her on the mat. Thirteen pounds and beautifully proportioned- not a bad start to the pike season?!!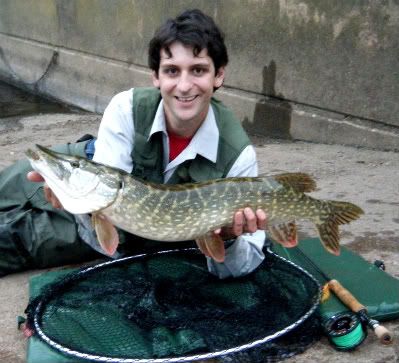 Otherwise Exeter Canal has been a fun adventure with flies- despite funny looks and daft questions ("are you fly fishing?"). Perch are proving fun on little streamers and lures, whilst the roach and rudd are taking little buzzers and hares ears- something with a bit of red seems especially useful. It is all essentially sight fishing, with a four weight rod. If you think trout are quick on the take, these rudd are lightning fast! I have a feeling the odd bigger fish are deeper, but plenty of pretty samples are delightful sport on a brook rod, a tiny hares ear as effective as anything on a warm afternoon.