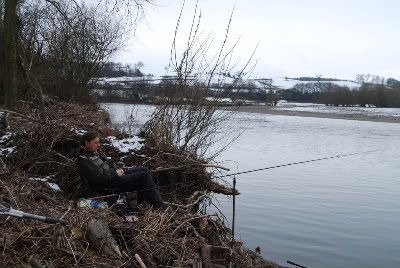 Whilst I can put up with most weather, this winter has seen some unbelievable conditions. With perfectly miserable timing, my big plans for a three day fishing expedition to Chew and the River Wye were pretty much snowed off. Day one was meant to be a maiden voyage to Chew. Meant to be, but wasn't. we got around half way before the snow was so thick you couldn't read any signs, the motorway was turning white and the warnings got worse. Even the locals were turning back. Bollocks.
So, instead, we spent day one with the good folks of Stroud, sledging down hills. What follows has absolutely nothing to do with fishing, but I was amazed at the sheer number of different "sledge" substitutes being used by locals. A quick Summary follows:
Inflatable Matress:
Very fast, but very

difficult to steer.
Bin Liner:
The poor man's sledge. Just about works, but beware of backside chafing.
Drinks Tray:
Requires a small posterior and a high degree of balance, but surprisingly quick!
Plastic Sledge:
These had all but sold out. Rather small, but quick as you'd expect. Hazardous over bumps though. "Sleigh riders arse" can result from inproper use over obstacles.
Seed Tray:
Smooth and fast, if hard to steer. Brittle and easy to snap.
Car Bonnet:
Very fast, room for several daring/foolhardy persons.
Rubber Dingy:
The runaway winner. Ours hit ridiculous speeds and we found it's inflatable sides and base a brilliant shock absorber. Sadly it popped after a particularly hairy run.
The next day, snow was replaced by horrendous ice. Stroud Council had left residents with a DIY approach to gritting- ie: leave a full box but don't use it. So there we were, gritting our way out. Next obstacle was actually getting to Wales. Unbelievably, people were still tailgating and speeding on the main roads! Makes going down a hill on a car bonnet look positively sensible!
We had a slow first day at Llangoed- only small grayling and the odd skinny trout responding. Little more to add really- extremely cold. Then spent the night getting woken up by Welsh piss heads in a little Welsh townen; generally what you come to Wales to escape from, ironically.
Next day, in the slightly slower water downstream on the Wye however, I at least got a couple of runs from the pike I was looking for. Even the pike were taking time to respond, giving only slow bites. I took a brace, the better of the two at 9lb 7oz. A nice, plump fish but to be perfectly honest only a fleeting bright spot in a monstrously dissappointing weekend. Where next? Siberia? Iceland?