With temperatures threatening to break into the realms of normality, the fly rod got a quick pike outing for a quick work session this weekend. I was especially keen to show how much fun the method could be to the youngster I took out to Tiverton Canal. Funny how pike venues can vary so greatly- but Tiverton is so reliable for pint sized pike. The lad had a jack within ten minutes of setting up lure tackle- before things got much tougher with the passing of a barge stirring it all up.
Whilst lures give you some vibration, its definitely time for the fly fisher to switch to an ultra bright pattern, so on went a suitably gaudy substitute, the Tango: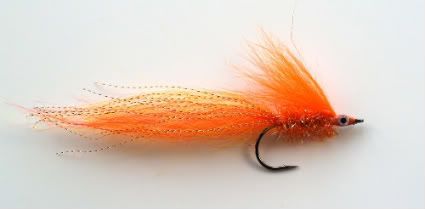 a few casts later and the first nip was felt- followed by a titanic pike of, oooh... all of a pound! Never mind- a fun hour and a half of snaggy spots, hairy casts and jack pike followed. We had a contest to see who could land the biggest stick, marvelled at the ridiculously violent takes of the smallest of pike and in general, I enjoyed being a big kid for a spell.