Book news and a date for your diaries to come in this week's blog, but first I'll start with a couple of recent trips from rapidly cooling waters both close to home and further away.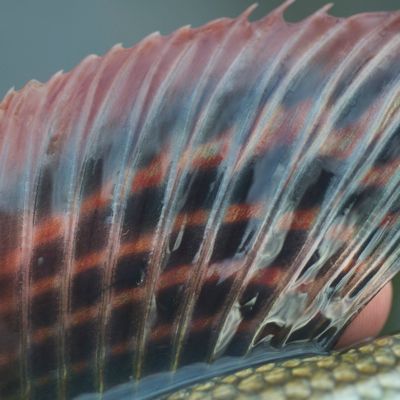 The onset of winter brings either some of the best fishing of the year or a sense of foreboding, depending on who you ask. One of the winter optimists among my fishing pals is Will Barnard, who asked if I might like a cheeky day on the Test for coarse fish. What a silly question.
No prizes for guessing the species I was after from the above image. Grayling represent an occasional treat as far as I'm concerned. We're not exactly blessed with them in Devon and I couldn't wait to reacquaint myself. I usually fish with a fly rod and some heavy nymphs, but with the river pushing through fast and full I decided to spend the lion's share of the day trotting this time.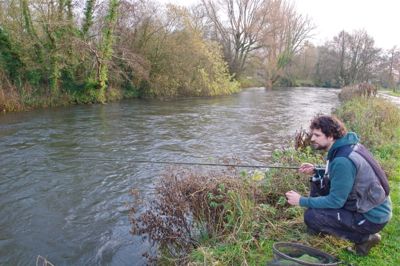 In no time at all I was getting bites but succeeding in losing a lot of these fish as they turned in the current. My running water float fishing skills were a little rusty if I'm honest, but one little piece of advice I took from Will was to add a swivel between mainline and hook length to counter that notorious twisting which grayling are famous for. It worked a little better, and while I couldn't quite get amongst the really big ones I had loads of bites and the odd roach, dace and accidental trout into the bargain, besides some pretty samples of my target species: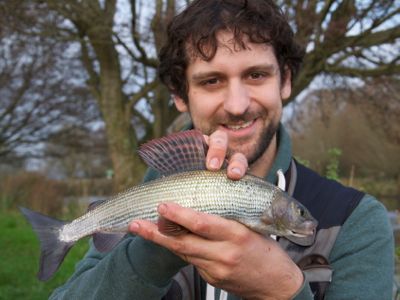 It was great to escape for the day, but rather frustratingly every man, monkey and their relatives seemed to want to call me to divert my attention from the beauty of the river. When you're waiting on a possibly life changing call you can't turn the damned thing off- although at one stage I wanted to chuck the mobile into the river.
Will was a better influence though, with some novel ideas and fairly unrepeatable jokes to keep my sanity intact. What is it with Mr Barnard I wonder? You could call the guy a true angler or an eccentric, as whenever I fish a session with him he seems to avoid the obvious. Last time out, he was looking for big eels. On this occasion though, he was fishing for dace by throwing a cute feeder set up into the little holes and corners most anglers walk past. And he was definitely onto something, because the silvery beasts he caught were some of the biggest dace I've ever seen. The best went 12 to 13oz and were quite breathtaking in their own little way: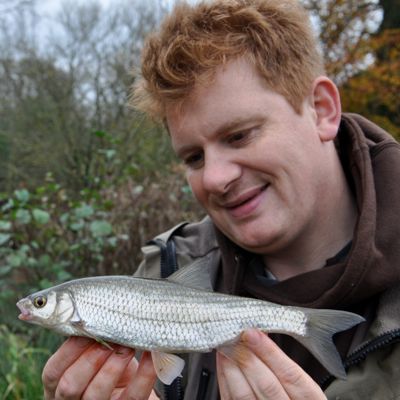 As always, the worst part about fishing the Test is that you don't want to leave. With or without that fish you dreamt of, it grabs at your heart. You pretend it isn't getting dark; make ten last casts until you can barely see the float tip. Still, the journey home was cheered up by listening to my beloved Exeter City FC score three goals in a vital away win on the drive back West. Like one of the dace then, the dark end of the day had a very silver lining indeed.
Somehow I even managed to squeeze in the rare current luxury of a second trip in a week just three days later in the Tiverton AA Christmas Match. This is a quite superb event. A whopping 55 of us made it onto the Grand Western Canal with good spirits and high hopes. It was a beautiful morning, but similarly to last year, the draw bag just didn't do me any favours as I was pegged right by the cars on a fairly nondescript peg. Even so, it was just great to be fishing and enjoying the fresh with so many fellow anglers, including some faces I hadn't seen in too many months.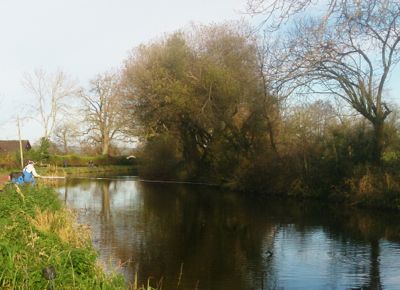 So how did I fare? The good news was that there were hundreds of fish in my peg; the not so good news was that most were tiny little roach of perhaps half an ounce. I caught steadily on the pole, fishing two punched bread lines and some chopped worm to cover, but struggled to hook any proper "net" fish. Even so, it was thoroughly enjoyable. I winkled out some perch from cover, and also lost a pike that might just have seen me climb the pecking order a little (they count in these matches). At the final whistle I was strangely satisfied in fact, because 3lbs 13oz wasn't a bad weight at all considering the peg. If only I'd drawn one peg further along, the other side of the bridge where Paul Elworthy had the turning bay to go at, I might have finished much higher. Not that you'd take anything away from Paul for skilfully putting together a winning double figure net of bream and skimmers. Next year perhaps!
Last but not least, I also bear news today. In spite of a slight delay at the printers, my new book "Tangles With Pike" is due any day this week. Apologies to anyone who has already ordered, but rest assured it'll be with you very soon. You could order it at Amazon (and a Kindle edition will follow too), but to be honest with you the cut they pinch from an author is scary. Besides, buy it at
www.dgfishing.co.uk
and I'll sign it for you personally.
To celebrate I'm also planning a little meet up a week on Sunday (the 14th). The Somerset Levels PAC branch (region 12) have a fish in that day, so it'll be a fun combined event. A day of fishing and good company (meet 7am at Lime Kilns), followed by some ales and a book signing party at the Double Locks for 5pm. Do come and join me if you get the chance, whether it's to have a cheeky cast or just to chew the fat on a Sunday afternoon. It's been way too long since I've seen many of you and it would be great to catch up over a cold jar.