This week's blog begins with a major shock. The picture below is no hallucination, although I'm still in a state of utter disbelief. Yes, this is a Devon river roach of 2lbs 2oz. Not so much a slice of good fortune as something I never thought I would see in my life. After all, this is Devon, not chalkstream country. I love our little corner of England, but when it comes to wild specimen fish it is Plumbing Spares Cup rather than Premier League.
How did I manage such a feat? With a bit of legwork and an even bigger slice of luck, is the honest answer. To be perfectly blunt, I've been seriously unsure whether to give the catch any publicity. But in this case, it's not just my ego but a not-for-profit organisation that could benefit in the long run. I owe the capture in no small part to Scott West, who suggested we fish some prospective water on River Culm, which is being considered for the
Westcountry Angling Passport
scheme. For those yet to try it, this is a fantastic idea to open up fishing water in the south west. Fly fishing has dominated so far, but there are some excellent prospects for coarse fish as well as trout, and the scheme gains more water every season. Nor is it "upper crust only" at prices from £5 per day. Watch this space for more info.
The fish itself however, came in less than textbook fashion. A bizarrely sunny afternoon with a muddy river following heavy rain are not your classic roach conditions, to be blunt. We'd had just a smattering of bites and were thinking of packing up when I decided to have "just a quick final chuck" in a pool at the start of the beat I liked the look of. I was on the feeder and bread approach and, more out of optimism than anything else, had been trying a big pinch of flake. It fought like a chub before almost giving me a heart attack as it came up. The fish was absolutely thick round the middle! I was sure Scott had jinxed it by announcing something along the lines of "that's a bloody big roach!" But my luck held. I've enjoyed roach fishing for quarter of a century in Devon, but never had I seen anything quite like the fish that lay in the net. A one off? Who knows. There is more unexplored water here and hopefully more of it set to open up to day ticket anglers.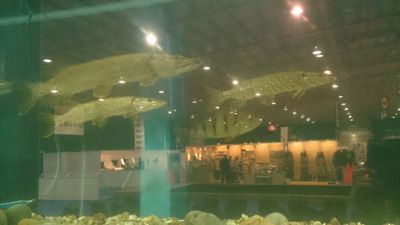 Otherwise, life has been a fair old slog trying to balance my new job with fishing activities. The Tackle and Guns show was very positive though, which I attended with Turrall. The sight that really caught my eye was near our stand, where a huge tank of predators was on display (above). Great to get such a clear view of these pike and perch. They seemed fairly indifferent to lures various reps were aiming at them- but you did fear for one or two of the little jacks once their bigger relatives grew hungry.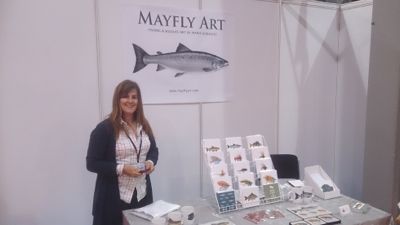 We might be able to contact anyone at the click of a mouse these days, but you can't beat actually meeting up with folks in person. In two frantic days I met various people in the trade. Perhaps most encouragingly two of these were newcomers launching businesses in Devon. One was a chap starting a tackle shop in the Torrington Area, another was a representative from "
Devonshire Reels
"- a company looking to make top drawer, beautifully crafted fly reels (Mr Hardy eat your heart out). Brave initiatives these days, but I hope both enterprises succeed. Also at the show was artist Maria Gonzalez displaying some really fine work. It's tough as an independent trader, trying to stand out as a small fish in a big river so to speak, but her prints and designs are truly excellent- do take a look at her site
MayFly Art
(which has perch, carp and other beauties as well as game fish and fishing flies).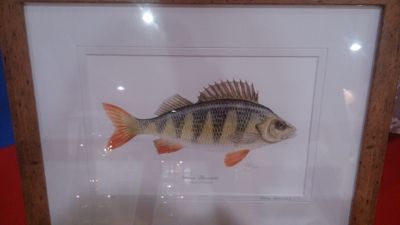 Talking of which, I have also been busy sourcing art for my next book project, which will be a collection of great pike fishing stories. Under the working title is "Tangles with Pike", my cover image will be by none other than wildlife artist David Miller, whose fantastic work has recently graced a set of Royal Mail stamps. It promises to be a fun but hectic time pulling all the strands together.