There are few things I like better than a fishing styled road trip. Great fun but also a necessity if you live in one of England's more obscure corners. These missions tend to begin with a list of postcodes and a lot of random supplies. I don't so much try for two birds with one stone, but aim at half the flock.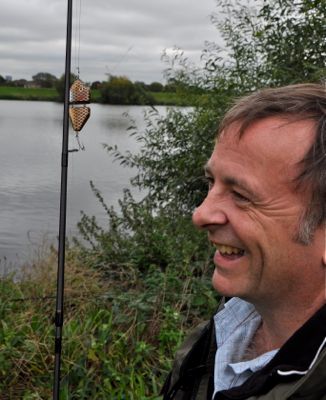 First priority on my list this time was to track down Garrett Fallon, the plucky Irish writer and creative brains behind the exciting new quarterly title Fallon's Angler (which has a great new site where you can get a preview and order:
fallonsangler.net
).
What is the best part of being involved in books and publications? I think opening a box of newly produced material, with that wonderful smell of fresh print, has to be close to the top. You don't get that from an e-zine. Issue one looks fantastic. But even more importantly, it's a bloody treat to read the stories (you remember, those old fashioned things called "words" that sometimes distract you from the adverts and pictures of blokes with fish?).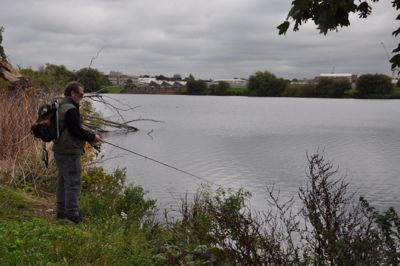 A day on Walthamstow Reservoirs seemed the perfect way to celebrate the launch and we had pike in mind. A roving session took us all around the upper complex of Higher and Lower Maynard at first. We chopped and changed swims, lures and flies, having a good walk and comparing notes. The place looked so pikey that even without early bites, there was a keen anticipation in searching around cover and imagining what might suddenly dash out at any given second.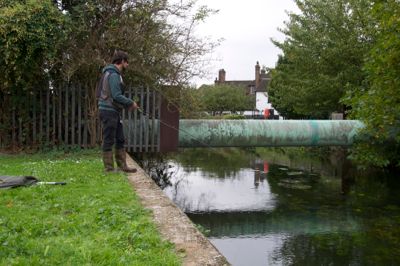 Also in fine condition was the Coppermill Stream (above). It looked clear, beautiful and for much of the way devoid of any living thing. That said, we did spot some thick-shouldered carp and one hulking great barbel. Like two skint shoppers, I think we agreed that there is a certain pleasure in admiring the goods through a window, even if you don't have the hard currency to make any purchase.
The current state of fishing literature, future plans and what exactly those bloody pike were playing at all made for some lively dialogue over a pint at lunchtime. The pike of past stories made up for a lack of action, including a monster Irish fish for Garrett that was played over thirty five minutes involving a broom handle rod, a broken reel and screaming runs along a sandy shore. But if you want more tales on pike and other topics you'll just have to buy a copy of Fallon's Angler.
After lunch we rallied our spirits for a crack at Reservoirs one and two, with Garrett bravely opting to have a crack at fly fishing for pike. After a bush or two, the perch pattern I'd lent him found the water with more and more regularity, but the pike were still not impressed. I would love to relate how his rod suddenly became possessed with a ten pounder, but it was not to be. Perhaps our Indian Summer had put too much warmth and greenish bloom in the water. Anglers write things off too quickly at times though and I think in a month or two these reservoirs will be well worth a shot for pike.
The saving grace was in fact a quick change of plan. With fly rods already set up, we decided a crack at the trout was a must (a good ploy at Walthamstow Reservoirs, because a two-fish ticket can quickly be grabbed: Further fishery info
HERE
). It had started as we spotted some nice rainbows cruising around close to the bank on reservoir No. 5. I took one look at my big pike flies and wondered how we would get any joy. The answer, I have to admit, came from my own messiness and multiple pockets. As A.A. Milne put it "The beauty of being disorganised is that one is always making surprising discoveries". In this case, my fly vest produced two buzzers, a Hare's Ear and two scruffy little trout lures.
Only after ditching the thick fluorocarbon would the trout launch an attack. With a slowish, jerky retrieve I got that first gratifying whack on the fly line. Trout number one came off, but the next assault came good with a decent rainbow.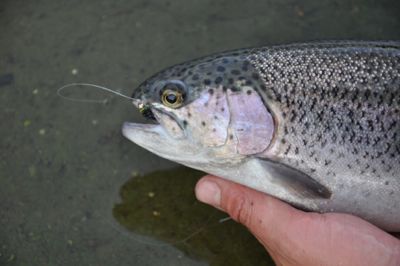 When you've been fishless all day, the simple joy of something kicking on the line cannot be understated. And with fish swirling on the surface and even leaping clear, I was sure we would strike again soon. I added another before Garrett struck into a nice fish:
As enjoyable as it had been to have a very sociable ramble around the lakes, those rainbows were very, very welcome after our tough start.
Less welcome was the traffic I encountered on what was meant to be a two hour journey to Coventry to load in for the PAC Convention. Listening to Jack Kerouac's "On the Road" on cassette made the journey just about bearable, although there is a certain painful irony in hearing tales of open roads and mountains as you watch the arse of some dull people carrier while tail to tail in midlands traffic. I arrived in the nick of time to deliver a cargo of books, t-shirts and other stuff, including a whole shoal of pike flies:
Always a fun event, the show was as friendly as ever and a great chance to run into old mates and share some goings on. But what I was really looking forward to was a crack at the Coventry Canal with Jeff Hatt. Staying at his gaff, we discussed the current fishing world as eight cocker spaniel puppies played tug of war with shoe laces and each other.
For those unfamiliar with Jeff's
"Idler's Quest" blog
, the guy is funny, always original and invariably worth reading. He's also a contributor to the first Fallon's Angler with similar hopes and fears about the current state of fishing to my own as it turned out.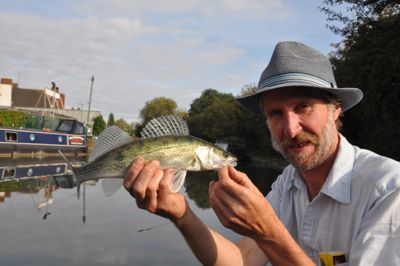 Perhaps the best place to mull things over was on a trip to the local towpath in search of zander. An eye-opening jaunt it was too. And while I must save much of the meat and bones for a proper feature, there were some key lessons to note. Firstly, that float fishing is excellent for the species. Jeff's home made wagglers beat my feeder set up hands down. Unless action was forthcoming we spent no more than fifteen minutes in each spot, using roach sections on some really big hooks. I was amazed at the size of these size 1 or so wide gapes- they looked crude, but by God did they work well for hooking the fish. Far better than my smaller versions, which produced mostly thin air on the strike.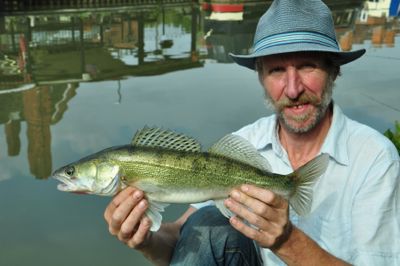 Perhaps I should have taken a leaf from his book in fact, because I just couldn't get amongst them. In my impatience, I kept trying the fly rod with jig style artificials, but other than a small perch and a lost zander it never quite happened for me.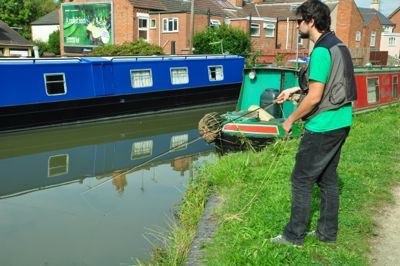 Meanwhile, the self-styled Chris Yates of Coventry kept up a decent strike rate. In spite of pressure here and the inevitable Eastern Europeans stealing fish to eat (some of these people need eating themselves), the zander seem to be doing pretty well.
I could never tire of exploring canals such as the "Cov". There are all sorts of species and stories present, and the day was great fun. And what better place to put the world to rights than at a classic looking waterside boozer where you can enjoy a pint while still actually fishing? In between sips of bitter I managed to hook and lose my third zander of the day. It might have been rather bad luck, but the next time I'm here, I'm definitely going for a large single hook and a float set up.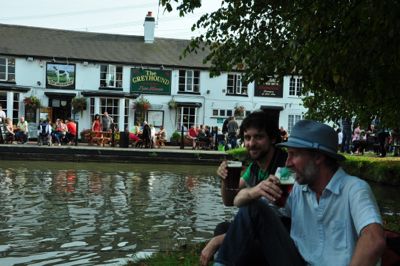 I believe the biggest crime of all is that Jeff has yet to be commissioned for a properly paid regular column or book deal, in spite of producing much better writing and having attracted arguably more readers (some 15,000 a month in previous times) than many of the monthly fishing magazines.
But here's the rub: stacks of people have enjoyed Jeff's blog, but if he doesn't get paid a penny for creating it, could you really expect any writer worthy of the name to keep the words coming? Unsurprisingly, his output has slowed right down. My own present dilemma is similar: I really enjoy writing about fishing, it is my first love in fact. But I can make twice the wage in half the time in my present role writing copy on tourism and other subjects.
Nevertheless, I believe that things can and will change. The sales of many titles are falling badly as their corporate masters tie editors' hands and neglect the single most important commodity of all: well-written, original stories about fishing. In the end it will be the independents who win as readers get bored of sponsored drivel and repetitive, poor writing. In any profession though, the only way to beat mediocrity is to reward those who produce good work.