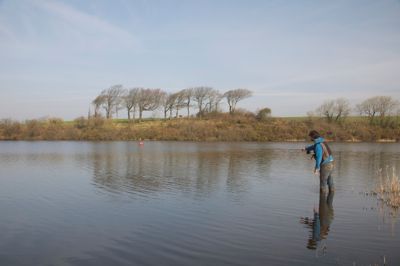 It's never a bad idea to have a plan B when it comes to a fishing trip. Especially a slightly speculative one, where you're not quite sure if conditions will be right. The original plan on my last outing was to target some large perch on Upper Tamar Lake in the company of Mr Garnett Senior. It probably had more to do with pure optimism than anything else. And we nearly didn't fish at all when on arrival one of the staff immediately decided to play the dreaded health and safety card: "people don't fly fish here, you can't do it" etc. Sadly you still get those at fisheries who are curiously anti-fly fishing. But after a long drive I wasn't about to give up. There were no rules stating this. Ironically enough we then asked to speak to his boss on the phone, who was a fly fisher himself and very keen on the idea of attracting more fly fishers to try for the coarse fish! Anyway, it was resolved- and out came the perch flies. And no member of the public died of shock or was impaled by a wayward cast (although we were in Cornwall, and the excitement might have been welcome).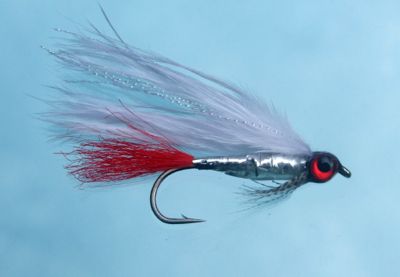 It turned out to be a beautiful morning, but probably too early still for perch. The water was still chilly and there were very few signs of life close to the bank: the only guy getting bites on the lake was casting a good sixty yards. Even so, we tried a few places and options for a good four hours. Sunk lines and lures seemed the obvious way to tackle big depths, but I also tried a booby where snags threatened to catch our lures. It was pretty dead sadly- and the only perch I spotted was one of about four inches nibbling the tail of the fly at the end of a retrieve. A case of right place but wrong time? I think probably yes; a big volume of water needs time to warm up I guess, and bring the small fish and the perch who chase them into shallower water within double haul range. I would love to try boat fishing- but god knows what health and safety nightmare that could instigate. The universe might collapse. God forbid, someone might actually try something different or risk having some fun. There must be a rule about it somewhere.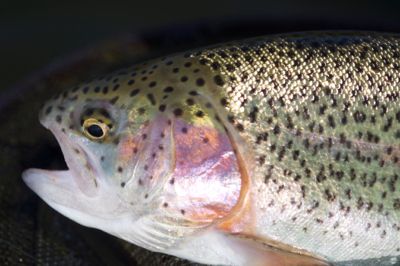 So, what to do with a very pleasant but perchless afternoon? Simpson Valley were very friendly when I gave them a bell- and a catch and release ticket got our vote. A great shout because the conditions were wonderful: proper spring weather but with just enough of a breeze to ruffle the water and present a buzzer to marauding trout, which we could already see taking something at the surface.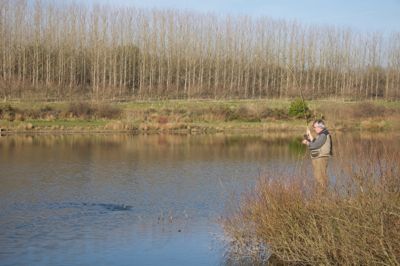 Amidst the strange t-shirt weather, we found the fish quickly. As is so often with buzzer fishing, if you find the fish and get the flies to the right depth it's easy. Light patterns seemed to work best, and the fact that bites tended to come quite early after casting suggested the fish were shallow. Lightly dressed buzzers and skinny wet flies worked best, the real standout being a red ribbed Daiwl Bach:
We finished with fifteen fish between us, averaging perhaps a pound but very fit. You do have to be a little careful with releasing rainbows, so none of them was taken onto dry land, but all unhooked in the net. Plain sailing you might say, although as the wind dropped and it got disarmingly warm the fish did go deeper and we found the flies needed to be sunk a little better to keep catching. All good fun in the end and a lot of willing takers- perhaps with the exception of this little customer sitting in the margin, who sat there motionless: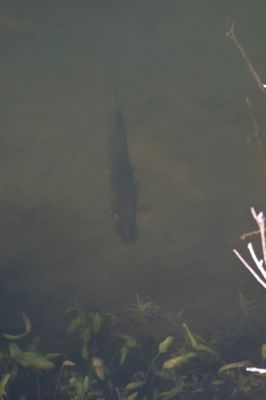 He wouldn't have managed a rainbow trout but might easily have fancied snacking on some of the mating toads we watched, clumsily paddling the margins. Isn't spring magic?