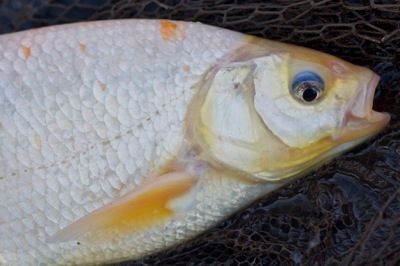 First things first, I'd like to wish a very Happy New Year to all blog followers and angling friends everywhere. I spent much of the end of 2013 worse for wear sadly. Some of it was self inflicted, granted, but the days after Boxing Day were a bloody misery of pounding head and sneezing. I was just about through it in time to get down to Anglers Paradise for New Years Eve. With all the dreary weather and flooding I fancied this would be a good way to add some colour and cheer to an otherwise dreary holiday season.
After surviving an enjoyable night in Zyg's infamous African Bar, the weather was sadly nothing like as welcoming. With fellow 5 C's members I braved the main carp lake on New Years Day for a friendly match but the only winner was the god of rain, my measly tally of one orfe and a few small carp too small to count. It was a relief therefore to retreat for a hot bath and regroup in better conditions the following day.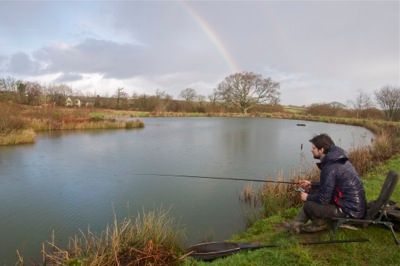 The specimen orfe and tench lake is a rather special treat on the complex, with a mix of several exotic species you're unlikely to match without the use of mind altering drugs. Even in the winter, the orfe here can be spotted cruising well off the bottom, so I opted for a waggler approach. I needed a 5AA model to cut through a steady breeze, along with almost constant, small pouches of maggots catapulted in. With the water pretty clear I didn't want to spook the fish early on, so I fed well out into the lake steadily for quarter of an hour without casting. And what a first bite! The float had barely cocked when it shot out of sight. By far my biggest golden orfe, this one pulled back well: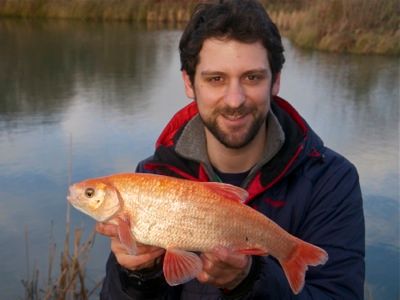 A cat and mouse game then ensued. Only by constantly feeding and switching depths did the fish keep coming. Most were around two pounds, although I had the sickening feeling of playing a much bigger fish for perhaps a minute before losing it. What was the culprit? Dogged rather than energetic, I suspect it was an orfe- and one which could have comfortably doubled the size of the one before. I hate that sudden slack feeling after a good fish is hooked. I turned the air blue for a moment before, appropriately enough, catching a blue orfe. The real mother of the lot may have got away, but it's difficult to feel too glum with the rather beautiful and interesting fish here- and this blue orfe was the best of four in the two to three pound stamp (*** I actually stand corrected here after speaking to the head honcho himself, Zyg Gregorek. The fish pictured is not a blue, but a rather rare all white orfe. Bonus! They all look beautiful to me. ***)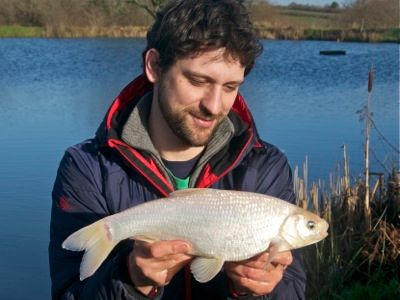 As the wind increased, bites then dried up and I went for a wander. Bizarely I couldn't buy another bite for some time. Were the conditions killing presentation? I tried a popped up piece of legered bread crust for a while, but to no avail. And when I returned to the spot that produced earlier, the maggots only drew hordes of tiddlers. Try as I might, they devoured everything I could fire out, which was bizarre given that the same spot had yielded nothing below about a pound and a half earlier in the day. Hmmm… it might be back to the drawing board with this lake for another visit. But for anyone yet to catch a golden or blue orfe, I'd recommend making the trip- they're a colourful challenge- and you'll also find the species present on the day ticket lakes at Anglers Paradise. A big thank you also goes out to AP visitor Scott Cooper, who was on hand to grab some pics for me and to share some thoughts for the coming season over a pint or three.
And that is about the sum total of my fishing since the last update. I've been sick as a dog though, and the closest I've got otherwise is stocking a few fly boxes. Looking out of the window, I haven't missed any very glorious days on the bank. And other things are also pending- like the tricky task of judging the 2013 Fly For Coarse Competition. I hope our esteemed panel of Matt Hayes and John Bailey find it easier than me to pick through some belting entries, including two absolutely mighty fly caught pike, cracking chub, carp and even a bream!