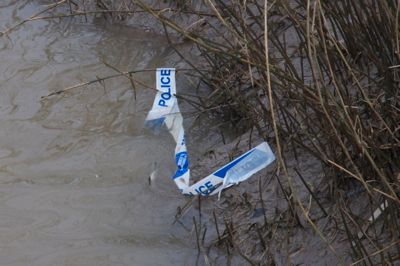 What a less than appetising start it has been to 2014. Downright odd. Today felt like a wet weekend in April, hardly a typical January day for fishing. Bits of the Westcountry are already resembling a war zone, with sandbags piled at villagers' doors and police tape aimed at keeping the public from treacherous flooding. And in the midst of it all, some idiots still want to go fishing. I am one of them.
Why do I do it? I'm reminded of my old head teacher, the late Trevor Green, whose passion was his motorbike. He enjoyed the worst of weathers because secretly, he found it bracing. He liked to take on the wind and rain. Perhaps it scarcely mattered when he was doing that thing he loved. This is the mark of what might politely be described as an "enthusiast". We come in many guises. Whether it's fishing or motorcycles, we need that experience, even if it flies in the face of sensible advice. Perhaps utterly sensible people are to be pitied; they have no strong passions.
But I digress. Flooding is not all bad news, at least for an angler. One benefit is that if you can locate the fish, they're often stacked up in relatively small areas. Sheltered urban spots were the focus today. More and more often in my predator fishing these days, I also like to pay attention to the smaller fish present on any water. It makes perfect sense to establish where these are concentrated and draw them in. Furthermore, a spot of light float fishing also makes a slow day much more entertaining. Within no time, my pal Russ Hilton had silver fish queuing up on the bread. Nor were they all small- as you can see from this chunky rudd:
It's staggering just how quickly pike or perch will take take advantage of silver fish distracted by free food. It was barely light before the first attackers arrived. My approach was as simple as it gets: a fresh bait on a single treble hook, tossed nearby. Route one fishing, and the first of several pike:
We played it by ear, moving spots roughly every couple of hours as bites dried up or we fancied a change of scenery. It was a drizzly day and I was grateful for the company. Russ is the sort of angler who never rants about his own ability, but quite often out fishes me, so I must have done something right to take the most pike today. Most bizarrely of all, I caught an afternoon fish of around eight pounds that looked really uncannily familiar. By an unmistakable scar on one side, we identified it as a fish I had already landed three hours earlier, a hundred yards away. One hungry -if slightly daft- pike.
Perhaps the only slight surprise was a lack of perch today. I say this, but bizarrely Russ landed two on bread when a small moving bait had been flatly ignored! Lots of silver bream and roach kept coming to bread too, which also explained why I kept pinching Russ's whip while he wasn't looking, to catch another fish or two.
By early evening it felt weirdly mild, in spite of darkening skies, so we stayed on for a little while. As it happens I'm glad we did, because the last bite of the day was something rather special in the form of this 11lb 12oz pike, which was as beautiful and athletic as any I've caught this season: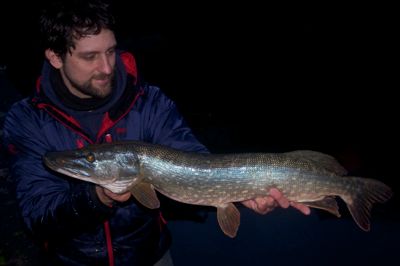 For those curious about technical stuff, you'll also see some of my pike notes in this week's Angling Times. These days I seem to be using fewer hooks in my fishing and also like to present my dead baits well off the bottom. I also much prefer just one rod and like to give it my full attention. A single barbless treble and an instant strike is so much better for the pike: all six of mine today were simplicity itself to unhook and release unharmed and only one fish came adrift all day. It should also go without saying that if you fish anywhere around concrete, you must never fish without an unhooking mat- it isn't rocket science and I really wish I didn't have to shake my head at the lack of fish care shown so often in urban locations.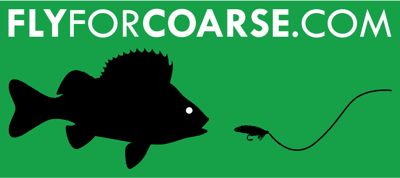 Finally, I'm also pleased to say that we'll soon have the final results for the 2013 "Fly For Coarse" competition. It as been quite a surreal experience discussing entries with Matt Hayes and John Bailey this week, two of my all time heroes in fishing! While the judging panel have hardly been unanimous in their verdicts, they've certainly been so in their great enthusiasm. And what all three of us have agreed on is that fishing should be about fun and skill, not just what you catch, but how you catch it. in truth we were given a hard task by the entries: how do you pick between some huge pike, cunningly tricked carp, some phenomenal chub and even a fly caught bream?!! All will be revealed soon. Let's hope the foul weather abates so we can return to some more favourable fly fishing conditions sooner rather than later!