I've said it before in these ramblings, but more often than not the angler doesn't pick the weather- the weather picks the angler! You get a day or two free if you're lucky and go for it. I mean, why exactly would anyone pick two days of gales to try a spot of perch fishing on a big sheet of water? I was actually really pleased to take a trip in the company of Chris Lambert and Tyrone Norah on this occasion. Not only does it keep your spirits up on a testing session, there is the added benefit of tea and shelter.
In exchange I bought a tin of beer each for an afternoon tipple- best not to mention where I store my tinnies though eh? (yes, that's right, they also help keep the maggots cool!)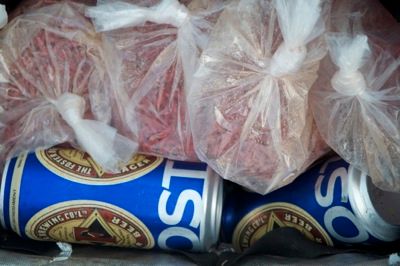 Spot number one on this wide open lake had to be abandoned, such were the extreme conditions. A shame because bream were stacked up in the "match" pegs. I was getting a skimmer a chuck- although it was literally impossible to stake out a keepnet. You would turn round to see net, fish and all literally being blown clear of the water, such was the wind.
Plan B was to seek more sheltered sanctuary and the fishing, while not exactly hectic, was decent. Perhaps I should have gone for more selective tactics though, because while I caught lots of skimmers, roach and the odd rudd, I was struggling to get through to the perch even on half a lobworm with fish like this about- not that I'd ever regard these as a nuisance: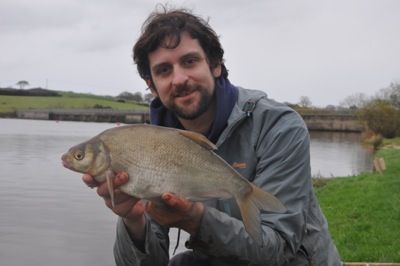 Prawns did the damage in the end, at least for the odd better fish. These are a bait I've never really put my faith in, although I love eating them myself. I really should go back to the drawing board because they definitely sort out decent perch. Decent you say? Make that cracking perch- because that's exactly how you'd describe the best fish of the trip at 2-12, taken by Chris:
It was a fun but testing trip in the end. The British climate has a dark sense of humour I sometimes start to think. On the afternoon of day two everything finally settled and for about an hour it was lovely. The heavy feeder tackle suddenly seemed a bit excessive; the quiver tip kept trembling and the fish kept coming. A slightly better perch of a pound and a half or so also showed up amongst the silvers: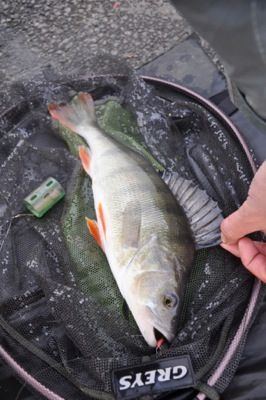 And then out of the blue as I was filling the feeder for another throw a little chunk of ice landed in it. Like a fool, I ignored the warning shot before three minutes later the hail pelted down and I got that stinging sensation as I ran for cover. Despite a weekend of natural disaster style weather though I had a nice bag of mostly skimmers and silver bream on each day. No giant perch, but I guess you can't have everything and being a fidget I do like simply fishing for bites. The crappy weather never left on the second evening and at around five it was like God had just flicked the light switch to "off" and announced "get yer coat and bugger off."Next time, I'm coming here on a calm, sunny day- that's for bloody certain!