If ever a session illustrated the merit of having different lines of attack, it was my last canal fishing trip with Russ Hilton on the Taunton to Bridgwater. The subtext was getting a few more shots for my canal fishing book and some practice for the Tiverton Christmas match, but I was just looking forward to some fishing as opposed to merely writing or talking about it. At the start it looked like we might catch silver fish all day long on bread punch. And had we so desired, that would have been a distinct possibility, so stuffed was the venue with small rudd and roach. It didn't matter whether you went all cute and fine with a tiny piece, or switched to flake on a fourteen, the hordes descended.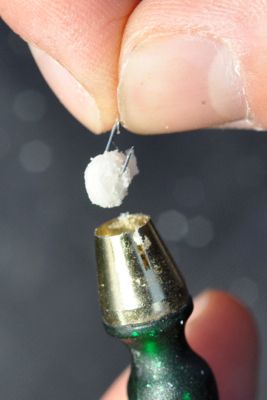 Russ was definitely catching these quicker than I was, at a fierce old rate on the whip. Makes me think I should dig my old whip out again at some point. A four meter model, with pointless yellow decor on the handle, was the first ever fishing rod I could call my own as a small boy. But in terms of fish caught that crummy length of fibreglass probably represents the best value item of tackle I've ever owned. It was the downfall of many Thames roach, as well as bullheads and bootlace eels. Not quite as posh as this rather sexy Sensas model you'd have to say:
But I digress. Fun though it is bringing endless rudd to hand, it's always nice to put something bigger in the net too. And the trouble with small baits is that it can take an age to get through the bits and pieces. Luckily enough from my own, slightly disorganised perspective on this occasion, Hilton came up trumps with a ridiculous bag of worms and strict orders that he didn't want to take any of these home.
It's a plan that works so often on canals, but worth reiterating the value of a "feed and wait" line on the cut. A pole cup of chopped worm and caster went across to a tree on the far bank, which not only looked fishy but had good depth under it. Apart from a top up after an hour or so, this was left well alone while I kept out of mischief by pinching more rudd, roach and a solitary silver bream.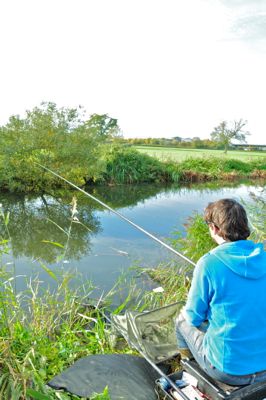 Slipping a redworm minus head onto a size 12 and heavier rig, I eventually made the switch across and the response was pretty instant. After a slightly better rudd, the next fish was a proper head shaker in the form of a much better one, a perch this time. Had it been a match I'd have been cursing because I managed to lose the next two, including what felt like quite a beastie. Meanwhile Russ was taken all over the canal by what we guessed was a carp, which actually turned out to be a rocket powered pike of about four pounds that picked up a worm. In fact we'd seen little fish scatter at the surface a few times and not all of these attacks screamed pike. After another top up and another crack at the rudd, the next fish from the sunken tree stayed hooked. A lovely perch of 1lb 14oz proved the best of the day- and just in the nick of time because I had to leg it back to Exeter.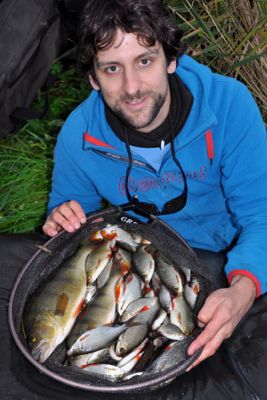 In spite of my late, lucky perch Russ must have had the greater weight of fish, with a silly number of rudd and some better ones that showed later on the bread. I wouldn't put it past him to teach me a similar lesson in the Christmas match: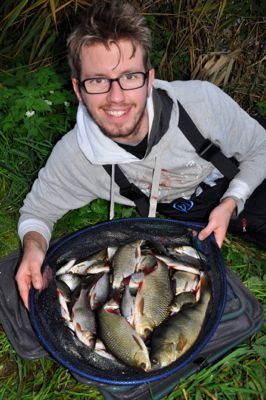 And on that note I'm really looking forward to a proper winter break, with no deadlines and no place to be on a cold morning. Other than the odd order I've done little fly tying lately, which I must put right. After giving talks to branches of the Fly Dressers Guild on tackling coarse species I definitely have the bit between my teeth. Especially so after seeing the collection of Chris Reeves, which included this rather baroque looking antique pike fly:
Tying is rather like fishing: always a new trick to learn and another direction to try. I am permanently making little notes and snaffling samples when in the company of fly tying enthusiasts. And at least the long, dark winter provides plenty of time to fill a box or two with new creations.