This week, there are bigger adventures afoot. After weeks on end of secrecy, I am finally able to reveal probably the biggest fishing adventure of my life. As a participant on the National Geographic/ ITV show "King Fishers" I've had an amazing ride- a contest spanning thousand of miles, from arctic conditions to tropical heat. Three weeks of nervous excitement, to put it plainly. Running on minimal sleep, not knowing where you'll wake up next day, or what you'll be fishing for.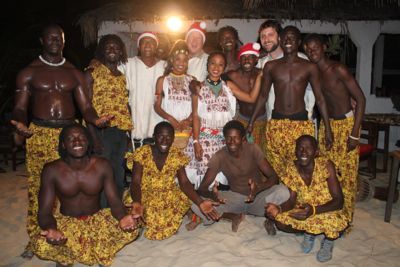 It seems like another life as I type this, a wild dream perhaps. Watching humpback whales surface in Norway. Praying for floods in Somerset to recede. Fishing in a snow storm at -17C in the fjords, or tropical heat. Watching a huge monitor lizard haul its' bulk along a flaky wall somewhere in East Africa. The hypnotic rhythm of drums. "King Fishers" kicks off tomorrow on the National Geographic channel (8pm every Monday). I'm honoured, still thrilled and slightly baffled to be a part of it; with a huge budget and 30 destinations world wide, the series will be a truly international celebration of fishing, competition and camaraderie- but you'll just have to tune in to see how the drama unfolds!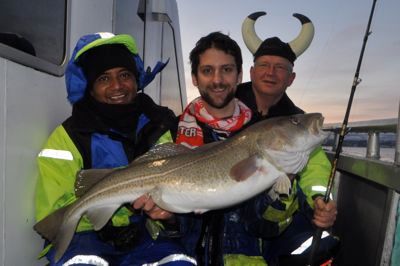 Back on my local patch, summer has finally delivered on its promise. Far flung destinations are one thing, but actually it's just great to be home. And bloody hell does it feel better to have the sun on your face and clear waters to aim a fly at. I've had a rollercoaster weekend with a truly mixed bag of species.
The canals are alive with fly life; the fish have switched from tricky to ravenous, a whole range of flies willingly devoured on our rural canals. The usual spiders worked well, but I also scored on little dry flies such as a size 18 flying ant: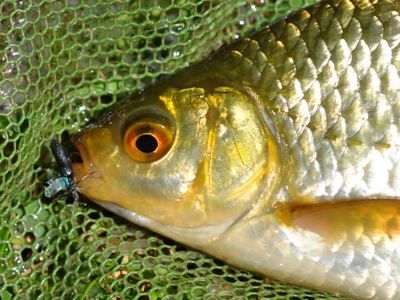 The roach and rudd have come thick and fast in fact. So much for baking hot weather being poor for fishing; on the contrary, the fish have been well up in the water and willing to take. For sheer viewing pleasure, little beats high sun and high visibility and I think I'd get almost as much pleasure from just watching the waters as fishing in these conditions. From playful shoal fish to sinister predators, you get a window on another world: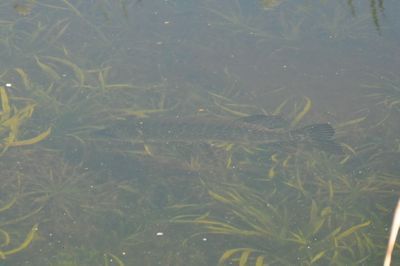 Perhaps most bizarre is the appearance, en masse, of those fish that are meant to be bottom huggers. I was absolutely spellbound by a huge shoal of bream in fact, with around fifty fish from around the pound mark to several times that size. All were sat just inches under the surface, but would they take a fly?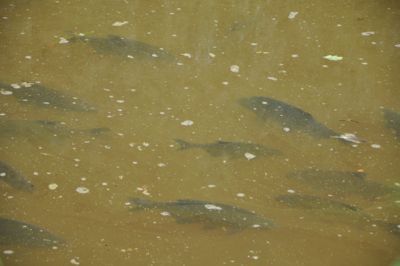 The biggest of the shoal just wouldn't respond at first, as I cast a slow sinking nymph close by. I then missed a clear take from a "skimmer" nearby that intercepted my beaded spider. A handful of casts later, this three pounder gobbled up the same fly and put a decent bend in my four weight: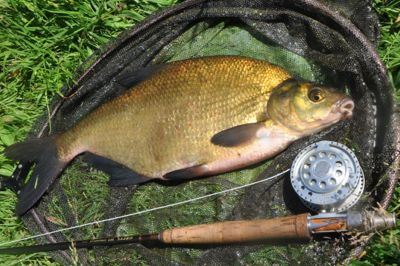 What can I say? Having been in this situation before and found the fish tricky, it was a great sensation to pick off one of these basking bream. They might seem apathetic, especially the really large fish- but a delicately cast fly, gently sinking in the eye level of loitering fish is a decent bet. I know one thing for sure anyway, that I would not have caught this fish with traditional methods. The canals are alive with fly life at present. The water is warm and the fish are high in the water. Perhaps it should't be such a surprise that an artificial fly is the key. Appropriately enough, our Westcountry canals are also great places to spot a king fisher or two! I had stacks of roach and rudd as well as my bonus bream, often the better fish in the shoals I spotted, with lots in the half to one pound stamp: