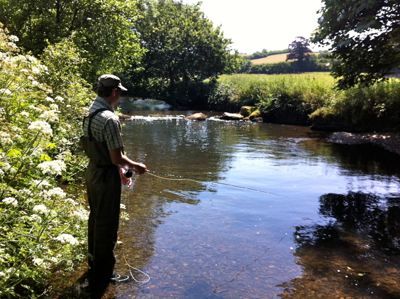 Earlier today, a non fishing mate asked a straight question: "So, is this hot weather any good for fishing?"
I had to hesitate. Truth be told, the heat can make fishing really tough. On a low, clear river the fish can see you more easily. They can also see your line and any mistakes more easily. Then again, for some species (notably rudd and chub) sport can be terrific, especially on the fly. Every time I peruse the "Flyfishing for Coarse Fish" FaceBook group there seem to be more cracking pictures posted- with chub especially well represented.
As for more traditional game species, it can be tougher. Such was the case on the Taw, where I was delighted to meet up with Cal and Karl Salmon once again. Having made a great start to their fly casting (and catching!) adventures on a stillwater, they were keen to try on a river. It was certainly beautiful, but baking hot. I felt they didn't get the results their efforts deserved. This is the trouble with fishing. You can make a dozen perfect presentations, but you can't force the fish to take.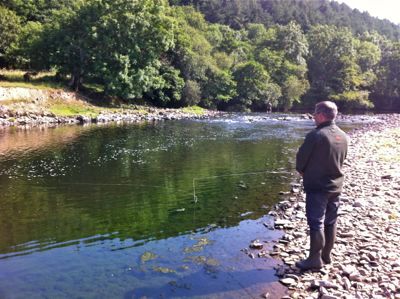 We finally saw some activity as the odd fish rose under trees and a willing taker or two. Faster, well oxygenated water is also still worthwhile. The real fluke of the day came in the afternoon though, when this foot long brownie, the day's best, raced to grab a fly that I had raced in with no second thought, purely to get the line back on the reel. Typical really- you bang on about careful presentation and then catch one in the most careless fashion possible!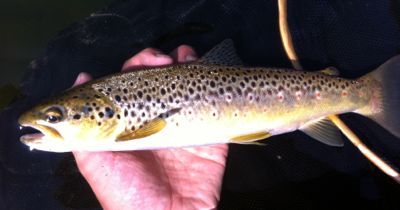 I also had the pleasure of a session at Sydenham with Adam Moxey, which is part of the great value "Westcountry Angling Passport" scheme. Moxey was also pretty new to river fly fishing, but acquitted himself well. He was soon catching trout as well as trees after a quick side casting lesson. In spite of the heatwave, I felt that the river here was perhaps a decent bet in the sun as it is so cool and well shaded. The one frustration was the grayling. We could see these clearly enough, but getting them to take was another matter.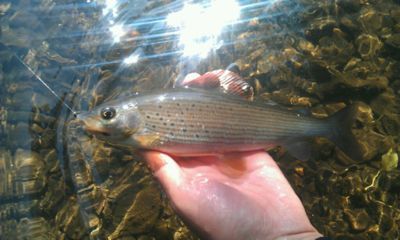 None were willing to rise and they looked decidedly docile sitting near the bottom. The above fish was our only bite from the fish we had to re-christen "fussy bitches of the stream" as opposed to ladies. It took my nymph really eagerly, which is more than you can say for the others. The better news is that this beat, as well as others will be open well into autumn when conditions should be more suitable.
In other news I was honoured to be a guest of Fly Fishing and Fly Tying magazine at the CLA Game Fair. The aim was to spread the gospel about "Fly For Coarse" - and fittingly enough my article on dace fishing features in this months edition. I also used the allure of some of my soft fish to draw in some unwitting visitors, while Sue Rudge from FF&FT's esteemed Salmon School quickly commandeered the giant salmon: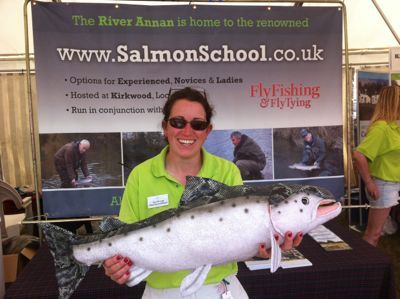 For anyone who thinks country sports are niche, this event is an eye opener. 150 000 guests in three days is not exactly a fringe event! It's also a great chance to catch up with old friends and some of the real characters of the fishing world. I felt right at home as the Westcountry Angling Passport crew poured me a pint of Dartmoor Jail Ale! It was also great to hear of Des Taylor's adventures from the man himself, as well as meeting up with Dr Mark Everard doing his own book signing with new title "Redfin Diaries". I also notice that this Professor of roach fishing has also been catching them on the fly, a gold bead hare's ear to be specific. I'm hoping to join him on the river later this summer, not for hulking great creatures but the colourful species from his brilliant "Little Book of Little Fishes." Should be fun!