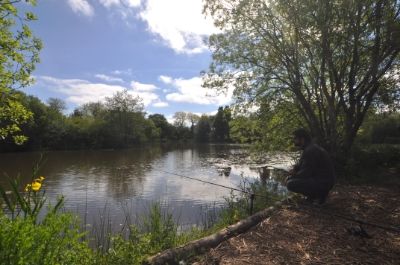 It's June the 16th. Which must be why it's raining relentlessly. And I didn't even go to the river. Instead I've been back to Anglers Paradise for a long overdue return. Two nights of fishing in the excellent company of Chris Lambert have yielded everything summer fishing should be about: screaming runs, some genuine surprises and lily infested swims discussed over glass or two of cider. I just love the main lake here. The next bite could be anything- like this terrific 4.12lb golden tench I took on maggots yesterday.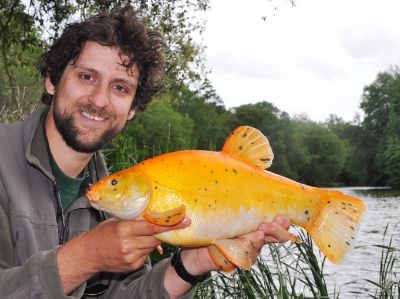 My approach to fishing these lakes is simple at the moment. I tackle up one rod with a large bait for big fish, while the other line is aimed solely at earning bites. I have a lot of faith in feeder tactics and dead maggots at present. For the price of four pints, you get one heck of a lot of bait. Preparation is easy- I riddle the maggots and replace the dust with a potent ground bait. Any strong smelling stuff is ideal, and I'm currently getting excellent results with the Bait Factory mixes I'm testing.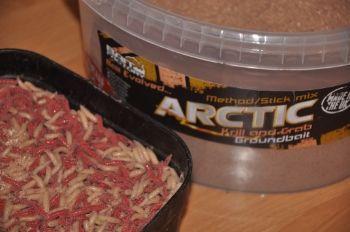 I feed my swim much like a match angler, continually adding small amounts and regularly recasting a small method feeder crammed with sticky, matching ground bait. The beauty of a decent bunch of maggots is that you'll catch fish of all sizes- and with persistent feeding, the bigger fish tend to show later as you build the swim. On my previous night session, maggots accounted for this fine 19lb linear mirror: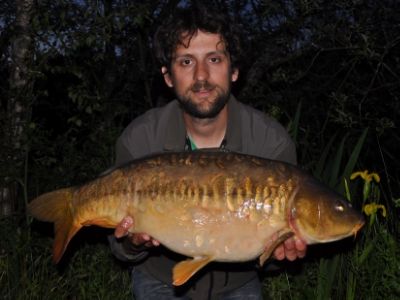 I must admit, I never sleep brilliantly when night fishing. You get into a kind of "half-sleep" mode of relaxed readiness, and I usually spend the following afternoon knackered. Especially when big fish make raids in the wee silly hours as they have been lately. Chris had a sensationally long cat fish last time out (do check out his "Fish Tales" blog for a fun read and ramblings on Everton FC). Last night was my turn to hook one- and spend the twenty minutes heaving, holding on and cursing. Strangely, it hadn't gone for a meaty bait this time but picked up a Fennel and Hemp boilie (vegetarian catfish?!!). The reel sounded like it was in pain in the pitch black. Bats were circling the rod as drag strained. Even with a pretty robust carp set up, these fish try and almost succeed in pulling your arms out of their sockets. It was pretty intense, but Chris was cool as you like in scooping her out. Wow!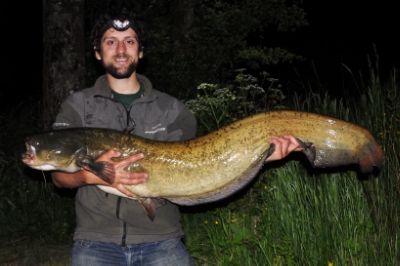 While I wouldn't describe cats as beautiful, they're certainly beautifully designed for their job as nocturnal killing and scavenging machines. After the most dirtiest, most gut wrenching battle this cat of 32.12 was surprisingly well behaved on the mat. Slimy, but very docile. Nor was the cat our last surprise as Chris landed a grass carp at dawn.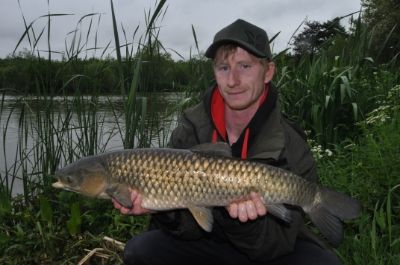 There really is a terrific variety of sport at the complex, whether it's pleasure or specimen fishing. The trout lake is also very interesting and I'm hoping to provide future visitors with tuition on the fly.
In other news, I'm also raring to go for the BFFI (British Fly Fair International) next weekend. I hope to catch one or two of you there for the event, which I always find fantastic for finding new materials, ideas and like minded nutters. Plenty of homework before then however, tying up flies. For any of you keen to get your hands on coarse fish patterns, do remember I can offer a bespoke service. Here's a box of traditional spiders tied specially for a customer in the USA: