Certain events in the year, even those where you don't wet a line, get you really enthused to try new ideas and make new connections. The BFFI (British Fly Fair International) is one of them. I took my stall of books, flies, prints and the rest for the weekend and had a blast. You find yourself talking to a midlander about chub on the fly one minute, Italian and Icelandic fly fishers the next. The only trouble is the sheer range of fly tying products that always tend to put a dent in my profit margin!
As a fly tyer, you couldn't ask for a more vast selection. It's a bit like being a chef browsing the world's greatest food market. The basket quickly fills, but here were a few things on my list: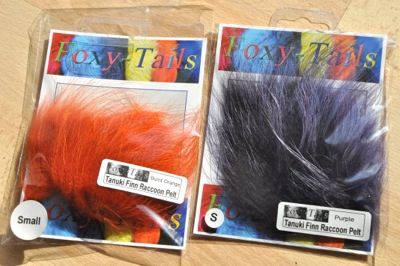 First up, I'm seriously beefing up my predator flies at the minute. "Foxy Tails" make some fantastically coloured materials that add serious presence to any pattern. I'm going to have some fun with these samples. Almost as much fun as my cat Harry, who is currently kicking seven shades out of an off cut of the same material that Jo, my other half, brought back for him.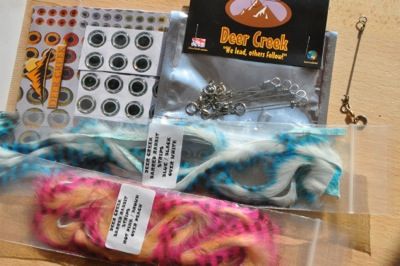 Next up we have Deer Creek. I'd given Bristol tyer John Horsfall a lift to the show and was soon mesmerised by their stall. They make eyes to die for- loved by jerk bait makers as well as tyers. I'm also keen to play with their articulated pike fly mounts- which I'm going to make some big, hinged beasties out of. The barred zonker strips (above) look great too- can see the mackerel colour working wonders for bass flies.
Still on the predator front, I'm also a fan of Funky Flytying. There's been some rivalry with the Deer Creek boys, but the way I see it there's room for everyone. I use their dumbell heads for lots of my pike and zander flies, while I also love their big, glitzy tinsels- a single strand of "Lateral Scale" tinsel makes a cracking "lateral line" on a big fly for a beautiful extra dose of flash.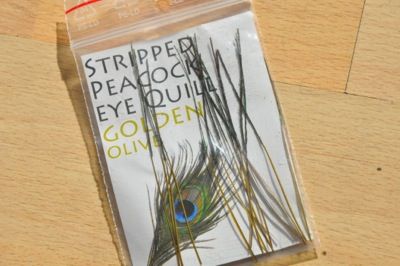 When it comes to the smaller stuff, the options are even more infinitely varied. I love stripped peacock bodies on so many of my flies. How do I get a perfect result? I cheat! It's a fiddly job at the best of times- and the "Polish Quills" sold by Fly Tek are so much easier. A beautiful material and a real time saver.
To be honest, it's a good job I have a stall to man at this event. Otherwise I'd need a trolley, not a basket! It's nice to make some impulse buys too, and just have a good rummage for materials that might make your next killer fly. Cookshill Fly Tying are superb for the traditional stuff- top quality for a lot of the hackles I use on my spiders especially and loads of the flies that feature in "Flyfishing for Coarse Fish".
There are many stalls to name however- and I got some seriously good value bargains through having a good rummage. Bargain of the show had to be this beautifully marked section of hen- for the princely sum of 80p this will make one hell of a lot of soft hackled flies: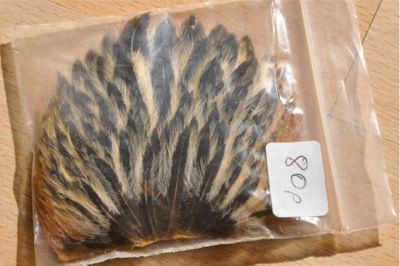 To my shame, I've yet to get back on the rivers for coarse fish just yet. I must get after the chub again soon. Give me a sunny afternoon, a big dry fly and I'll be a happy man. Do keep me posted with your own catches at "Fly For Coarse" (www.flyforcoarse.com) too- I'm betting we see some cracking dace and chub now it's open season for these fish. I've also written a special article on fly fishing for Dace for next months "Fly Fishing and Fly Tying" magazine.
My own bestsellers for this years show though, were the new soft fish we have in stock. Joining the pike, perch and trout we now have some terrific looking char, salmon and grayling. I'll post some pictures as soon as I manage to add them to the site at www.dgfishing.co.uk