Trying to make ends meet as a fishing writer is not the most glamorous occupation for ninety percent of the time. Going fishing for a living it definitely isn't. I write more words each year than I ever did during my English degree, to say nothing of the thousands of photographs I take each month. But there are odd perks. Getting to fish with with famous personalities on some unique waters is one such treat.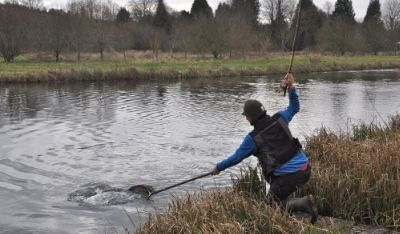 I've met Chris Tarrant before on the banks of the Test, but it's still a little surreal to see someone you grew up watching on TV stroll along the bank and say "Morning Dominic, anything doing?" Chris has been a keen pike angler longer than I've been alive. It would be unfair to think of anyone who has pursued the species to the ends of the earth as a "celeb who dabbles in a bit of fishing." He has been everywhere from Western Ireland to Canada- and had some great pike stories to tell.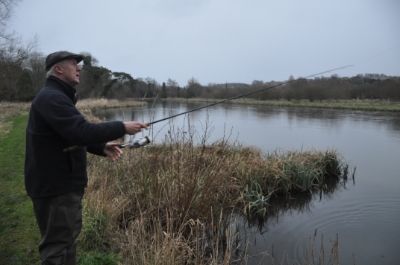 So was there any reward for getting up at silly o'clock and being first on the water? I had vowed to spend the day pike fly fishing- but did afford myself a first hour with a sardine in a big marginal slack. A rip roaring take just minutes in turned out to be my biggest ever trout at eleven pounds twelve ounces! You feel a bit of a fraud catching a fish like this on a sardine- but there you are: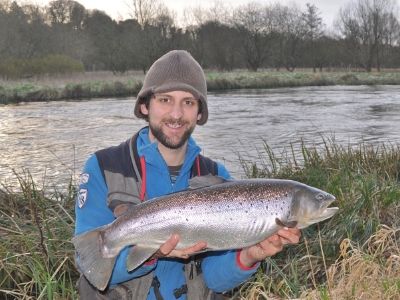 Chris then turned up and I switched to the fly while he cast an old school spoon as we wandered in search of further action. I had no objections to having a good chat and playing the role of ghillie- but the pike had other ideas. As Bob James caught up with us to try for some chub and grayling, I was playing the first of several fish that took a liking to one of my larger pike flies.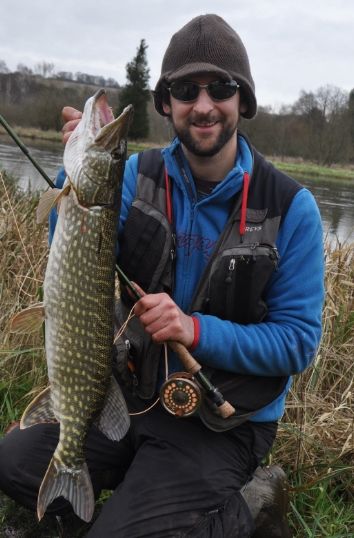 It was hardly bite a cast fishing, but exciting nonetheless- perhaps the best fish of the day was one that bulged after Chris Tarrant's spoon but wouldn't make a last second grab. Fish have no respect for fame or status- and in this respect we're all equal on the bank. That said, Chris has taken pike that any angler would be proud of on both rivers and still waters, with a best of over thirty pounds. From his early dabblings on the Thames, to more recent trips to Chew I got plenty of interesting quotes as well as a very enjoyable day out. We just couldn't get the big one in the end however. Bob James was unwilling to part with any of the grayling he was catching further down; in fairness the smaller ones were around the pound mark and it would have been sacrilege to contemplate slinging one of them out on treble hooks. In other news, I've been making the most of wet weather by getting back to the fly tying vise. Below are part of a series of classic Spiders (or "Soft Hackles") destined for one of the American magazines. I may love fishing in Britain, but the wages are generally fairly pitiful for a writer and I'm honoured to contribute in the States, where readership numbers and standards of writing are very high. They also love their fly fishing and it's great to write about British flies and traditions to a different audience.