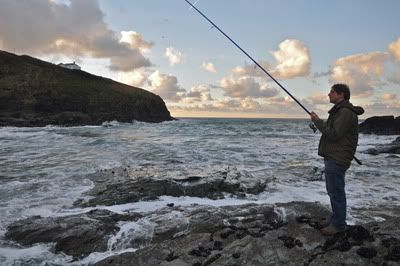 The seas of Cornwall might look more inviting in the Summer, but you don't pass up the chance for a quick break in a sleepy seaside village. And no matter how much stuff you cram into the boot of a car, there's always room for a fishing rod. Setting out in the dark, first sensations of Port Gaverne were lashing winds and spray on the rocks. Exciting, if a little menacing.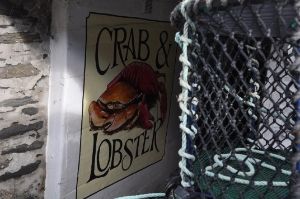 In the morning however, it all looked prettier on a long stroll. People are also much thinner on the ground in February, which made for a more relaxing atmosphere. Not that the wildlife was absent. We watched kestrels hover over the cliffs, and I joined my brother grabbing some pictures. There are certain similarities with fishing when it comes to sneaking up on wildlife to get a picture. It was hands and knees stuff getting anywhere near this pair of oyster catchers, but good fun.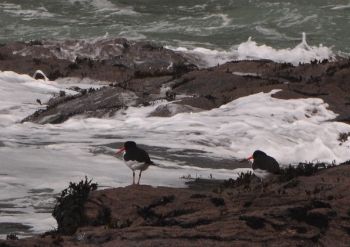 I do love a sea fishing detour. Growing up in Devon, I've done quite a bit of beach casting over the years. Most of my best moments seem to have come from those rocky locations where the netsmen don't get to, admittedly- and so at Port Gaverne, I was instantly drawn to the craggy beauty of the bay on our doorstep. The unpredictability of the sea is all part of the excitement, but leads to a problem: what exactly do you take to a mark you have no familiarity with whatsoever?
Simple rigs, smallish hooks and worm baits are an excellent way of hedging your bets where the species list is a big fat question mark. Where the going is rocky, I usually stick to a simple paternoster, with a weak link to the lead in case of snagging. On an initial short evening session with my older brother, we at least had the odd rattle on the tip and Ben landed a small, unseasonal bass. The next day was more fun though, as I perched on a hairy looking spot right on the point of the rocks. The tide was dropping, but there was very deep water close in. Perfect! I took only a short "pub chuck" as my pal Moxey would have described it, and within ten minutes the worm was gobbled up by another surprise in the form of this ballan wrasse: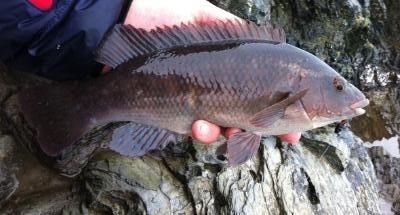 The locals then arrived, launching baits well beyond the rocks and onto the sand in search of flatties. This was once a fair mark to catch dabs, but in recent times has steadily declined I was told; I didn't see them get a bite, although I would have loved to see a flatfish. Instead of joining suit, I kept my bait just off the rocks and touch legered in search of anything. After a small pollack arrived, the final catch was one of the sea's stranger looking critters. My other half described this red scorpion fish as "an ugly little bugger." I disagree. An unusual bugger, yes, with huge fins, froggy eyes and almost as wide as he was long. Rather cute though, at least to my eyes.